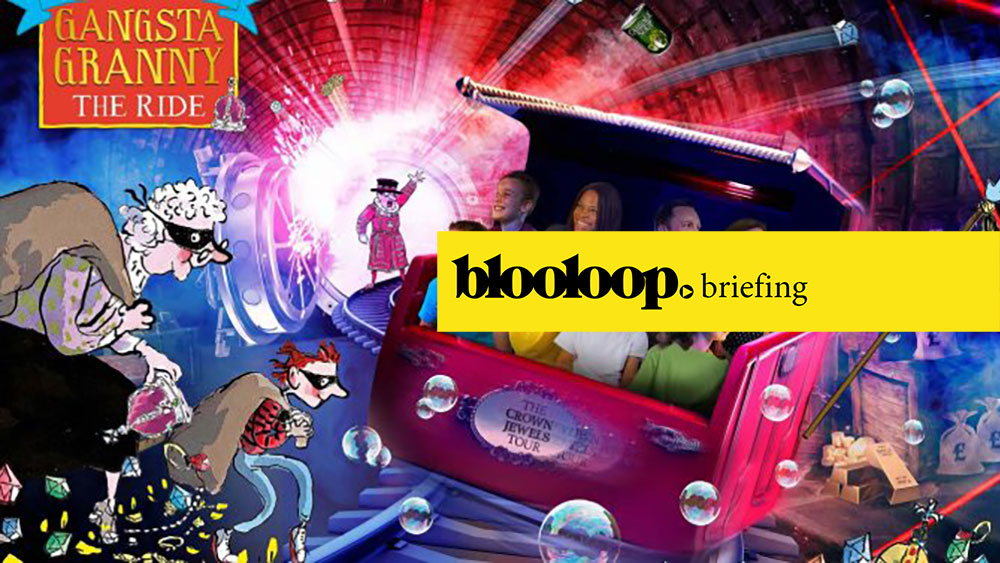 Attractions news…
Game of Thrones Studio Tour plans lodged; Fantastic Beasts at the Natural History Museum; Gangsta Granny at The World of David Walliams at Alton Towers; Universal files patent for interactive AR theme park ride; Regal Eagle Smokehouse inspired by Sam Eagle; Mall of Qatar theme park; Six Flags in China update; Newseum closed; The Louvre's visitor numbers drop; Arctic exhibition at the British Museum; Octonauts at Changfeng Ocean World; Comcast NBCUniversal LIFT Labs Accelerator; global tender for Entertainment City; JD Wetherspoon museum and hotel plans; R2-D2 at Star Wars: Galaxy's Edge…
Watch the news in 3 minutes
For a quick run through of our most eye-catching stories see our briefing video:
Read the news in 5 minutes
Museums
The Newseum in Washington, D.C. closed on December 31, after 11 years and nearly 10 million visitors. The Freedom Forum said that operating the attraction was financially unstable.
The Natural History Museum has announced a major new exhibition displaying creatures from the world of Fantastic Beasts and Harry Potter. Fantastic Beasts: The Wonder of Nature is a partnership between NHM, BBC, and Warner Bros.
The British Museum announced a major exhibition on the Arctic, with visitors learning about "extreme weather" and climate change. 'Arctic: culture and climate' will include almost 300 objects.
The Shanghai Museum has signed an agreement with China's leading artificial intelligence (AI) company iFLYTEK to turn the attraction into a 'smart museum'. iFLYTEK will provide the museum with big data and the Internet of Things.
The Louvre's visitor numbers dropped to 9.6 million in 2019, following a record 10.2 million guests in 2018. The attraction is attempting to limit overcrowding, and is therefore welcoming lower figures.
JD Wetherspoon submitted a revised planning application to expand the £7m museum and hotel project at The Moon Under Water in Wolverhampton. It is getting an additional sixth floor and the museum will occupy a larger area.
Theme parks
Disney has teased more about Regal Eagle Smokehouse, heading to Epcot at Walt Disney World Resort, revealing it is inspired by The Muppets' disciplined and patriotic Sam Eagle.
Alton Towers Resort has announced a groundbreaking new 4D ride experience, Gangsta Granny: The Ride, as part of The World of David Walliams. It will have state-of-the-art special effects and 3D projection-mapping.
R2-D2 has finally joined the cast of characters roaming and gliding around Star Wars: Galaxy's Edge at Disneyland Park, ahead of the debut of Star Wars: Rise of the Resistance. Artoo can interact with guests at the immersive expansion.
Universal Beijing Resort and Yum China announced an eight-year partnership to offer innovative entertainment and dining experiences in China, and a new restaurant at Universal CityWalk Beijing.
Bandai Namco, a leader in indoor amusement park and family entertainment centres (FEC), has launched the biggest indoor amusement park in Mumbai, located at Seawoods Grand Central Mall.
Six Flags Entertainment Corporation filed a statement saying the development of Six Flags-branded theme parks in China has encountered challenges, and has not progressed as expected.
Brands
Merlin announced an IP partnership with Silvergate Media to take its animated TV show Octonauts to Changfeng Ocean World in Shanghai, part of Merlin's chain of SEA LIFE Aquariums. It will be the world's largest Octonauts attraction.
More information has emerged about the Game of Thrones Studio Tour, with plans now lodged for the interactive tourist attraction at Linen Mill Studios in Banbridge, Northern Ireland.
New developments
Miral and DCT Abu Dhabi have partnered with Sportainment Entertainment and Sports and Feld Entertainment to host events and live shows on Yas Island, as demand for innovative entertainment offerings continues to grow.
Miral and Etihad Airways also signed an agreement to name Yas Island's new entertainment venue Etihad Arena. The multi-purpose, indoor destination will be the first of its kind in Abu Dhabi.
Kuwait has issued a global tender looking for international companies to help develop Entertainment City, a tourism and entertainment city featuring theme parks, a museum and a water park.
The Mall of Qatar is expanding to add a theme park, as well as 1,000 residential units, and an international school. The expansion is planned in three phases, and there will be more entertainment facilities coming.
Technology
Comcast NBCUniversal LIFT Labs Accelerator, powered by Techstars, is now accepting applications for the next programme, which is looking for startups working on breakthroughs in connectivity, media and entertainment.
Universal has filed an 'augmented ride system and method' patent to develop a ride and game control system with head-mounted displays, providing gaming effects that result in an interactive augmented reality (AR) experience.