The Rajgreen Group of Companies is one of the fastest-growing business conglomerates in India. Last year the initial phase of its Amaazia Theme Park, a ground-breaking waterpark, opened to visitors. Now the Group is forging ahead with its $75 million IP based theme park.
Blooloop spoke to Sanjay Movaliya, Chairman of Rajgreen Group about his business, his vision, and the next phase of Amaazia.
Bringing Happiness to People's Lives 
"I always had a vision of doing something that could bring about positive change, happiness both in individual people's lives and in society at large," says Movaliya.
His business life started back in 1992 from what he calls "humble beginnings", trading in food grade oil. In 2000 he moved into the entertainment sector, starting with cinemas, restaurants and a multiplex chain. Real estate then followed in 2003.
See also: VGP Marine Kingdom: India's first major public aquarium opnes in Chennai
"I went into the business of constructing dream houses for people," he says. "The aim was to create happiness in family life."
However, he'd spent the last 20 years thinking about the possibility of an amusement park. "I travelled worldwide, visiting and experiencing many international amusement parks, to bring my dream into reality," he says.
Rajgreen Group Diversifying and Expanding
The Rajgreen Group came about with the merger of Rajhans Group and Green Group in 2010. Both were leading construction engineering companies in South Gujarat.
Today the group has diversified with a range of businesses in a variety of areas.
"There are three major business divisions," Movaliya explains. "Firstly real estate development; then the entertainment and amusement sector; and finally the hospitality services sector."
Rajgreen Infrastructure focuses on real estate development, including residential, commercial and mixed developments. Rajgreen Amusement Park is a special purpose vehicle which has been set up with the objective of building and operating international class amusement parks under the brand Amaazia. In addition, the hospitality division, Rajgreen Hospitality Ltd., has plans to build and operate service apartments and hotels. It will also be responsible for the building of family entertainment clubs, known as Amaazia Family Clubs.
Over US$75 million Investment in Amaazia
Amaazia is the first leisure project of this magnitude for Rajgreen. "We are investing over US$75 million in this sector," says Movaliya. "The projects will include the Amaazia waterpark, the Amaazia theme Park and in addition the Amaazia Family Clubs.
"Prior to Amaazia, we were engaged in the development of small entertainment hubs – multiplexes, gaming zones, restaurants and so on," he says.
Amaazia is a project very dear to Movaliya's heart – the realisation of a personal dream. "I have always wanted to do something that will add value to people's lives, to give them quality leisure time…happiness basically."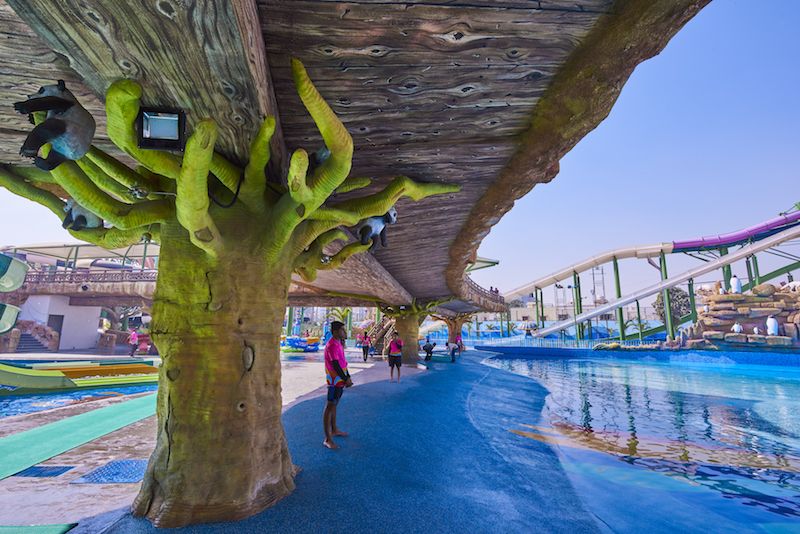 Working with Sanderson has been "Invaluable"
The first stage of the project was the Amaazia waterpark. This opened in December 2016. The park was constructed around an Amazon rainforest theme. The theme and design concept was carried out by international thematic entertainment design and construction corporation, Sanderson Group.
The company has worked with a host of entertainment giants including Disney, Universal Studios, Meraas, DreamWorks and Nickelodeon.
"It has been a great partnership with Sanderson," says Movaliya. "They carry rich international experience in creating extraordinary theme concepts, design and structures, which has been very valuable for Amaazia."
Having Dilip Chhugera, Group Director of Sanderson India on board, has therefore been invaluable. "He has had active involvement from the inception of the project," says Movaliya. "That has added immense value to the project."
Unique Waterslides Designed by Polin Waterparks
Turkish company Polin Waterparks supplied and installed nearly a dozen attractions at the waterpark. The majority of the waterslides were designed especially for the park. These include combination slides, offering a variety of extreme and thrill ride experiences.
They have all been manufactured using Polin's RTM technology and feature natural lights and exciting patterns and visual effects. For example, the Uphill Navigatour and Black Hole Combo has visitors sliding along a breath-taking 135 metre (443 feet) path, experiencing an amazing light show. As they move into the Black Hole section of the ride, they twist and turn, watching fast-changing colours and designs in a high-speed trip.
Space Boat begins in Black Hole but then sends visitors into a huge, open bowl where centrifugal force whirls them around the insides until they drop through the centre for a huge splash below.
Iconic King Cobra Waterslide is a Major Draw
The one ride which isn't unique to Amaazia comes with a fine pedigree. Polin's King Cobra waterslide is renowned for its heart-pounding combination of twists, turns and surprises. A highly sophisticated ride, guests shoot up a nearly vertical slope before sliding backwards several times before exiting the ride. The ride has won numerous awards, including 'Best Waterslide' in Europe and 'Most Innovative Product' at the Composite Awards. Its vibrant snake theming and design also fits in well with Amaazia's rainforest theme and it is proving hugely popular at Amaazia.
Breaking Records in Indian Amusement Parks
Having completed the waterpark, the next phase of the Amaazia Amusement Park is now swinging into action. This second phase will include a full-scale IP Based-themed family entertainment centre. Attractions will include an indoor amusement park and a shopping mall. Furthermore, there will be a hotel, banquet halls, rooms for weddings and other functions, a three-screen cinema and a '7D' theatre.
"We aim to complete the second phase with the theme park starting to operate by the end of next year," says Movaliya. "The entire project with all its components, is therefore likely to be completed by 2019."
The park is built on a 61,000 square metre footprint and it breaks records for India. The theme park will also be fully air-conditioned, making it an all-season venue for public entertainment.
"Amaazia is going to be the first theme park in India to have a 0.2 million square foot air conditioning dome," says Movaliya. "It will be around 100 feet high." He also points out that the Water Park has an LED display screen that is over 1,000 square feet. "That is the largest in any amusement park in India. These features make the Amaazia Project unique."
Gujarat, an Obvious Choice Thanks to its People 
Amaazia is located in Surat, a port city in the state of Gujarat. It's the eighth largest city in India and also the fourth fastest-growing city in the world.
Movaliya explains why the company picked this particular site. "Our roots are in Gujarat, which is one obvious reason," he says. "Furthermore, Gujarat is one of the most promising states in India. There is immense entrepreneurial talent here."
The personality of the local demographic also provided a firm reason for the choice. "Gujaratis are fun-loving people," says Movaliya. "They like to go on leisure and entertainment trips. If you look at statistics, the majority of Indian tourists are from Gujarat. So, why not give them something close to their home?"
He also points out that the state is very supportive of business. "The ease of doing business, plus proactive government policies and support, are also important factors."
Technology a Key Part of the Park
"The park will have the latest software for all its rides and related operations supplied by OEMs," says Movaliya. "Most of the operations and systems use state of the art IT networks and infrastructure. We also have the latest surveillance system, LED display system and automated operations planned."
Care of the environment is also a vital consideration. "We also have plans to introduce a solar energy based system for heating the water park and to meet electricity requirements," says Movaliya. "It will also reduce our carbon footprint."
The Future Looks Bright with IP 
As the park is themed, is there any IP involved? "Yes," says Movaliya. "We are in discussion with a Major International Group for IP rights for Amaazia Amusement Park. Discussions are progressing well and so Amaazia and and the IP owner may join hands."
In conclusion, Sanjay Movaliya is upbeat about the future."With Sanderson, we hope to develop Amaazia into a truly world class destination," he says. "It will not only be an attraction to domestic tourists, but will attract tourists from all over the world."