With a new theme park, television series and editions of classic books, Tove Jansson's Moomin stories are still fresh after 70 years – and even more relevant.
The Moomins, created by Finnish artist and writer Tove Jansson, have been enchanting
children (and adults) for almost 70 years. The stories are based around Moomintroll, a fun-loving, adventurous troll, and his friends and family.  They show a depth and complexity rarely found in children's fiction.
There has been a Finnish theme park since 1993 but soon Japan will have its own Moominland, to be called "Metsä", opening in 2018.
Sophia Jansson is Tove Jansson's niece.  She is also creative director of the Moomin brand, Moomin Characters Oy Ltd.  She talked to Blooloop about the Moomins phenomenon and her part in their growth into a highly successful – and deeply thoughtful – global brand.
The Moomin books have been translated into 44 languages.  They have spawned TV series and a successful film.  Nearly £400 million of Moomin goods are sold around the world annually. As if that weren't enough, the Moomin brand is reaching out worldwide with a series of exhibitions and charity collaborations.
Living with the Moomins – Jansson's Early Memories
Sophia Jansson grew up with the Moomins. However she didn't read the books until she was a teenager. "They were in my home, especially in the summer cottage, but they were never forced upon me," she says. "The Moomins were so close.  It was what Tove was doing all the time.  My father was helping her, and the rest of the family was involved, in one way or another. Because of that, I think we all had a sort of natural distance to them. I was a teenager before I read all the books, and that was because people started asking me about the Moomins."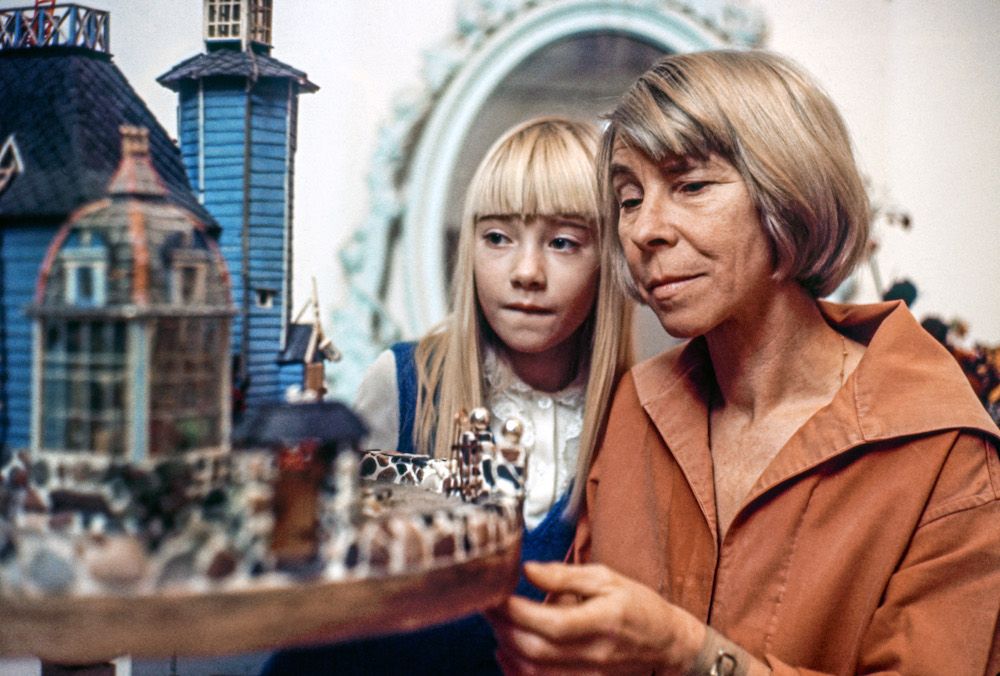 One of her earliest memories is of leafing through albums of the comic strips.  "During the 60s, a couple of the Moomin books were rewritten," she recalls. "So the Swedish version that we read today is slightly different from the ones that you read in English. One of them was Comet in Moominland.  Tove was rewriting it the summer while we were visiting.  She would read passages out loud, so those are my early memories."
Growing up with the Moomins 
Sophia lived abroad for many years, returning to Finland with her small children after her divorce. "I was a single mum, and I needed a job," she says.  "My father said, 'Well, there is always the Moomin company. You could start there, and then figure out what you are going to do with your life.'"
Jansson took his advice.  She swiftly realised that, having grown up with the Moomins, she had an intuitive understanding of many aspects of the business. "So many things were self-evident. And the longer I stayed, the more involved I became.  Then my father and Tove both died.  The rest of my family and I had to make decisions about how to go forward."
The Downside 
The success of the Moomins took their creator by surprise. Tove Jansson had trained as an artist. Both her parents had also been artists, so she accepted that it was unrealistic to expect to live by selling art alone.  She worked as a commercial artist, something not regarded, at the time, as 'art'.  This involved creating designs for posters and packaging and working on illustrations and designs for books and magazines. However, she did also have success with her paintings. Her exhibitions received good reviews.
"During the war she actually sold quite a lot," says Sophia Jansson. "In those days people thought that investing in art was a good thing. You could roll up the paintings and carry them with you if you needed to leave quickly."
But, after the war, once she started writing the Moomin books, she quickly became famous, at least locally.  Obviously this was a huge economic boon.  However it also had a downside, as Sophia Jansson explains.
"Her colleagues noticed that she could actually earn a living from the Moomin books," she says. "And that people wanted to do projects based on the stories. People were jealous of the attention and the income.
When she went back to painting, they said, 'Why are you competing with us for this space? You can already earn a living with your Moomins.' And I think that that must been hard for her, because inside she still thought she was a painter, rather than a storytelling sort of auntie."
Moomin Popularity Became a Burden for Tove Jansson
The Moomin phenomenon continued to grow. It became far more popular than Tove had ever envisaged. "There were theatre plays. The books were translated into different languages. Big department stores had displays of Moomin products," says Sophia Jansson.
"In the years that followed there was television interest as well.  It consumed more of her time than she had expected. She was slightly forgotten in painter circles. I think that was a problem for her. Gradually, that fame became too much of a burden. Eventually, she made quite a stark decision: to stop writing Moomin books.  She went back to painting and to writing short story collections and novels for adults."
Despite this, by the time she died, Tove Jansson was still predominantly known for her Moomin books.  "Outside of Finland's borders, very few people knew that she had done anything else," says Sophia Jansson.  "And I think she saw that with some regret".
Having said that, she wasn't really the sort of person to stop and be terribly upset about everything.  After all, she was producing things all the time. But I think she got a bit angry that she was labelled Moominmamma for the rest of her life.  She really wanted people to read her other books, and to remember that she actually painted, too."
Simplicity, Charm and a Complex Humanity
The Moomin books have an enduring appeal rooted in their deceptive simplicity and charm, underpinned by a complex and sometimes almost melancholy humanity. "They aren't just superficial fairy-tales; there's much more to them," says Sophia Jansson. "There is a philosophy about life in them.  Certainly Comet in Moominland has a lot of existential angst.  It was the first book, written right after the war.  A child might not pick up on it, but an adult would. I think that's probably the secret of why they are still so appealing today."
The Move from Books to Brand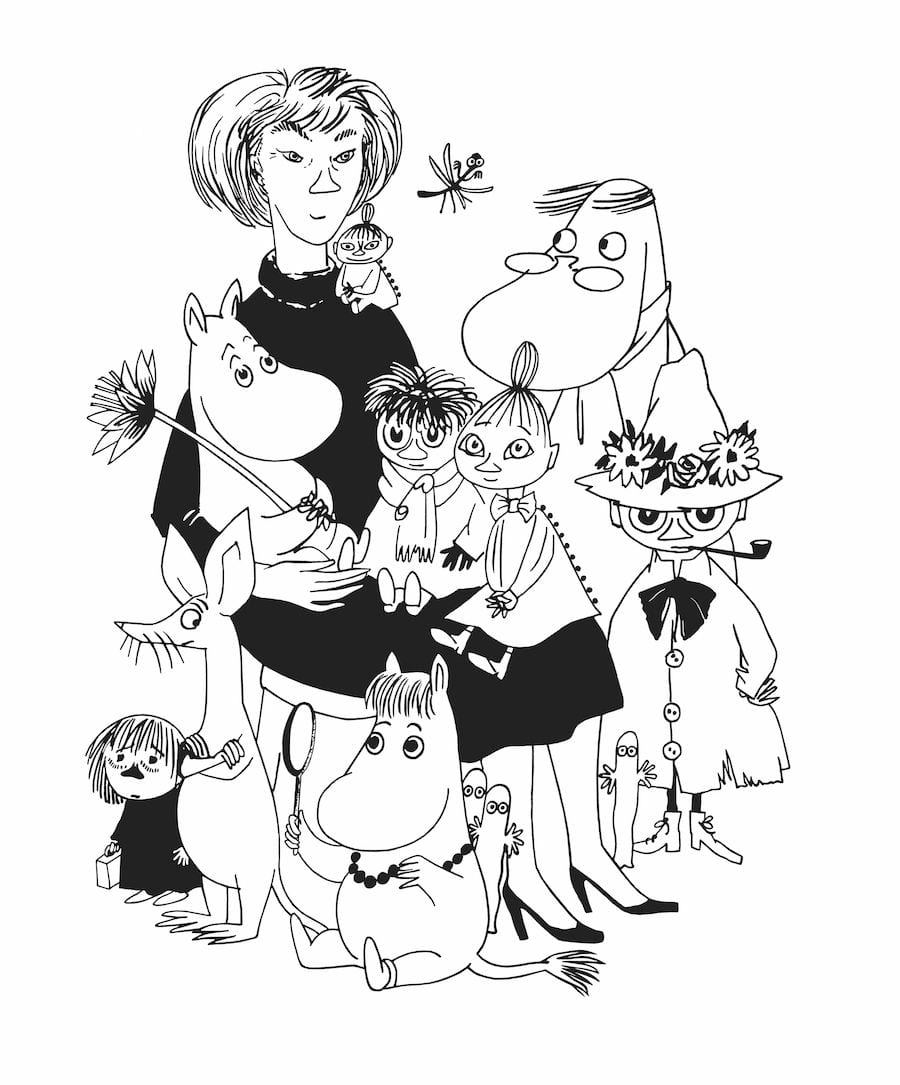 The process of the Moomins moving from book to brand began at an early stage, Sophia Jansson explains. "I think the way to trace it is to look at what happened in the 50s.  Many people think that Tove was completely removed from the commercial side. Certainly, later on, when it became a bigger phenomenon than she could handle on her own, it was quite difficult for her."
Even that early on demands were made on her.  The big department stores in Helsinki and Stockholm had Moomin departments and Tove had to make decisions.  "She had to make contracts with producers – for everything from wallpaper to notepads to small dolls.  And she had to deal with the department stores too. Tove was definitely confronted with the commercial aspect very early on. She was not at all unprepared or naive at dealing with it."
It was only when the amount of correspondence became too big to cope with that she involved lawyers and agents.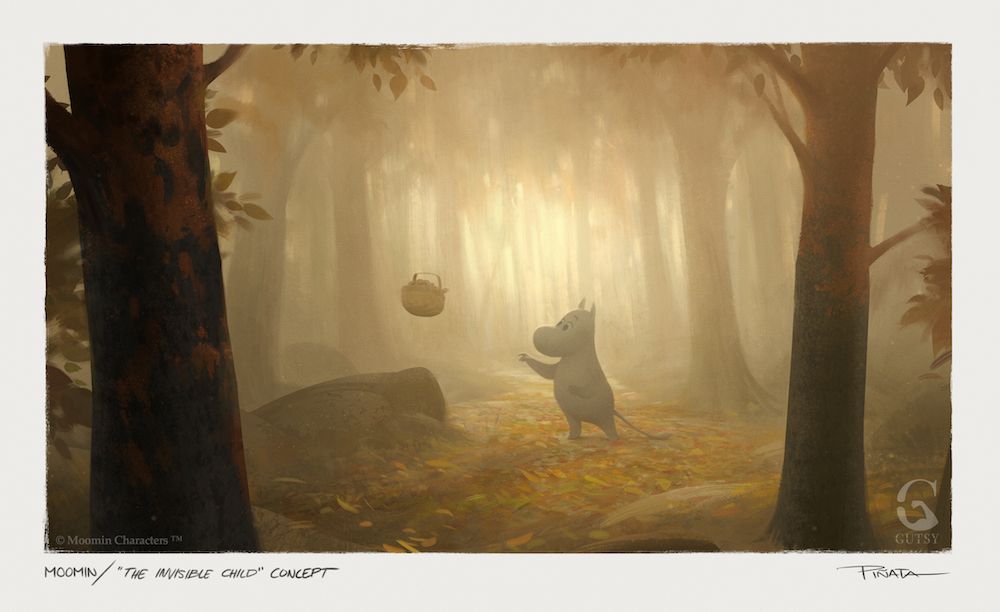 "Quite early on, she and my father, her younger brother, established a company," says Sophia Jansson. "They legally transferred the copyright of the Moomintrolls, so the company could take care of everything around the Moomins. Tove was, in those days, very much involved.
"However this way she could delegate and refer things for other people to deal with. There was an agent in Sweden who took care of the syndication of the Moomin strip in newspapers in the Nordic countries. Gradually they became her commercial agents.  In fact, the company still uses them as commercial agents today. Our operation has a history of 60-70 years. So yes, over the years, I think that Tove was involved in the commercial aspects of her creation."
Balancing the Cultural and the Commercial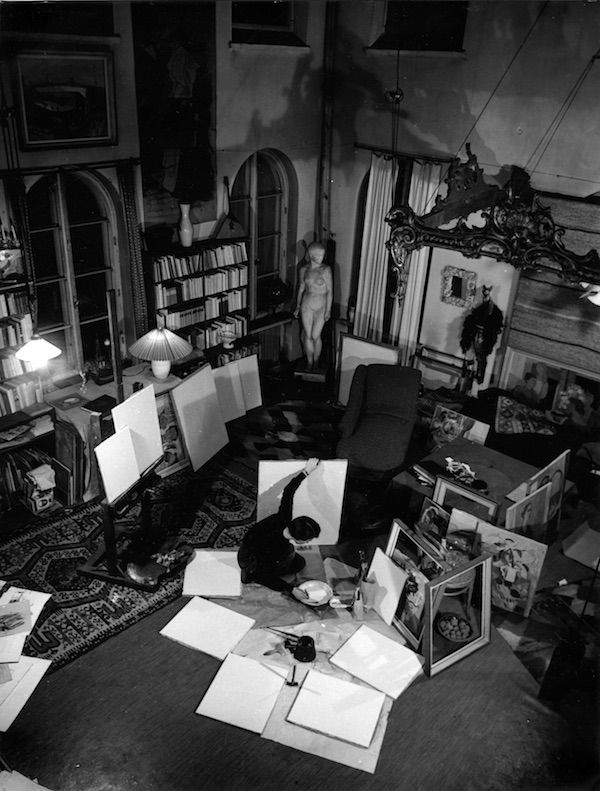 Tove's circle of friends and colleagues was made up of a mix of artists, publishers and writers. They often voiced criticism of the commercial decisions Tove had to make, seemingly at the expense of her art.  Sophia Jansson recalls a TV series made largely in Japan in the 1990s.
The series ran to a hundred and four episodes, and new scriptwriters had to be brought in for the later episodes, where the production team had run out of original stories.
"Though my father was very much involved in approving the scripts, the press asked Tove how she felt about it.  She told how her artist friends gave her hell about what the television series had done to her fantastic creation, how it was watered down.  Tove said, 'Oh but, dears, I've already removed seventeen lines out of the script…' She was still involved and did have a big red pen with which she tried to put her mark on what was being done.
"It was a balancing act.  I suppose it still is a balancing act, between her cultural legacy and the commercial exploitation of her characters."
Certain Universes Stand the Test of Time
Maintaining creative integrity while moving the brand forward is, Janssen says, a matter of anchoring everything in the original works.  "The fact that we actually voice that it's all based on her art, or her books, is important. It's not the commercial partners who validate what she does.  The general public have already validated her work a long time ago. They have placed it in the box called "art". She was a writer and a painter.  Her books have survived several generations, so they already have a value in themselves.
"When you anchor something that you do commercially in art, rather than create characters purely for the entertainment industry, it has a different depth.  However you have to be careful not to destroy it in the process."
She points out that there are good examples of people creating universes that have stood the test of time.  "Beatrix Potter is one, Tolkien is another.  They have something in them that makes them durable. Those bodies of art tend to have a longer lifespan, if you don't let them change to something unrecognisable."
A television series is definitely a commercial project in every sense of the word.  "Made well, it can prolong the time of the original work," says Sophia Jansson. "It will keep the books interesting, and current. The publishers will want new book editions to tie in with a new television series. You have to move cautiously between the two so that you keep the creation alive, and also retain its most valuable aspects."
Japan's Moomin Theme Park 
Moominworld, a theme park set on the island of Kailo in Finland, has been running since 1993.  Now a new Moomin theme park is under construction in Japan. It is an excellent example of a commercial project which contrives to build on the popularity of the original creation without subverting it. "There was interest early on in Japan to build a theme park," says Sophia Jansson. "Moomins are tremendously popular in Japan.  Now, after so many years, it looks as if it is actually going to happen."
The theme park and commercial village, just outside the city of Hanno, are about 45 minutes on the train from Tokyo. The area around Lake Miyazawa was chosen for its natural beauty, reminiscent of the Moomins' Finnish origins.
"It will be in a beautiful, natural setting around a lake.  The whole idea is that you have this experience in nature.  Part of that will be Moomin."

As Japan has a high rainfall, there will be a balance between indoor and outdoor attractions.  Visitors will be able to attend all year round, unlike the Finnish park.
"It's exciting," says Sophia Jansson. "It's well underway and hopefully will open either late in 2018, or in 2019."
"The Plans look Great."
The overall project is called Metsä – Swedish for forest.  It will comprise two zones. Metsä Village offers commercial facilities offering a Northern European lifestyle experience. The whole area will function as a public park, where facilities and activities are close to nature. A covered European style market is being planned.  Visitors will be able to purchase fresh local produces, arts, and crafts. There will be a hotel with en-suite saunas (a vital part of Finnish living). A facility to enjoy lakeside glamping is also being planned.
Then there is Moominvalley Park, a theme park built around the Moomins.
Specific attractions are still under wraps at this point.  "I can at least tell you that there is an outdoor trail," says Sophia Jansson. "There will be a Moominhouse, the Moomin Bridge, and the Observatory, among other things. Restaurants, a shop and a museum are highlights.  There will also be indoor attractions where you walk through these virtual Moomin landscapes.
There are a few other buildings that are purpose-built for various characters, and they will have an attraction in them related to that character.
"And then, of course, there will be lots of outdoor areas that will make you believe that you are walking around in Moominvalley."
The whole park will have a Northern European ambiance.
The idea has gone through a number of iterations since its inception.  Jansson is positive about the outcome.  "Plans look great at the moment. I'm really pleased."
A Symbiotic Relationship with Nature
"I think the one thing that really appeals to me is that the Japanese are in tune with how the Moomins relate to nature," says Jansson. "The Moomins live in quite a symbiotic relationship with nature, which fits in with the Japanese Shinto idea of existence. They want this to be a park which is not full of flashing lights and all kinds of joy rides. Rather it is a place where you come and relax."
The experience is designed to be a contemplative nature experience.  "They have this great thing about being there, relaxing, listening, and just enjoying birdsong and the scent of flowers. It fits perfectly into the Moomin world.  That's how they live in Moominvalley, with great respect for the environment."
Metsä is based around imparting six values. These aim to provide enriching experiences for each and every visitor. The experience of adventure, of discovery, of learning new things. The natural experiences – a gentle breeze at the lakeside, soft grass under foot, the changing seasons; and the satisfaction of achieving goals through one's own effort.
Moomins in Kew Gardens, London
Besides the Japanese theme park, the Moomins are appearing in a number of new ventures. Over the Easter period, the Moomins are at Kew Gardens in London.  "It's another good fit," says Jansson. "The initiative came from Kew Gardens.  For the last couple of years they have themed their Easter egg hunt. They approached us a while back, and we thought it was a fantastic idea.
"There is a little background story that explains the whole reason. It's about the Hemulens [a range of characters in the books]. There are many Hemulens, including Hemulen botanists.  The story is that plants are missing.  There are all kinds of activities where kids can go and find plants and learn about them.  They gather information. There are workshops about flora and fauna, and stickers to collect.  They are led to the hub where
there is a meet and greet with the Moomins.
"Again, there is a background idea linking the Moomin stories, and their relationship to nature. Kew Gardens is a fantastic place to learn about flowers and plants while having fun and spending time with the family. On top of that you have an Easter egg hunt."
It's not only families who will be making the trip to Kew.  "In fact, we are taking all our staff on a trip to Kew Gardens," says Jansson. "We have this tradition of outings for our staff and we are sort of childish and silly. So we thought this would be a good exercise for them."
Considering the Broader Implications of Partnership
Jansson is extremely careful about the companies with which she partners. "Of course, we are contacted by all sorts of people suggesting different sorts of projects," she says. "On the whole, we are blessed that precious few of them are really crazy or far out. I think people have an intuitive sense for what might suit the Moomins. We are careful. We do think about the broader implications of who we work with and whether they fit with what we do.
"Obviously, because we have over 700 licensees worldwide, it's not always that easy to be right about everything. However the aim is to find projects and partners, where the benefit is mutual, and the value basis one that we can wholeheartedly stand behind."
A New Television Series for 2019
A new television series is currently in production. The first episodes will come out in 2019. "We have a fantastic creative team from the UK," says Jansson. "The producer is a very experienced Finnish lady who has done lots and lots of work for TV (Marika Makaroff, founder of Gutsy). So, that work is ongoing, and it will be very important.  It is a way of giving new life to the stories in this format. It's a big project, and there will be more episodes, and possibly a film after that."
Exhibitions, Festivals and Tours
A major immersive, interactive exhibition at the Royal Festival Hall on London's South Bank Centre is now in its final weeks. Adventures in Moominland ran from 16 December 2016 and ends on 23 April 2017 (Note: since this interview, due to demand, the exhibtion has been extended until August 20th). It presents new insights into Tove Jansson's life and the influences behind her work. Rare archive objects and illustrations are built into the experience.
In addition, an exhibition of Tove Jansson's artwork is touring venues around the world.  It will come to the UK, in Dulwich, for autumn 2017.  Autumn also sees The Lakes International Comic Arts Festival in Kendal, UK.  This will highlight Tove Jansson and the Moomins.
Publishing more than the Moomin Books
New editions of the Moomin books are planned.  The Moomins have been well-known in the UK since the 1950s.  However Sophia Jansson is pleased that there is interest around Tove as well as the books. "It is really nice that in the UK people recognise Tove as an artst, and a quite extraordinary woman in her own time."
Jansson explains that the Moomin books are under their own control.  "We have a small publishing company, and we took back the publishing rights to the Moomin books. The company also publishes other books in Swedish.  We are part of the big foreign rights agency that also does licensing, so we will take over the Moomin licensing.  So there's actually a lot going on."
Inevitably the major focus is on the Moomins.  However, Jansson has a broader aim:  to publish great Nordic children's books.  "Books that carry a democratic tradition focused on equal rights, education and good content for children.
"All those are values that we take for granted in the Nordic countries. But in many other parts of the world they don't exist. The common thread is that we try to further this tradition by exposing it in terms of the brands that we license.
As a result, this takes hard work and dedication.  "You do need to be quite active.  It means daily work, creating events and a buzz around the brand.  Keeping 70-year-old books alive doesn't happen by itself."
All images kind courtesy © Moomin Characters ™