Bringing interactive characters to life
Animalive are leaders in interactive cgi animated characters and motion capture for live TV, theatre, theme parks, themed restaurants, FECs and retail. 
The company have a wealth of characters and digital environments in their portfolio, as well as ability to work with customers to develop bespoke animated characters and backgrounds. 
The company provide a complete package from consultation and content customisation to installation, training and ongoing customer support.
Motion capture and animation is also available for real-time interaction and point of sales at trade shows, product launches, events and concerts.

Founded in 2007, Animalive grew from a team of CG experts doing corporation gigs to  bring animated characters to life using motion capture systems. They found a ready market at Family Entertainment Centres and started applying it all to kids.
The first client was the London Science Museum and have grown to work with clients including Merlin Entertainments, Europa Park, The BBC and Rainbows End.
AnimaChat
Soon to be launched at the IAAPA Asia Expo show in Shanghai, new product AnimaChat will allow customers to stream all Animalive services remotely, across the web. This allows one artist and one technician to broadcast across multiple locations.
The first AnimaChat has gone live in Tabatinga FEC centres across Eastern Australia.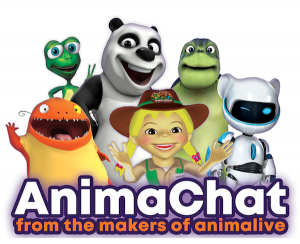 Tech Costs
Spread the cost of a motion capture system & technician across numerous locations (clients)
Talent costs
Spread the cost of dedicated talent across numerous locations (clients)
Digitise your mascot
Digitised mascots can be quickly animated to produce marketing collateral for various uses
Digitise your brand
Digital collateral can be transplanted to new locations with ease. Ideal for franchisers that need to keep the message tight.