We are multimedia storytellers. By using innovative media and technology, we design experiences that engage the imagination, the intellect, and the senses.
Linda Batwin and Robin Silvestri, co-founders of batwin + robin, have a career that spans more than 30 years in media design. Together they have explored new ways of using media as innovators in their field and breaking down barriers with their commitment to visual storytelling. The company's principals are Megan Gargagliano and Adam Casini, who together have 25 years experience at b+r and have directed, produced, managed and installed many of batwin + robin's award-winning projects.
batwin + robin's scope is varied working across museums, brand centres, theatre, events and attractions to create compelling experiences.
ENVIRONMENTS
We seamlessly incorporate media into architecture and exhibits to create transformative environments and experiences. batwin + robin was awarded six Cinema in Industry (CINDY) awards for our work at the Center for Civil and Human Rights in Atlanta, Georgia. We were the recipient for the American Muse Award for Technical Excellence for the adroit installation, Creation's Journey at the National Museum of the American Indian in NYC.
INTERACTIVES
Much of our work includes the production, integration and programming of interactives. These range from customised user-generated experiences, to touch screens utilising extensive content management systems. We create experiences combining the latest technology with simple but powerful interactions. Our Binaural Lunch Counter Interactive for the Center for Civil and Human Rights was a recipient of a Muse Award.
THEATER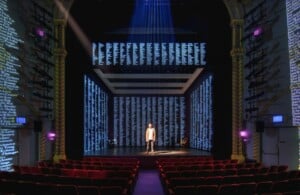 We design media for theatrical productions to explore new ways to visually communicate ideas to audiences. We have recieved recognition for our inventive work on such high profile productions as The Normal Heart (Hewes Design Award), the Radio City Christmas Spectacular (Live Design Excellence Award), Radiant Baby (Drama Desk nom.), Harlem Song at the Apollo Theater (Hewes Design Award nom.) and Nora Ephron's Lucky Guy starring Tom Hanks.
EVENTS
Designing media for events requires a blending of information and entertainment to create unique and memorable experiences. Events also demand exceptional precision, organisation and energy. Our projects include the CFDA Fashion Awards, Hugh Jackman Live in Las Vegas, IAAPA Expo 2021, Oprah Winfrey at Radio City Music Hall, the UNICEF Snowflake Ball and IBM's 100th Anniversary Gala at Lincoln Center.