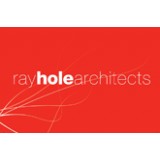 ray hole architects is an international, award winning architectural practice underpinned by Ray Hole's experience gained over 25 years in highly creative, multi-disciplinary design environments as structural engineer, architect and designer, and through our diversity of projects, activities, locations and cultures.
The active exploration of as many influences as possible allows us to develop a design attitude which differentiates our approach and completed work. This is why we are recognised as much for our opinion as our architecture.
We believe that creating 'architecture' is a very important criterion of a much broader responsibility providing the means by which greater value can be realised for our clients, stakeholders, end-users, society in general and the environment. We do this through realising achievable yet technically innovative and sustainable solutions and adopting well-proven design management processes.
Understanding the cultures and trends within the various industries is fundamental to our ability to deliver commercially sound, operationally efficient and revenue generating facilities. Our membership of client bodies and attendance and participation at industry conferences and international trade missions is therefore crucial in maintaining our inclusive knowledge base, as is our highly specialised internal CPD program
This experience, attitude and understanding allow us to play an influential role in redefining the cultural, heritage, science, sport, education and themed visitor attraction sectors, in addition to enabling mainstream property developers to differentiate themselves from their competitors.