Vennersys has been providing software to visitor attractions for over 25 years. We pride ourselves on equipping our clients with hard-wearing, reliable equipment, intuitive and easy to use software and most importantly, providing an enthusiastic and experienced team, which are in tune to the needs and requirements of visitor attractions.
Our VenposCloud solution is an advanced, modular, multi-channel software suite designed to allow the user to manage all their customer-orientated activities from one system.
Vennersys has provided VenposCloud to FECs, farm attractions, historic houses, museums, zoos and aquariums and visitor attractions. Our customers include Nickelodeon Adventure Lakeside, Blenheim Palace, Folly Farm and 360 play.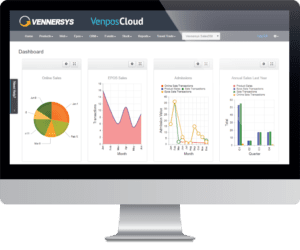 Why choose VenposCloud?
It increases visitor spend.
Streamline your operations.
Consolidate systems.
Uses a hybrid cloud-based system to keep attractions trading.
Venpos Online
A comprehensive e-commerce solution allows you to sell tickets, merchandise and capacity limited experiences on the web, 24/7 and 365 days a year.
The system supports a variety of ticket types, including e-tickets, wristbands and souvenir tickets.
Detailed sales and admissions reports make analysis of visitor demographics easy and quick, thus allowing you to optimise future offers and events.
Venpos CRM
Our CRM module/function enables a detailed capture of purchasers, members, potential visitors and organisational data. VenposCloud facilitates more detailed capture of information of your visitors which allows you to create an enhanced database. This valuable data can then be used by an attraction to understand, manage and market to their target audience. Every visitor who books online, buys a membership, event ticket or makes a Gift Aid donation is automatically added to the contacts database. Our feature rich system also supports integration with leading 3rd party applications including Campaign Monitor and Get Feedback
Venpos Ticketing
Venpos Ticketing supports third party ticketing such as Tesco Clubcards and tour operating ticketing in addition to a dedicated "travel trade" site add on, where your travel trade partners can purchase and resell your tickets at pre-agreed pricing.
Vennersys's VenposCloud allows you to sell gift vouchers and gift experiences both online and at Epos to maximise your revenue opportunities. Venpos Ticketing supports third party ticketing such as Tesco Clubcards and tour operating ticketing in addition to a dedicated "travel trade" site add on, where your travel trade partners can purchase and resell your tickets at pre-agreed pricing.
Venpos Event Management
VenposCloud integrated event management module allows you to create capacity-driven, timed event bookings, party bookings, corporate bookings and group bookings. VenposCloud can handle them all whether they are single one off events or recurring events both current and future events are supported. Staff can view all events taking place in a daily, weekly or monthly format in the Events Calendar.
The calendar allows you to easily assess what events you have coming up and identify busy periods. Our solution also supports capacity limited events, tracked tickets and timed ticket events as well as online and offline ticket validation. You can plan and book parties directly through VenposCloud. Your complete tailormade party packages are added to VenposCloud and can be booked by a click of a button. Our solution allows you to upsell catering and retail items within the booking process.
Venpos Membership Management
Our Memberships module makes managing and renewing memberships easy, at point of admission and online. Multiple membership types are supported and the printing of the membership cards is made simple with the customer's image captured on a web cam. At point of sale a membership card can be created and printed in less than a minute, encouraging uptake during the admissions process.
A site can see entrance activity, purchase activity, you can group together members and see direct debit information such as when payments are due and successful/failed collections. Other advantages include automatic renewal reminders, direct debits, advanced reporting and membership cards that are in line with your brand. A membership portal is available to complement the membership functionality which allows members to book tickets in advance or at discounted prices, renew their memberships or subscribe to direct debits, moving the administration burden away from your in-house teams.
Venpos Gift Aid
VenposCloud easily integrates Gift Aid donations into your daily business operations. Gift Aid is a tax relief that generates over £1.3bn in additional income for the UK charity sector each year, with a further £560m unclaimed each year. Many Museums and Historic Houses operate as charitable trusts and could be missing out on potential gift aid donations by not using the right Visitor Management Solution.
With VenposCloud you can easily integrate Gift Aid donations into your daily business operations. You don't need to fill in lengthy forms or have a separate process. VenposCloud, increases the take up of charitable donations by simplifying and speeding up the process at the point of sale. Reconciliation is easy too: simply run a standard report to provide all the information necessary for your submission to HMRC. No more manual reporting and reconciliation! test
Venpos Table Ordering
Operators are working hard to maintain social distancing in their venues. To help them protect guests, Vennersys has incorporated its catering module into an online customer journey. This means that visitors will be able to order food themselves, therefore keeping contact to a minimum. This allows guests to use their own device to pre-order food and drink, order refreshments directly to their table, or use a click-and-collect service. As well as keeping contact between guests and staff to a lower level, this system also leads to fewer queues and reduced waiting times.
VenposCloud will guide users through the straightforward online ordering journey, where they will also be directed to upsells, modifiers, and promotional offers. For operators, the solution is easy to use too, enabling them to manage the process in-house and make any necessary changes. The solution can be fully integrated into the Vennersys EPOS systems so that orders from any source can be managed simply within the kitchen.
Venpos Animal Adoptions
This module supports creating a new online journey for adoption sales and enabling adoptions to be purchased as a gift or with a voucher. The customer adoption management module includes setting up direct debit subscriptions and allowing online renewals, provides newsletter communication support and certificate management.
Attractions can configure the model of "adopting a species". So different species of animals can be set up as different animal adoption types, for example a penguin adoption and a lamb adoption are added as two different adoption types. Comprehensive information can be held against the purchaser and the adoptee to enable future communications.
All of the relevant information about the adoption is available such as the start date or the adoption, the expiry date of the adoption, whether the adoption is active or inactive and when it was last used. The system gives you the option of adding a Fact Sheet to each species. The Fact Sheet can contain all the important information about the adoption, and it can be viewed by the adopter on their adoption portal.
Venpos Integration Bridge
Our software is designed to easily integrate with other business software – helping improve efficiency, visibility, and communication across your organisation.
Easily integrate with your existing systems using our open APIs.
Automatically and securely deliver the necessary financial information to your finance provider, on-premise or in the cloud. For example, our customers integrate with Oracle Financials, Sage 50, Sage 200 and Capita Financials.
Two-way integration with best-in-breed packages such as Gocardless for direct debits and Campaign Monitor for marketing automation ensures that you are benefiting from integration with world leading SaaS solutions.

Venpos PoS
Venpos PoS is an integrated powerful and intuitive touch screen PoS solution which puts all of the features of Venpos at the fingertips of your operators. Whether they are selling entrance tickets, gift vouchers, gift experiences and more, Venpos PoS is a simple and easy to use solution.