Miami's new science museum, Frost Science, is stretching boundaries as well as minds in Florida.
Frost Science opened in its ground-breaking new iteration on the 8th of May in downtown Miami's Museum Park.
With exhibitions spanning six floors, the museum is one of the few institutions in the world to boast a state-of-the-art aquarium and a powerful high-definition planetarium.
Blooloop caught up with the Museum's Vice President of Technology, Brooks Weisblat. He talked about his background, his role at Frost Science and also about the technological infrastructure he has put in place.
Timeline of a technology career
Brooks Weisblat has been a member of the museum team for 20 years. He graduated from Florida State University with a degree in biology yet increasingly found himself involved with technology.
"I was always into technology," says Weisblat. "While studying, I was developing websites and managing AV infrastructure for Florida State."
After graduating, he moved to Miami to take a PhD in viral immunology at the University of Miami. Yet once again he found himself drawn to the technology department, taking on a number of roles. At this point, realising his career goals were changing, he began looking for technology-related jobs.
"That's when I came across the Miami Science Museum [as it was known then]," he says. "About 20 years ago I interviewed with the Director of Education. As a result, I ended up with a three month contract to develop their website. After three months, they offered me a full-time job. At that point I was a web developer for the Science Museum."
Gradually Weisblat found himself taking over the technology infrastructure at the museum.
"At that time they didn't have someone managing the technology," he says. "So I took it upon myself to start upgrading the network. I did this alongside the website work. I also produced technology exhibits."
He went on to hold a variety of positions within the institution, including Technology Director and Electronic Curator. "I was in charge of different departments throughout the museum, including the planetarium, membership services and so forth."
Nearly every facet has been custom-designed
In 2011, Dr Phillip and Patricia Frost, long-time supporters of South Florida's arts and culture, committed $35 million dollars to the project and the museum was named in their honour. It became The Patricia and Phillip Frost Museum of Science – commonly known as Frost Science.
Hill International, Inc. came on board in 2013. Hill is a global construction consulting firm that specialises in managing highly complex projects like Frost Science. Nearly every facet of the building has been custom-designed – it is not remotely 'off the shelf'. It also scores highly on sustainability.
Frost Science is one of two museums at Miami's Museum Park on Biscayne Bay. It spans four acres and encompasses four interconnected buildings.
"A broad set of responsibilities"
Currently, in his role as Vice President of Technology, Weisblat has overseen the technological aspect of the new museum project. He has therefore been responsible for developing all the technology around the new institution. This encompasses everything from the
network, the website, the apps, the planetarium, the security system and access control systems. He also oversees life support for some of the tanks in the aquarium and control systems for the exhibits.
"In addition I consult on different projects of technology where they are bringing in exhibits which have technology related components, whether it's virtual reality, or connected interactive displays, and so forth."
He describes his role as "a broad set of responsibilities." It's something of an understatement. He's also responsible for "setting up and the server infrastructure, the storage, the backup, the local network connecting all the different sites via VPN, and website viral security."
VR, AR and technological interactivity impact
The Museum comprises six levels inside a North and West Wing. Alongside the aquarium and planetarium, there are also rooftop observation decks featuring a stargazing telescope. There is also a garden. The exhibits are all underpinned by VR, AR and technological interactivity that enhances interpretation.
"Related to VR, we have a couple of shark exhibits located near the Gulf Stream Aquarium," says Weisblat. "The user puts their head into a VR headset enclosed in a shark head."
This Shark Senses Virtual Reality allows visitors to explore the shark's environment. They can experience hunting prey while learning about the animal's senses. It was developed by the South African-based museum and exhibition design company, Formula D Interactive. The company also provided an augmented reality exhibit. This gives visitors a walk-through experience of the Gulf Stream and its aquatic inhabitants
Minority Report for fish
"We have discussed augmented reality (AR) a lot over the last few years," says Weislbat. "I hoped we would get to a point where we could use augmented reality on a phone or tablet. The aquarium visitor, through an app, could hold up their device and look at fish as it swims by. The app would identify that fish and provide stats around it. So it would be like the film, Minority Report, but for fish."
However so far that hasn't been a possibility. "I consulted with a few firms during the development phase," says Weisblat. "The general feeling was that the technology just isn't powerful enough. It can't deal with a fish that can have quite a few different variations, and behaviours, and ways it swims around."
However in the meantime, he says "There are fish IDs on Microsoft Surface Tablets, which is still pretty cool. We have Microsoft Surface Tablets around our aquarium enclosures. These are connected directly to our husbandry database. The team that takes care of these fish is also connected to that same database. So, when fish are added or removed from a tank, that data is pulled directly by the Microsoft Surface Tablets. The current inventory of fishes is always accurate and up-to-date."
Insider Explorer technology breaks new ground
The three-level 500,000-gallon aquarium is shaped like a giant martini glass. Its overhead oculus viewing window allows visitors to gaze up through a portal into a magnified aquatic world.
The museum showcases an interactive exhibit, Inside Explorer (also used at the Nobel Museum in Stockholm). Designed by Swedish company Interspectral, Inside Explorer allows visitors to explore the physiology of fish through X-rays and scans. It enables guests to dissect sharks virtually on sizeable 'touch tables'. They make simple gestures to manipulate, zoom and see through layers of the 3D X-ray scans.
Interspectral collaborated with Professor Gavin Naylor of the Hollings Marine Research Laboratory in South Carolina. He gave the company exclusive access to his extensive digital collection of research scans.
Interspectral have also installed Inside Explorer in many museums and science centres. However the Frost Science project is the first time an aquarium has taken advantage of this technology.
Interactive media wall triggers closer contact
Further interactive exhibits at the Frost Museum include an interactive media wall. "The wall has Hollywood style renders of underwater environments," says Weisblat. "There are IR camera sensors throughout this space that detect visitors. They can interact and move towards the wall and have schools of fish disperse around them. It also triggers interactions, so that a Mola mola might approach, or a shark or a sailfish or a dolphin."
The exhibit uses four HD projectors, and numerous auto alignment cameras. It also employs IR sensors that detect movement in the space.
River of Grass – the Everglades' vital environmental role
The interactive AV Everglades exhibit, River of Grass, has both indoor and outside components. In the outside space, children experiment with water, learning about its vital role in keeping the 300-mile area of the Everglades and its creatures flourishing. Inside, they also experience an interactive virtual environment which has 16 projectors.
"This is more of a children's play space," says Weisblat. "It has a host of interactive, really cool, rendered creatures that interact. Outside they can block water flow with physical objects. These are detected with Microsoft Kinect cameras to monitor what they're doing."
The Planetarium creates a 360 degree immersive experience
The 250-seat Frost Planetarium is one of the multiple jewels in the Museum's crown. It uses 16-million-colour 8K projection (with six 3D-capable projectors), surround sound and a 67 foot dome screen to take visitors on dazzling odysseys to outer space. The screen is tilted forward at 23.5 degrees to fill the field of vision. This creates a 360-degree view immersive experience.
"We travelled the world to look at different planetarium systems," says Weisblat. "We wanted to pick the perfect balance of brightness versus contrast to deal with full dome theatre and live star shows. After looking at quite a few different systems, we settled on a good compromise of brightness and contrast with the projectors that we chose."
The provider chosen was Sky-Skan, Inc. from Nashua, New Hampshire.
"There are only two or three companies in the world that can put the systems together," says Weisblat. "The planetarium is powered by 14 Dell servers. We have 2-D and 3-D. There are six projectors that are comprised of the full dome image. These are shaded and stitched together. They are also auto aligned using SLR cameras."
The new system will automatically connect to science data repositories and update itself with the latest data about the universe. As a result, repeat visitors will always have something new to see and learn.
Keeping technology current is key
Even in such a new venue, the challenges of keeping technology current are nonetheless firmly on Weisblat's mind.
"The planetarium is refreshed every five to six years," he says. "We really wanted to choose laser-based projectors: that way we don't have to change lamps. But the planetarium projectors just weren't there yet. Laser-based projectors are just coming about, but they're not powerful enough to give that crisp, bright image that we wanted.
"It would have been a compromise to go with laser, so we have traditional lamp projectors in there. Every 1,500 hours all the lamps have to be replaced. Typically, with the planetarium, after four or five years those projectors are starting to age. And technology has moved along as well. We imagine that in five years they will be replaced with laser-based systems. As a result, these will require less maintenance, and less cost to keep them running. The bulbs are expensive."
Visitor expectations drive change in exhibits
21st century museum visitors are technologically sophisticated. Their expectations therefore drive change in terms of exhibits. "A lot of these exhibits were developed several years ago," says Weisblat. "People expect bright and sharp imagery. They expect to be immersed. They expect to be challenged. I think there are a couple of exhibits that, halfway through, we wished we could have upgraded to 4K projectors and brighter projectors. However that just wasn't on the cards once you get so far down the path. Later on those exhibits could be upgraded."
Weisblat points out that there are almost a hundred Wi-Fi base stations throughout the institution. "People love their devices so we allot a pretty decent amount of Wi-Fi bandwidth for our visitors."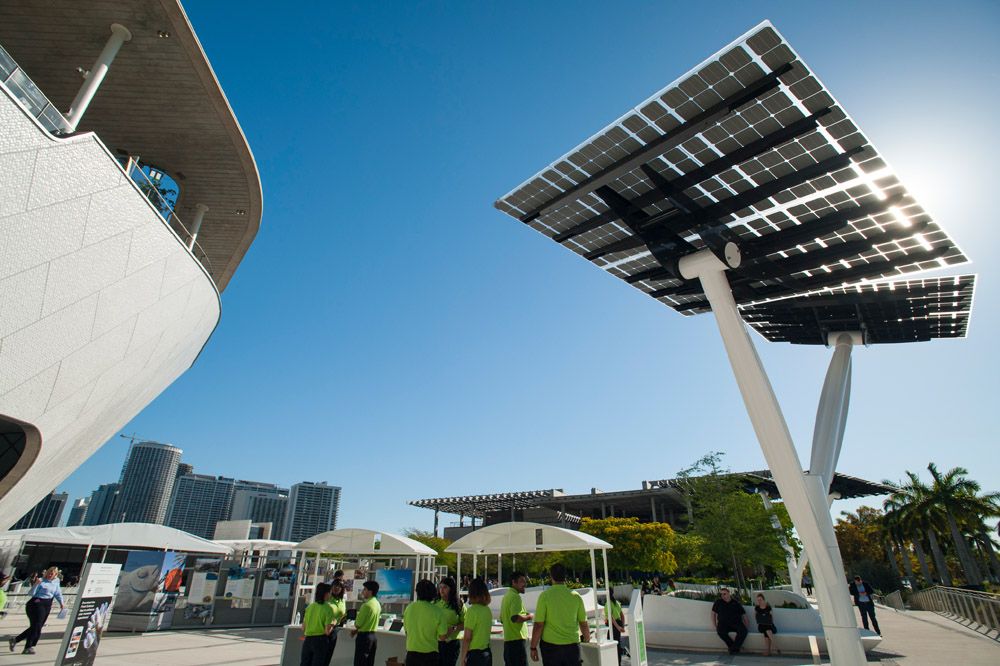 App encourages exploration of the entire museum
There is also a specific Frost Science museum app. "We wanted to make sure that we didn't just have an app in order to have an app. We wanted it to function and be useful. Otherwise you could just have a web view or a responsive website to provide these things. For the museum app we use beacons throughout the building."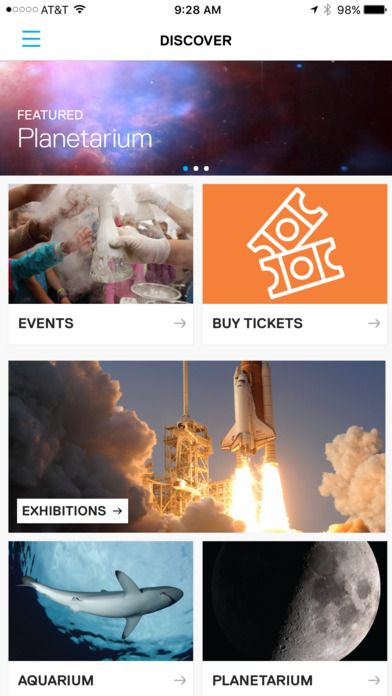 There are over a hundred beacons situated throughout the building, which interact with the app on different levels. "First of all, there is a map which will geo-locate you within the building," says Weisblat. "When you open the app it will find the nearest beacon and also fix your icon on the map to show where you are."
Scavenger hunts across the board
The app also uses beacons for a scavenger hunt game throughout the museum. "The user opens the scavenger hunt and picks one of four. If they pick water, for example, the app would give them a clue to an exhibit within the building. They might have to go find the alligator, for example. When they find it, the beacon triggers a question based on that exhibit. Furthermore, if they answer the question correctly, one of these quadrants within the scavenger hunt lights up in colour. After they have answered four questions they can obtain a small prize from the museum store. As a result, it really encourages kids and their families to explore all the different parts of the museum."
There are also icons throughout the museum which say 'Get more info'. "If you open up your app you go to the enhanced experience at that beacon. It might play video, have more text based on that exhibit, or play audio files."
Technology is also used as a tool to make exhibits and interpretation accessible to everyone. "We also use the beacons for assistive audio," says Weisblat. "And we have tactile based exhibits, accompanied by an audio description."
Inspiring Children with a Lifelong Fascination with Science and Technology
"We are one of the few museums that has quite so many facets of science," says Weisblat in conclusion. "Not many museums have science and an aquarium as well. Here, you have immersive live animal aquarium experience, and the education that entails. But you also have the science and the really cool, immersive experience with the planetarium."
Above all, says Weisblat, the role of Frost Science is to inspire. His hope, therefore, is that it will infuse children with a lifelong fascination with science and technology.