The UK's capital is home to some of the world's finest museums and art galleries. We take a look at 13 of the top museums and galleries to visit in London.
London's best museums and galleries hold impressive collections of art and artefacts, as well as putting on educational and entertaining exhibits throughout the year. Here, there is something for everyone, from modern art and social history to dinosaur bones and influential figures. It's no wonder that, out of the 20 most visited museums in the world, five can be found in London.
This list is in no particular order and is based on the favourites of the Blooloop team.
13 of London's top museums
1. The Postal Museum
This little-known gem is one of the top museums in London. Open since 2017, this heritage attraction explores Britain's earliest social network, the postal service, and covers five centuries of history.
The Postal Museum is a family-friendly choice, where guests of all ages can enjoy interactive exhibits as well as Mail Rail, an immersive underground rail ride. The collection includes some of the vehicles used to deliver the mail throughout history, the world's first postage stamp, and examples of iconic graphic design.
Guests can also dress up in examples of postal service uniforms throughout the ages and defeat a lioness attack in the mail coach game.
Did you know? The postal service has been around for over five hundred years. It was introduced under the reign of King Henry VIII and he was the only person it served.
2. The Museum of London
The award-winning Museum of London is another top pick for visitor attractions in UK capital. It presents the story of London throughout history, from its first settlers through to the people who live there today.
At its city-centre site, the museum covers prehistoric London, Roman London, Medieval London and the tumultuous years of 1550 – 1660 when fire and league ravaged the city. Here, it also explores how the city was rebuilt after the Great Fire and how it evolved into the busy, modern city that we know today.
Meanwhile, at its Docklands site, the Museum of London delves into the city's history as a port, talking about sugar, slavery, and the days of Empire, as well as the impact of the Blitz and industrial decline.
In 2019, the Museum's director Sharon Ament gave attendees at BlooloopLIVE UK a sneak peek of plans for the museum's new home in Smithfield Market.
Did you know? When the old London Bridge was demolished in 1831, the materials were recycled to create knives and forks.
3. The National Gallery
The National Gallery offers visitors to London the chance to see one of the top collections of paintings in the world. Within the gallery, guests can see iconic works by the likes of Van Gogh, Caravaggio, Titian and Botticelli. The National Gallery is home to over 2,300 works of art, covering key moments and movements in Western European art from the 13th to the early 20th century.
The collection itself dates back to 1824. This was when the House of Commons agreed to pay £57,000 for a collection of 38 paintings owned by a banker named John Julius Angerstein. The aim was to create a new national collection, for the enjoyment and education of all.
Then in 1831, it was decided that a dedicated building would be constructed to house the collection as it grew. The site, in Trafalgar Square, opened to the public in 1838.
Last year, Judith Mather, Buying and Brand Licensing Director at the National Gallery spoke to Blooloop about its strategy for taking the brand into the Asian market.
Did you know? Some of the sculptures on the outside of the building are redundant pieces left over from the creation of Marble Arch, created to commemorate the Napoleonic Wars
4. The Science Museum
Next on our list of top London museums is the much-loved Science Museum. This is home to interactive exhibits and fascinating facts for all ages.
The Science Museum was founded in 1857 and attracts over 3 million visitors each year. Within the permanent collection, it holds more than 300,000 items, including the oldest surviving steam locomotive, the first jet engine, the Apollo 10 command module and a reconstruction of Crick & Watson's DNA model, as well as some early steam engines.
In addition to this, the museum is also home to a large medical collection. Here, it displays exhibits of medical equipment and practices throughout history, from around the world.
Last year, The Science Museum started construction on a new facility, which will house more than 300,000 objects that have been in storage.
Did you know? Robots are older than you might think. The Science Museum owns a life-sized spider automaton that dates to around 1600.
5. The Victoria and Albert Museum
The V&A is the world's leading museum of art, design and performance, and is one of the top destinations for visitors to London. Queen Victoria herself laid the foundation stone in 1899.
This museum has a permanent collection of more than 2.3 million objects, covering over 5,000 years. Topics covered include architecture, furniture, fashion, textiles, photography, sculpture, painting, jewellery, glass and ceramics. The V&A also holds book arts, Asian art and materials related to design, theatre and performance.
The V&A has recently announced a new partnership with HTC VIVE Arts in order to create an immersive virtual reality (VR) experience for museum visitors. The 'Curious Alice' VR event will preview the museum's Alice: Curiouser and Curiouser exhibition, which opens on 27 March 2021.
Did you know? The V&A Museum was one of the first to formally introduce Rapid Response Collecting. This is where contemporary objects are acquired in reaction to key moments in modern history. For instance, the COVID-19 pandemic.
6. The Natural History Museum
Another favourite London museum, the Natural History Museum's collection tops 80 million specimens. It records more than 5 million visits per year.
The museum is known for its dinosaur exhibits. However, there are many other collections available to explore too. These cover the fields of botany, entomology, mineralogy and zoology. The Natural History Museum first opened to the public in 1881, based on the collection of 17th-century physician and botanist, Hans Sloane.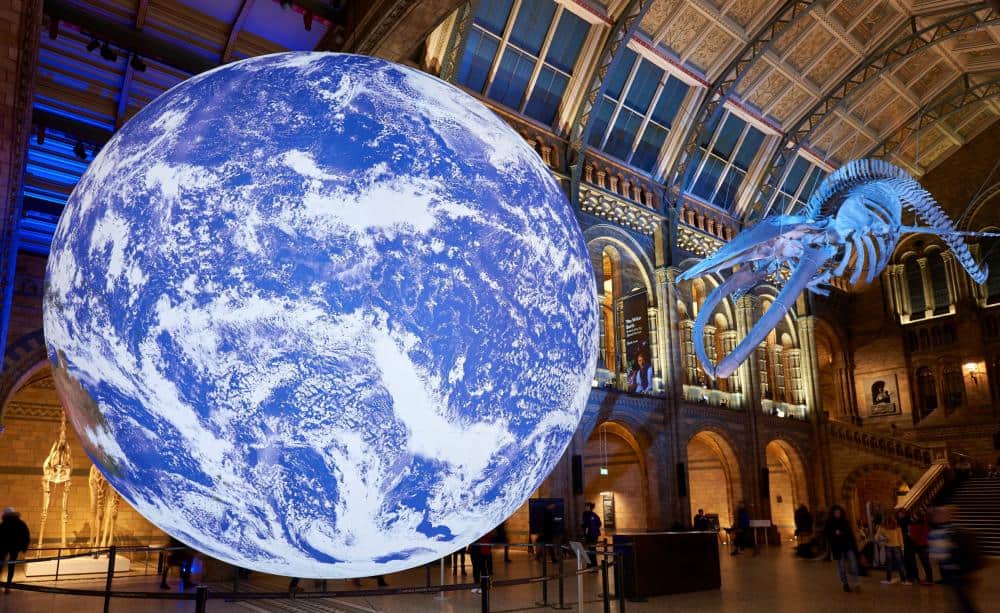 Earlier this year, the Natural History Museum declared a planetary emergency. It has now launched a new strategy in response to climate change and will create new galleries, exhibitions and events.
Did you know? Hope the blue whale was found stranded on a sandbar near Wexford, Ireland in 1891. Her skeleton now hangs suspended in the museum's Hintze Hall, Recent analysis has revealed more information about Hope and her life.
7. Horniman Museum and Gardens
The Horniman Museum and Gardens is home to around 350,000 objects. The collection includes internationally important anthropological items and musical instruments as well as a wide array of taxidermied animals.
The museum aims to help visitors to connect with global cultures and the natural world. In keeping with this mission, it is one of a number of top London museums to declare a climate emergency.
Earlier this year, Nick Merriman, CEO of the Horniman Museum and Gardens spoke to Blooloop as the museum reopened to the public following the COVID-19 crisis. He discussed the museum's future plans as well as the importance of engaging with diverse audiences.
Did you know? The museum holds Frederick Horniman's Insect Collection. This includes more than 4,700 butterflies, over 2,000 beetles and almost 500 specimens of other insects.
8. The Wallace Collection
The Wallace Collection in Manchester Square, London, is a world-beating collection of paintings, sculpture, furniture, arms and armour and porcelain. This was collected over the 18th and 19th centuries by the Marquesses of Hertford and Sir Richard Wallace. It was given to the British Nation in 1897 by Wallace's widow.
Here, visitors can view almost 5,500 pieces from the 15th to the 19th centuries. The collection includes 18th-century French paintings, Sèvres porcelain and French furniture. It also features a large collection of arms and armour. These are shown alongside many other fascinating objects, such as gold boxes, miniatures, sculpture, and medieval and Renaissance works of art.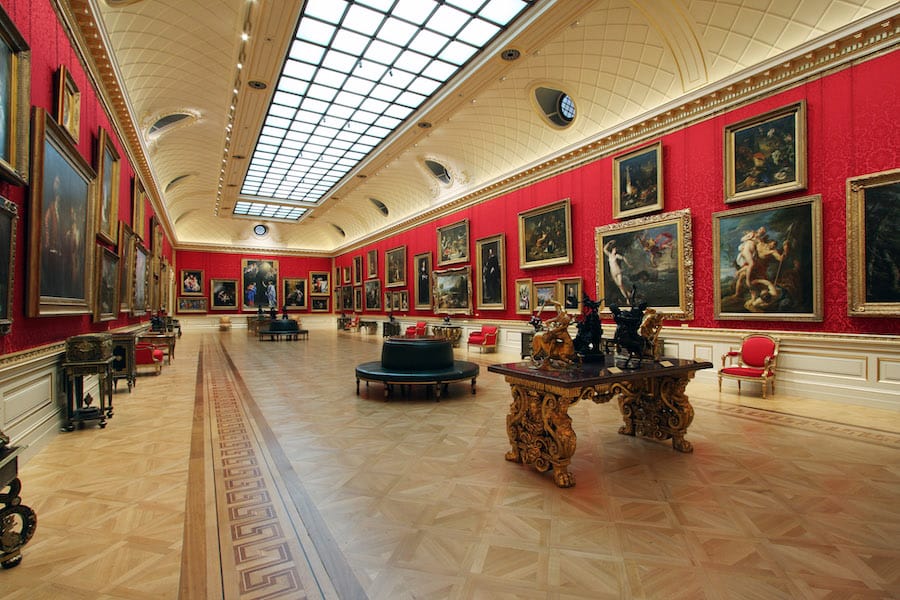 Did you know? Wallace's widow gifted the collection to the nation, with the stipulation that no object should ever leave, even for loan exhibitions. However, since 2019 the museum has been allowed to enter into temporary loan agreements for the first time.
9. Royal Botanic Gardens, Kew
While it might not necessarily come under the category of museums in the traditional sense, this is still one of our top choices for London. In fact, within its spectacular gardens and herbarium, this attraction is home to a huge and diverse botanical and mycological collection. This includes around 50,000 living plants as well as more than 8.5 million preserved plant and fungal specimens.
Kew Gardens is also home to a library of over 750,000 volumes. In addition to this, it holds a collection of more than 175,000 prints and drawings of plants.
In 2018, Director Richard Deverell spoke to Blooloop about the vital scientific work done by Royal Botanic Gardens, Kew, as well as its role as a leading attraction.
Did you know? Kew Gardens has its own police force, Kew Constabulary, founded in 1847.
10. Sir John Sloane's Museum
Another top London museum is this house museum, located in the former home of the architect Sir John Sloane.
Sir John Sloan's Museum still resembles how it would have looked when he died, almost 180 years ago. Here, visitors can explore a huge collection of antiquities, furniture, sculptures, architectural models and paintings. This includes pieces by William Hogarth and Canaletto, as well as three by J. M. W. Turner who was a friend of Sloan's. In addition to this, the museum holds more than 30,000 architectural drawings.
The house itself also features some interesting architecture. Most notably, the Dome Area, Colonnade and Museum Corridor which showcase Sloan's own skill.
Did you know? Sloan established the museum in order to disinherit his own son, with whom he had a lifelong feud.
11. Charles Dickens Museum
This museum is dedicated to Charles Dickens, an author whose name is recognised around the world. One of the things Dickens is particularly famous for is his evocative descriptions of life in 19th century London. The author lived in this Georgian terraced house for just over two years, from 1837 to 1839.
View this post on Instagram
Here, visitors can step into his study and see the chair where he wrote Oliver Twist, The Pickwick Papers and Nicholas Nickleby. They can also explore the family's bedrooms and the servants' quarters below stairs. On display are items such as letters, handwritten drafts from some of his novels. Plus, there are several personal items, like his wife's engagement ring.
Did you know? The museum is home to Dickens' Court Suit and sword, worn when he met the Prince of Wales in 1870.
12. The Migration Museum
Despite being one of London's newest museums, this is still one of our top choices. After several collaborations, pop-ups and temporary spaces, it moved into its new premises in Lewisham Shopping Centre on 14 February 2020. The Migration Museum showcases the stories of people who have moved to and from Britain, both recently and throughout history.
Like the others on this list, it has been closed during the COVID-19 pandemic. However, it is planning to reopen in the autumn with the launch of a new exhibition, Departures. This will explore four centuries of emigration from Britain. The new exhibition is timed to coincide with the 400th anniversary of the sailing of the Mayflower.
Earlier this year, director Sophie Henderson spoke to Blooloop about the formation of the museum and told us more about its mission.
Did you know? The Migration Museum began in 2012 with no premises and only one employee. Its first exhibition was based on pictures submitted by members of the public, called 100 Images of Migration.
13. Tate Modern
This museum is top of many people's list when they visit London, and for good reason. Tate Modern's world-class collection of contemporary art is housed in an imposing former power station by the River Thames. This includes the vast Turbine Hall where large-scale installations are displayed.
Tate Modern is one of the most visited art museums in the world. Highlights include works by Andy Warhol, David Hockney, Roy Lichenstein, Salvador Dalí and Tracy Emin.
The museum was founded in 2000 and celebrates its 20th anniversary this year. Prior to the pandemic, it had several events planned to mark the milestone, such as an immersive exhibition by Japanese artist Yayoi Kusama featuring her 'Infinity Rooms'.
Did you know? Unlike many other art galleries and national collections, the works on display at the Tate Modern are not displayed in chronological order. Instead, they have been arranged into broad thematic groups.
Images © the organisations listed unless otherwise labelled. Background image kind courtesy of the National Gallery