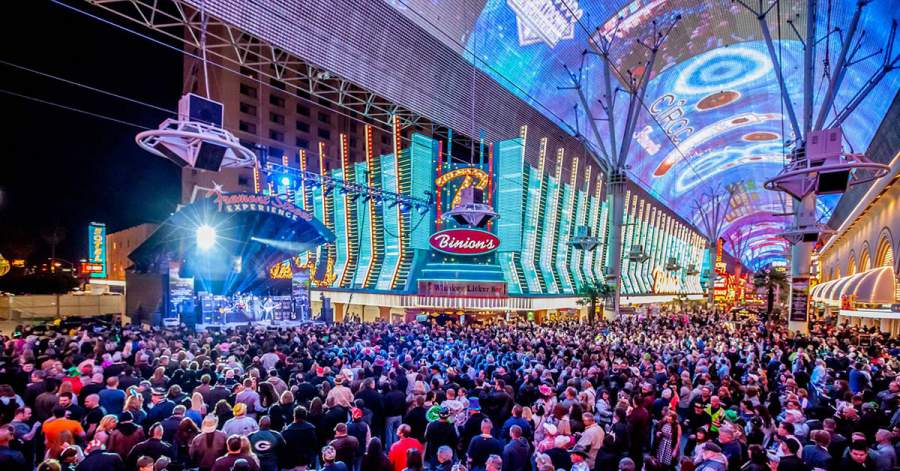 The Viva Vision giant screen in Fremont Street, Las Vegas – billed as the world's largest video screen – is to undergo a $32 million renovation.
Renovations are set to begin in February 2019 and scheduled to finish in the same year. The canopy will be completely rebuilt, making the screen seven-times brighter with four-times the resolution. Watchfire Signs will design and manufacture the new canopy.
Patrick Hughes, President and Chief Executive Officer of Fremont Street Experience, said: "The redevelopment of the iconic Viva Vision canopy is a major milestone for Fremont Street Experience and the City of Las Vegas. With Fremont Street Experience attracting more than 23 million visitors a year, we're really looking forward to seeing the new energy this brings to downtown Las Vegas and the positive impact it will have on the entire community."
"Rigorous project"

Steve Harriott, president and CEO of Watchfire Signs, said: "Being chosen as the digital technology partner for the Fremont Street Experience upgrade is exciting for all of our employees, and is a natural evolution of our company. The proposal process for the project was the most rigorous in our 86 year history and the project itself is among the most demanding, as it is located in one of the most challenging environments imaginable. We are delighted that Fremont Street Experience is confident in Watchfire's capabilities to invent a product that meets their needs and will see it through from idea to execution. Watchfire's track record of exceptional service and support after the sale was a key factor in the selection process."
The light show was completed in 1994. It received a significant update 14 years ago but has not been upgraded since. The Viva Vision shows run approximately six minutes, at the top of every hour. The attraction runs fo 1,500 feet, is 90 feet wide and stands 90 feet above the Fremont Street walkway.
Fremont Street recently brought the hit series, The Walking Dead, to life at the attraction. Blooloop interviewed the team behind the attraction.
Images courtesy The Fremont Street Experience