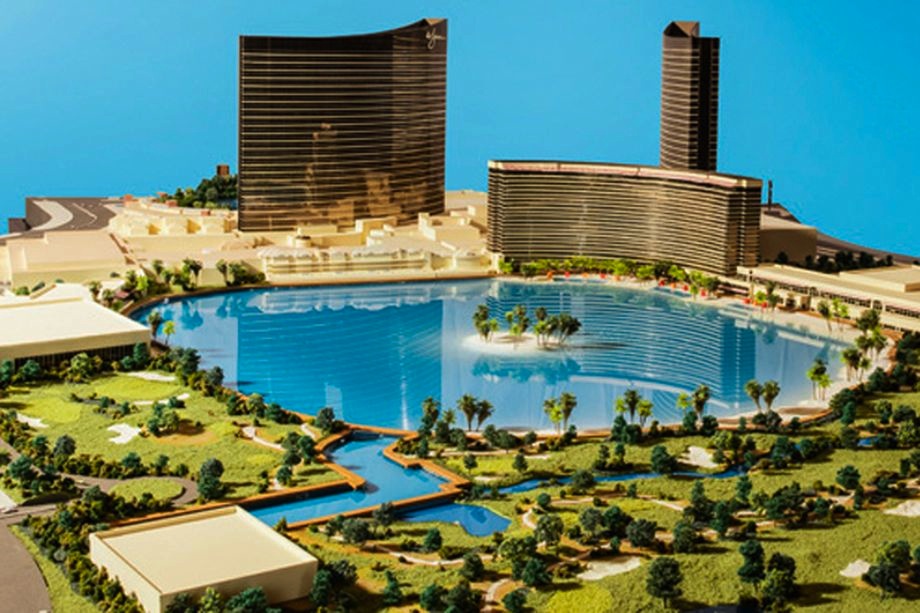 Board approval has been given for a beach style entertainment destination from Wynn Resorts on the Las Vegas Strip. The $1.5 billion Wynn Paradise Park project will offer daytime and night-time activities centred around a 38-acre man-made lagoon.
The boardwalk development is earmarked for 130 acres of real estate currently occupied by the Wynn Golf Club. The lagoon will be supplied by Miami-based Crystal Lagoons, it was confirmed this week. It will offer crystal-clear waters and white sand beaches. Close to the size of almost 100 Olympic swimming pools, it will be the largest Crystal Lagoon in the US. Furthermore, it will offer outdoor activities that Las Vegas was previously missing. These will include stand-up paddle-boarding, wind-surfing, sailing and more.
Each night after dark, a spectacular firework display will be launched from a 120 feet island. Also featured as part of Wynn Paradise Park will be meetings and convention space, a 1,000-room hotel tower, a small casino and extensive dining and nightlife. These will include an expansion of the Wynn's current Country Club restaurant.
Las Vegas lagoon brings beach to the strip
"We have a chance to reinvent Las Vegas," said Steve Wynn, chairman and CEO of Wynn Resorts, at a recent investors conference. "People come to Las Vegas from all over the world to live large and have a good time. We can dish up an irresistible entertainment attraction …an idyllic paradise surrounded by white sand beaches."
"To collaborate with the legendary Steve Wynn as he reinvents the Las Vegas Strip once again is very significant for Crystal Lagoons," says the company's US CEO, Uri Man. "We are looking forward to seeing how the lagoon will transform the Las Vegas landscape."
Work on Wynn Paraside Park and the Las Vegas lagoon is expected to begin later this year or early 2018. In addition, Wynn Resorts is also developing Wynn Plaza, featuring 75,518 square feet of retail space. Debuting this fall, the complex will augment the existing luxury retail offfer at the Wynn Las Vegas and Encore resort.
Wynn also is building a resort called Wynn Boston Harbor in Massachusetts, due to open in mid-2019. It will feature a hotel, casino, waterfront boardwalk, meeting and convention space plus other attractions.