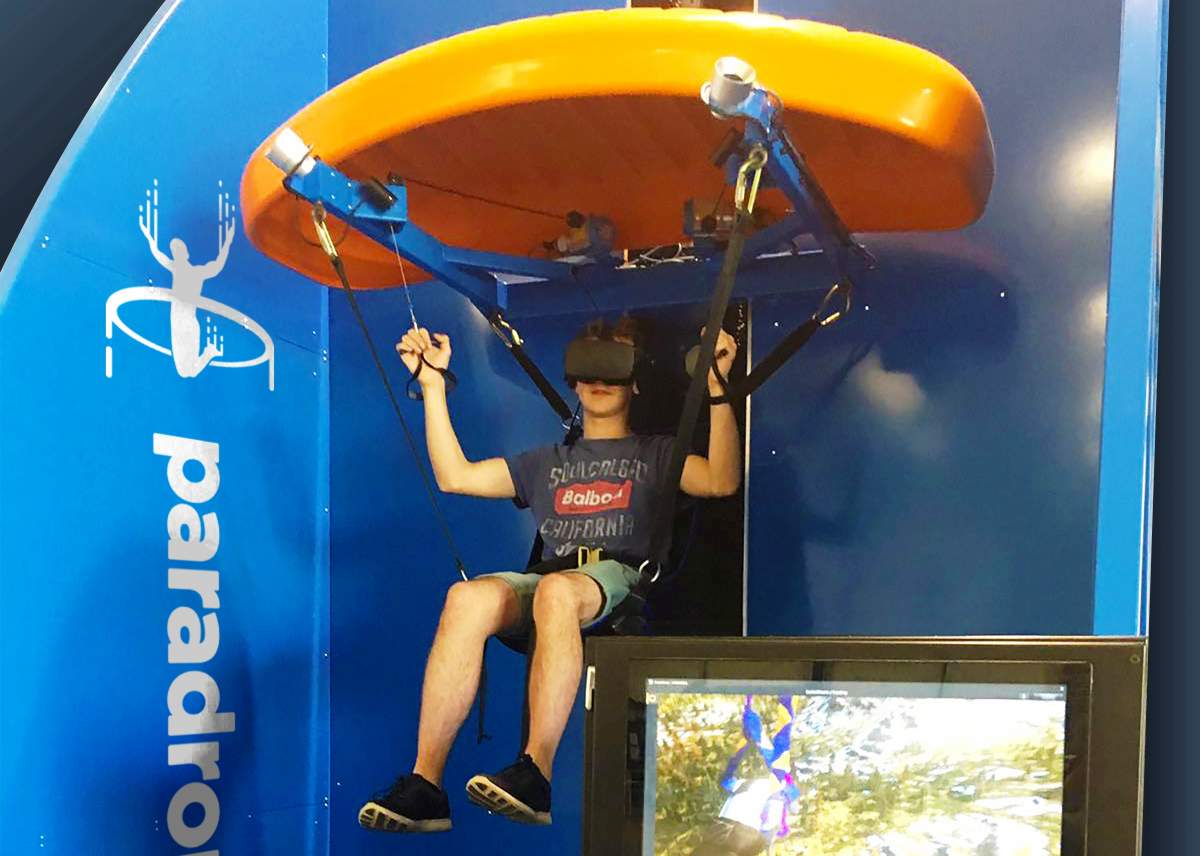 ParadropVR, a one-of-a-kind immersive paragliding experience developed by Frontgrid, is set to open at The Bear Grylls Adventure in October.
The team from Merlin Entertainments were 'instantly hooked' by the attraction which combines virtual reality with physical moves.
ParadropVR marries the latest virtual reality technology with a suspended paragliding harness that moves up and down, offering a safe, fun and incredibly realistic paragliding experience. Jets blow air into riders' faces, adding to the sense of speed, as they steer their paraglider through steep mountain valleys. Featuring a gaming element, riders use their skills to fly through hoops to collect points on their descent. This has been designed to encourage repeat plays, with users able to compare and share scores via an integrated mobile app.
"ParadropVR is a totally unique way for visitors to experience the thrill and adrenaline of paragliding," states Mike Vallis, Divisional Director New Brands at Merlin Entertainments. "It's a natural fit alongside our other adventures as we bring Earth's greatest challenges to life in new ways.
"Our team were instantly hooked by ParadropVR – it's exhilarating, exciting and importantly – offers the type of world class experience we want to offer our guests."
Provided by Frontgrid and sales partner, Immersivity Ltd., the attraction joins a host of adrenaline-fuelled activities on offer at the Birmingham destination, including iFLY (indoor skydiving), rock climbing and the highest free-roam high ropes course in Europe.
Meet the ParadropVR team at EAS
"We're delighted that ParadropVR™ will be launching at Merlin Entertainment's iconic new adventure entertainment destination," adds Matt Wells, Chief Executive of Frontgrid. "ParadropVR is a world-first, one-of-a-kind virtual reality attraction, and Bear Grylls is one of the most recognised and celebrated adventurers in the world.
"The response to ParadropVR™ has been amazing since we launched the product at the Euro Attractions Show last year. We're proud to be helping the team at Merlin Entertainments create incredible experiences at The Bear Grylls Adventure and can't wait to see the reaction from guests."
Meet Matt Wells, co-founder and Chief Executive of Frontgrid Ltd., at EAS, Booth 1-1031, from September 25-27, 2018.