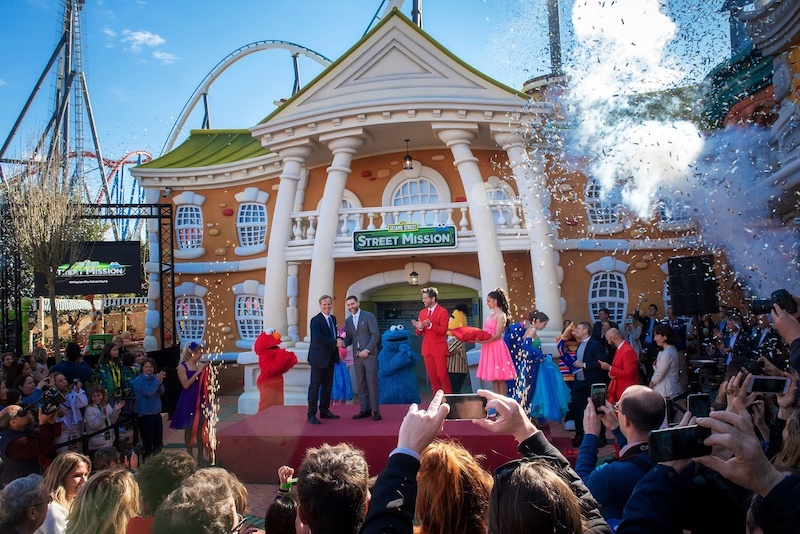 Street Mission, Europe's first ever dark ride inspired by Sesame Street, has launched at PortAventura World.
The new interactive ride, suitable for all ages, invites visitors to help Detective Grover complete a secret mission.
Open for the 2019 season, Street Mission consists of a pre-show and a 3D ride experience, featuring animatronics and immersive experiences, using 3D video mapping technology.
The project, which cost €15 million, was created in collaboration with Sesame Workshop and dark ride specialists, Sally Corporation. The multi-mover vehicles with on-board sound were provided by ETF Rides.
"The agreement with Sesame Street, which has been extended until 2031, has helped to create an attraction that will be a fantastic interactive family entertainment experience in 3D," said PortAventura World managing director Fernando Aldecoa.
"SésamoAventura is an incredible area that provides memorable experiences for the whole family. With the addition of Street Mission, the first ever dark ride in Europe inspired by the iconic children's brand, PortAventura World is strengthened as a unique family tourist destination," he added.
Expansion of the resort's hotel accommodation
On June 1, PortAventura World will hold the grand opening of its new 4-star, Californian Gold Rush-themed hotel, Colorado Creek.
PortAventura World has invested €25 million in Colorado Creek, the first zero-emission hotel at the resort. With 150 rooms, the latest addition brings the resort total to more than 2,200 rooms.
In 2019, the Convention Centre will also undergo a significant expansion, to increase its capacity and hold and large-scale events.
Elsewhere, PortAventura World is carrying out substantial renovations on Hotel PortAventura, which are scheduled for completion at the end of May and represent an investment of €12 million.
In October, PortAventura World announced that it plans to eliminate plastics in the resort by 2020.
2019 will see major new attractions opening at theme parks across the world – but which are game changers and which will make the most impact? Here are some of the hottest new rides.
Image: PortAventura World