Cineplex has announced plans to open a new location of The Rec Room in downtown Vancouver. The new social playground will have more than 100 amusement games, bowling and VR.
At approximately 45,000 square feet, with three floors and a rooftop patio, the complex will offer food and fun with dining, live entertainment, amusement gaming experiences and feature attractions.
"We could not be more excited to bring The Rec Room to Vancouver's lively Granville Entertainment District and introduce residents, visitors and tourists to a unique new social playground where they can eat, drink and play," said Ellis Jacob, President and CEO, Cineplex.
"In addition to the location opening soon at Brentwood Town Centre, The Rec Room Granville will be the perfect destination for everyone – from young adults to those who are young at heart – and the ultimate gathering spot for corporate events and parties."
Social playgrounds and location-based entertainment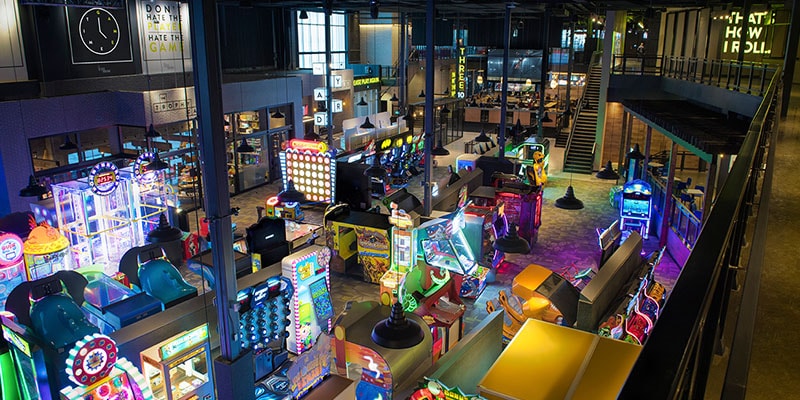 Dining experiences at The Rec Room include Three10, a casual dining area serving 'shareables', and The Shed, which will serve poutines, mini donuts and more. The Rec Room Granville will also have a rooftop patio where guests can eat and drink, and several bars.
At the attractions area, there will be air hockey, pool and ping pong, as well as the latest in immersive virtual reality experiences.
"The addition of The Rec Room will act as a major catalyst to the resurgence of Granville's Entertainment District," said Mario Negris, Executive Vice President, CBRE Limited.
"The concept will bring great vibrancy and animation to the street and its appeal to families, tourists and corporate groups will only serve to enhance the already active energy of Vancouver's premier social scene. Acting on behalf of the landlord, CBRE's Urban Properties Group is thrilled to have participated in this landmark transaction."
The Rec Room opening in more locations
Cineplex plans to open 10-15 new locations of The Rec Room over the coming years. Coming this year is a new venue in Winnipeg.
Construction of The Rec Room Granville, at 855 Granville Street, is scheduled to begin in 2020, with the opening set for late 2021.