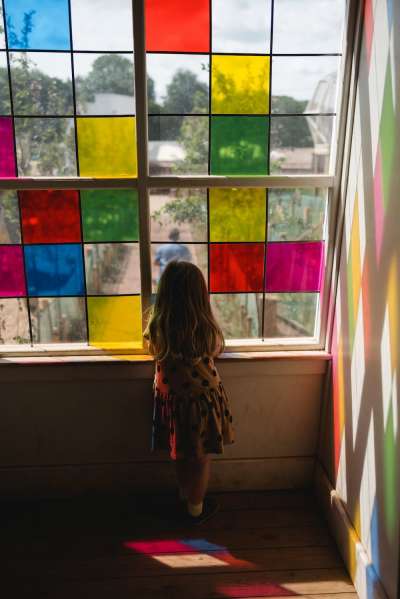 Designed for children aged 3-12, the custom-created Weehailes is themed on the Newhailes story.
Built in the 17th century in the Palladian style, the house and its 34-hectare estate was acquired by the National Trust for Scotland in 1997.
To further increase the attraction's family appeal, CAP.Co was approached to create a new adventure play destination in the estate's disused kitchen garden.
"This was a lovely enclosed space, but very much a blank canvas with no immediately adjacent design cues other than the enclosing brick walls themselves to work from," explains the company.
To ensure the new attraction referenced the unique atmosphere of Newhailes, the design team took inspiration from the house and its outbuildings including the famous library, the estate's old mill and the stables.
CAP.Co created its own characterful version of the library in miniature for Weehailes, with ladders to climb, nooks to nose in and crannies to explore. This central hub of the attraction has been designed to spark the imagination.
Secret passageways and Narnia cupboards
The company also looked to some of Newhailes' hidden features to create a sense of discovery and exploration. The house's secret butler doorways and servants tunnels have inspired the secret passageways and Narnia cupboards of the playground. Here children need to use their problem-solving abilities to navigate the walkways and play zones.
"The final build, with all of these incorporated, is an adventurous play area designed specifically for younger kids to play safely and reach their own personal limit of perceived 'risk'," explains CAP.Co.
"It's completely enclosed within the walled garden and landscaped to integrate the planting for the wider kitchen garden. Weehailes is a relaxing and safe haven for fun, play and adventure."