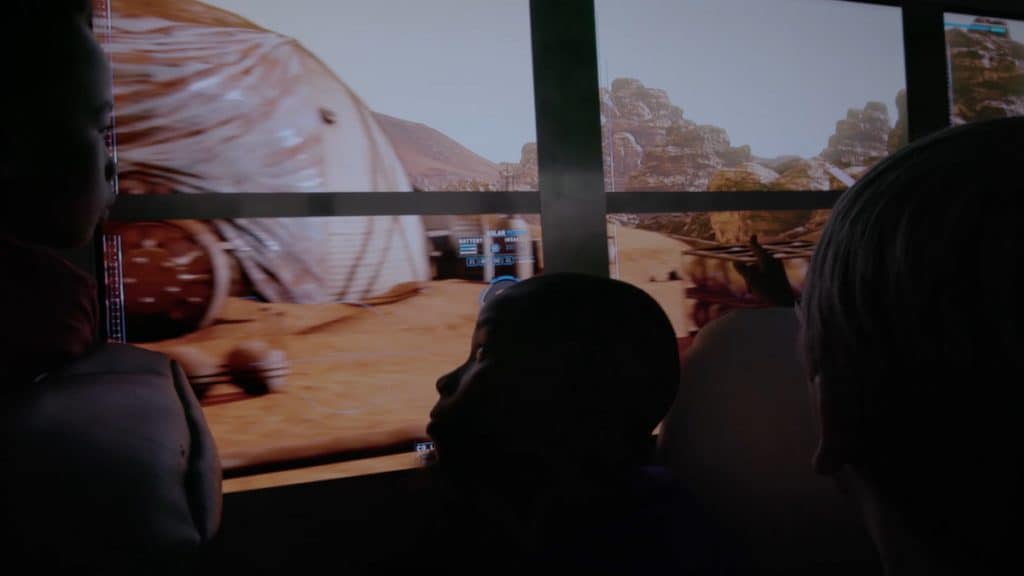 Never one to turn down a trip to outer space, Framestore was delighted to team with global security and aerospace specialists Lockheed Martin and creative agency McCann on the groundbreaking project 'Field Trip to Mars', which launched at the U.S.A. Science and Engineering Festival in Washington, D.C..
The first ever headset-free group virtual reality vehicle experience saw a classic yellow school bus become a part of this location-based experience. Its windows were replaced with screens which shows passengers a virtual version of Mars, transporting its passengers to the surface of the Red Planet. It was part of Lockheed Martin's Generation Beyond initiative which aims to inspire and engage the scientists and technologists of tomorrow.
Bringing together its experience in creating worlds for sci-fi films like Gravity and The Martian and its award-winning VR projects, Framestore brought together artists, creatives and technologists from across the business to create this one-of-a-kind bus.
Framestore created a 200-square-mile 'worldspace' based on the real street configurations of D.C. The team programmatically covered the area with geological features and painted objects along the bus's route, and created a system that would allow real bus speed, GPS and accelerometer to be translated into Unreal, creating a real school bus that would exist inside the realm of a video game. The bus itself became the headset: transparent 4K screens enabled passengers to look outside to D.C., before being transported to the rocky terrain of Mars.
The terrain of the red planet was the creation of Framestore's modellers, who worked to replicate the rocks, dirt and mountains we recognise from satellite photography of the planet. In the spirit of future expeditions and explorations, technological additions including the new model of the rover Curiosity, a space colony, and a cameo from Lockheed's Orion capsule for the upcoming Mars mission all appear on the space journey within the campaign.
See full details and watch the video about the experience here.