Blooloop is committed to take action to combat the climate crisis. We feel we are in a unique position to be a valuable platform to highlight sustainability issues, strategies and innovations across the visitor attractions industry worldwide.
UN Sustainable Development Goals
In 2015, the United Nations Member States adopted a 2030 Agenda for Sustainable Development. At the centre of this agenda are the 17 Sustainable Development Goals (SDGs), which provide an urgent action plan for peace and prosperity worldwide. Although we intend to add to these over time, Blooloop has initially chosen 2 SDGs that we feel we can work towards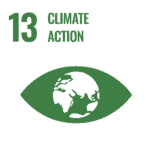 Climate Action
Blooloop is committed to "taking urgent action to combat climate change and its impacts". Within this goal we have decided to focus on target 13.3, which centres on improving both human and institutional awareness and capacity on mitigating climate change.
We have recently partnered with Planet Mark to identify, track, measure and reduce Blooloop's climate footprint year on year.
Planet Mark have offered a discount to Blooloop clients who join them. Please contact Eva (Eva.Koszorus@planetmark.com) to find out more.
In 2021, we donated 5% of ticketing income from our online conferences to climate charities.
Partnerships
SDG 17 is a wider goal, and in particular a key driver for greenloop. We hope by bringing together like-minded individuals and companies at greenloop so we can work to share knowledge and connect. We have also created a greenloop LinkedIn group to facilitate communication across the sector.
Shining a spotlight on positive sustainability action is something that we feel Blooloop is uniquely able to do, with our wide readership across industry sectors worldwide.
We are actively looking to create more content around sustainability and highlight positive action taken by operators and suppliers in the industry.
The 2021 Blooloop 50 Influencers recognised trailblazers who are leading the way with sustainable strategies.
The Blooloop Innovation Awards included a sustainability category to showcase ground breaking new products and services.
greenloop 22 – sustainability in visitor attractions conference
In April 2021, blooloop hosted greenloop, the visitor attraction industry's first sustainability conference. Sessions brought together sustainability leaders from a variety of theme parks, waterparks, zoos, aquariums and theme parks, including PortaVentura, Blenheim Palace, The London Resort and Walt Disney Imagineering.
SAVE THE DATE: greenloop will take place on 19-20 April, 2022 online. More details to follow.