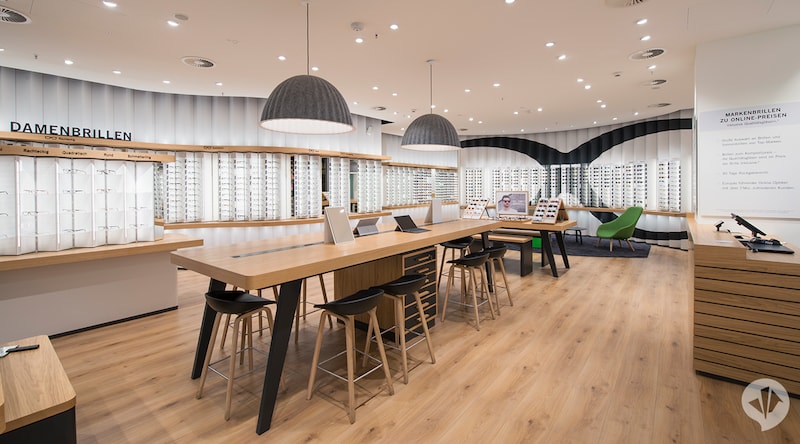 The advantages of online shopping are obvious: the customer saves time, product offerings are accessible day and night, payments can be made in a variety of easy ways and purchases show up at your doorstep just a few days later. What's missing is personal consultation with individualized service, trying on products directly and a fixed-location store for building trust with the customer. The product line of Mister Spex, the online retailer of eyeglasses, sunglasses, contact lenses and accessories, has thus far only been available online. But the company has already had initial success in combining on- and offline realms through a partner program with fixed-location opticians, where customers can have their vision tested and glasses adjusted. With a Mister Spex Store, the Berlin-based company combines the best of both worlds. In devising a strategy, dan pearlman was tasked with creating a brand experience that strengthens the brand and raises its appeal with new target audiences.
A bit more detail
During conception and planning phases, the experienced team at dan pearlman examined how eyeglasses are purchased from all angles. Here, coming up with solutions for how to transfer online processes offline to fixed-location retail was the consistent focus of the creative developmental process. The result comprises the architectural design of the store and facade, the colour and materials concept as well as furniture and space planning. A transparent space featuring distinct structures welcomes customers. Oak combined with matt white and grey, and accents in anthracite and green, create a space that feels open, producing a modern yet cosy atmosphere. The brand logo, a stylized pair of glasses, is integrated into the spatial concept and shows up again on the back wall. The latter plays a central role: its curved shape and indirect lighting via a perforation pattern give it the look of a curtain that is opening up the shop for the customer. In addition to personal consultation, the customer can also digitally try on a variety of glasses in a self-service "photo corner". Another highlight is the lounge, where Scandinavian design chairs, tablets and magazines welcome customers, inspiring them and providing information. The spatial communication strategy, featuring highlight presentations, campaign images and easy-to-read information boards explaining the Mister Spex process, creates the link to the online offerings. The product range is organized according to types of glasses, each of which fit a specific facial type. In addition, upon entering the store, the customer is provided with a tablet that can be filled with four pairs of glasses he likes best. Each pair of glasses comes with a card containing important details on the right facial shape, brand and price.
After such a great response from their users, Mister Spex is pleased to announce their recent launching of five new stores to allow more people to experience their unique concept which combines the best of online & offline retail. These stores located in Bremen, Bochum, Berlin and Oberhausen, recently opened their doors. More stores are planned to be opened soon.