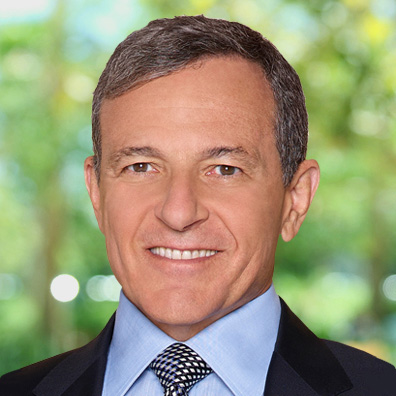 Chairman and CEO
The Walt Disney Company
Bob Iger is responsible for one of the largest media companies in the world, as well as the leading global player in the theme park industry.
With just 12 parks, Disney entertains an international audience of around 150 million each year. But it is the scope of its resort operations in California, Florida, Paris, Tokyo, Shanghai and Hong Kong that makes Disney the undisputed market leader. It continues to set many industry benchmarks, not least in the exploitation of intellectual property (IP).
Under Iger's leadership, the company has bolstered its library with the acquisition of powerful IPs from Pixar, Marvel and Star Wars owner Lucasfilm. He has also presided over Disney's very successful theme park debut in Mainland China with the opening of Shanghai Disney Resort.
Bob Iger joined the Disney senior management team in 1996 as chairman of its US television operation ABC. Since then he has enjoyed a series of high profile roles across the organisation. He has postponed his retirement from Disney on several occasions, but is expected to remain as CEO at least until the company completes its acquisition of 21st Century Fox. The big question remains who can fill this highly accomplished executive's shoes?