As Dof Robotics, we are proud and happy to receive the Innovation Awards in the category of Virtual and Augmented Reality products at the CES fair where technologies of the future have been introduced for 50 years.
As Dof Robotics, we believe that technology developed by human hands, technology should be improved and used with approaches that value them rather than neglecting people. We pay utmost attention all our stakeholders and users and we act according to their needs. Our main goal with our teammates ın this journey was providing our users with high security, high adrenaline and a flawless experience. Therefore, this award is a proof that our firm direct the sector and are on the right direction.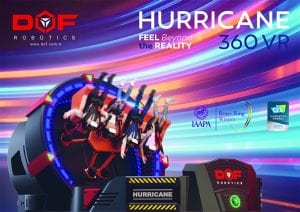 As a company, we see how we are right and successful by making our the biggest investment to our employees and R&D. While the rules of efficiency economy has followed all over the world and all companies, we, as Dof Robotics, abandoned these principles and take the knowledge economy as principles.
Finally, today,we has not just to you as an award-winning company, and as an integrated organization with user; in the meaning of innovative, we would like to thanks all companies who in the same race us and they show own differences.
We will continue to entertain you and produce technology.