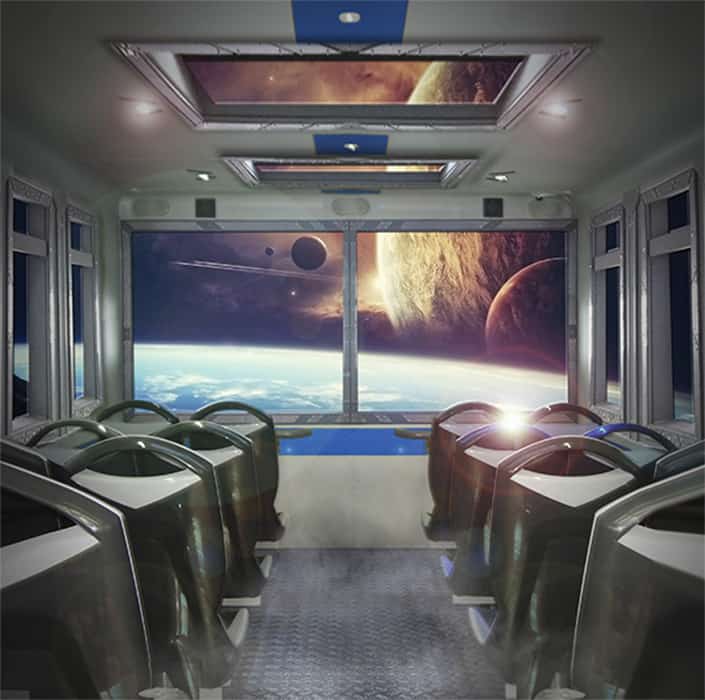 Immerse Yourself…
A former favourite now given a high tech upgrade. Simworx's Immersive Adventurer enables 16 riders a cycle to experience exhilarating motion during a ride, whilst a movie is played on 'windows' surrounding the vehicle. Provided in full turnkey solutions, The Immersive Adventurer is supplied with surround sound audio and a HD or 4K visual system.
After entering the Immersive Adventurer, visitors take their seats on a 'vehicle' styled capsule and are taken on a fun-filled journey that assaults the senses – dynamic motion, surround sound and film showing on the side windows, front screen and even the roof of the vehicle combine to give the most realistic experience possible.
Each 'vehicle' sits upon a highly dynamic, 3DOF motion base which, combined with our range of 4D effects, results in an unrivalled attraction to entertain and educate.
FULL TURNKEY SOLUTIONS
LEADING COMPANY IN IMMERSIVE TECHNOLOGY
16 SEAT UNITS
LARGE SELECTION OF 4D EFFECTS
DYNAMIC 3DOF MOTION BASE
360 DEGREE 3D SCREENS
BESPOKE VEHICLE DESIGN