Eden Project International was created to spread Eden's message of conservation and deliver social and ecological benefits to new locations. CEO David Harland explains how the organisation is achieving these goals.
The Eden Project has come a long way from its humble beginnings. In 1995 it was a working clay pit and a twinkle in the eye of Tim Smit. Six years later and that clay pit housed two giant biomes simulating rainforest and Mediterranean environments.
Over the next twenty years, the Eden Project grew into a unique tourist destination. Now pulling in over a million visitors a year, it is one of the most visited attractions in Britain. Its success has led to the possibility of a second site to be located in Lancashire.
Not content to rest on its laurels, the organisation launched Eden Project International in 2014. Its mission is to continue Eden's work of stressing the importance of the environment and conservation. It will do this by delivering social and ecological benefits to new locations around the world.
Eden Project International
The new Edens will focus on the specific global challenges that affect their individual location, such as water, food, biodiversity or soil. Eden Project International will team up with a range of local organisations, companies and communities to deliver the projects.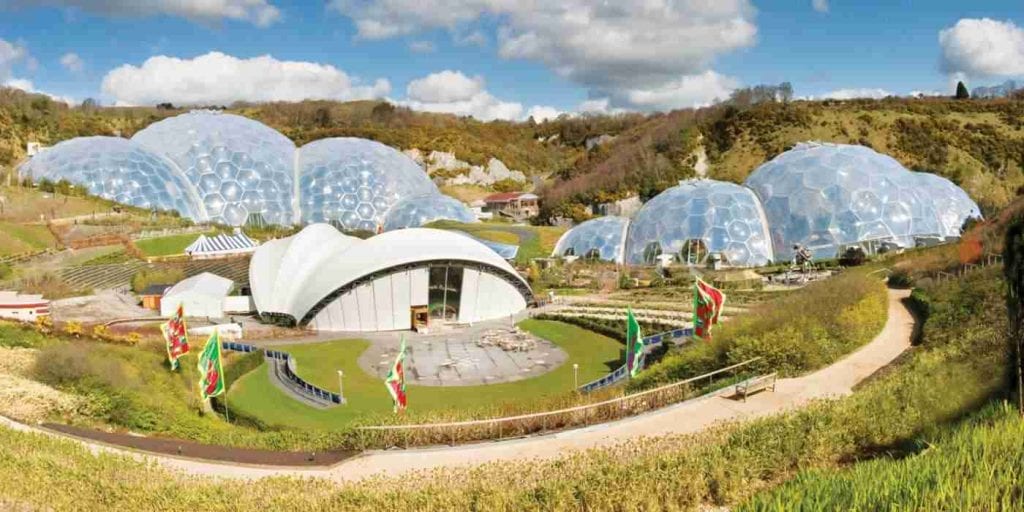 Smit serves as executive chairman of Eden Project International. However, the day-to-day running of the organisation is the job of its chief executive, David Harland (below).
Harland joined Eden in 2013 as finance director after 10 years working in healthcare. Less than a year later he was put in charge of the international arm of the organisation.
"For us, it was all very well having success in Britain, but you were either going to shout from a hole in the ground in Cornwall about your message or you were going to go and do something about it in other places," Harland told Blooloop.
"We felt that we needed physical infrastructure in places to act as a beacon. That would allow us to get the softer messages out there. And that was how Eden International was born."
Eventually, Eden would like a facility on every continent and it has projects in varying stages of development on most. The first to arrive will likely be in Dubai as part of Expo 2020.
Dubai and Expo 2020
"We are working with the Expo 2020 sustainability pavilion," Harland said. "We've been working on some creative direction there along with the architects Grimshaw. We want to really tell a story of what modern-day sustainability really should be."
The attraction will be run by Expo 2020 directly while the event is ongoing. Once it is over, Harland is hopeful that the facility will have a future.
"The hope is that they do something fantastic with the legacy of the building and we're working through that at the moment," he said.
Harland declined to reveal details about what to expect from the attraction. However, he did say that the facility will be in one of the permanent buildings being constructed for the event.
One thing Eden will not do is recreate its facility in Cornwall. Instead, it is looking for unique opportunities to address other ecological issues.
"Why would you want to build the largest rainforest in captivity again?" Harland asked. "Or the largest conservatory again? That was a specific thing design for the circumstances."
Three projects in China
The next attraction to open after Dubai will be in China, where Eden has three projects on the go.
There is a degree of serendipity in how Eden ended up having such a strong focus on China. It turns out Wang Shi, the founder and chairman of real estate giant Vanke, is a fan. He received a lot of coverage when he told the Chinese media that he wanted an Eden Project in Beijing.
"He came over to see us and we did a bit of work with him but it didn't work out. But it certainly worked out in that we got a lot of interest," Harland said.
Of all the expressions of interest they got following the publicity, one in particular stood out. It was the Qingdao project.
Qingdao
"The company, now known as Jinmao, were really interesting," Harland said. "They had a piece of land that had been used and was high in nitrates and basically derelict. That automatically appealed in terms of our story of transformation."
Jinmoa Holdings is the first company in China to have a BREEAM outstanding buildings accreditation from the Building Research Establishment. This was a key factor in deciding to work with them, Harland added.
"So we got to know them and we did an early concept for them. Having presented that concept they got tremendously excited, as were we, about how you could really do something different.
"That rather cemented the partnership. We realised we'd found a partner who had the land holdings. Who probably had the capital and importantly the right connections and the right workforce in China."
The world's highst indoor waterfall
The £150m ($208m) project will focus on a water theme as the site is surrounded by water on three sides. Grimshaw Architects, the same firm that worked on the biomes at the Cornwall Eden Project, has developed initial designs.
The facility will feature world's highest indoor waterfall. At 50m high it will be roughly the same height as Niagara Falls.
"The site is all about human connection with water," Harland said. "It's telling the story of water abundance and water scarcity and water quality and the power of water as well. In this case, it will have a bio-mesh structure where the main storytelling is done, alongside some associated pavilions.
"It has been a really interesting journey. We're working with them to develop a story that is universal and that is told from a Chinese perspective. But what they really want, as well, is the influence of our story alongside it. So it's a genuine collaboration."
Genuine collaboration
Jinmao is responsible for developing the property aspects of the project to Eden's specifications. The two organisations will then enter into a joint venture for the operation and management of the attraction. It is the same business model that Eden is using in the majority of its international ventures.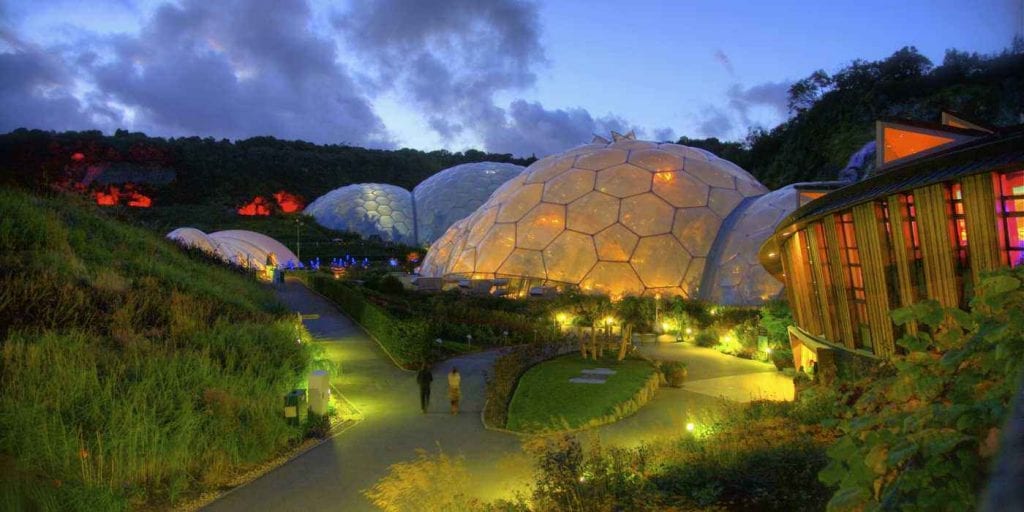 Harland said: "Our expertise is in offering creative design and also in being able to operate these places. Although we constructed this project here [in Cornwall], China is a long way away. So better to leave that to those who really know how to do that."
If all goes according to plan, the Qingdao Eden Project should be ready for visitors in 2020.
Yan'an
The second project in China is located in Yan'an. It will explore how vital land and soil is for life on earth. The project aims to restore a degraded site into a fertile valley.
"We were approached basically to see if we could reimagine this whole valley," Harland said. "To put something in its centre that would then allow them to build other things around it."
The site is uniquely situated in the area where Mao Zedong ended the Long March. It became the centre of the Chinese communist revolution in the late 1930s and 1940s. Chinese communists celebrate Yan'an as the birthplace of the Communist Party and often conduct a pilgrimage to the area.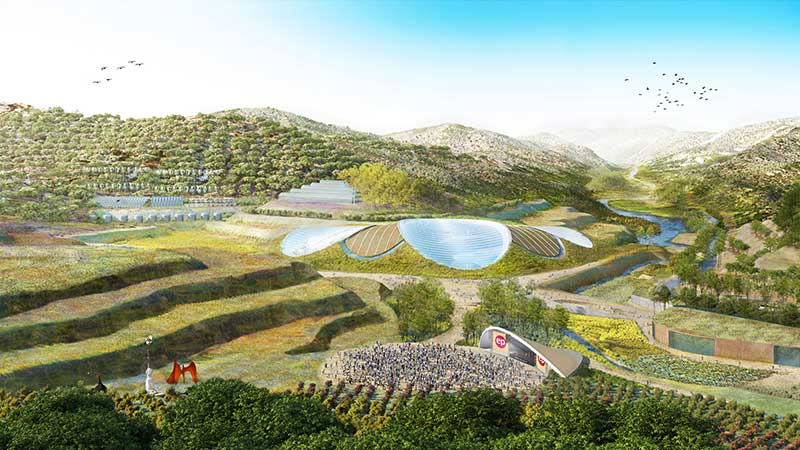 "They have very little else in the area apart from this 'red tourism'," he continued. "So we gave them the idea that they could have this green tourism alongside the red. And red education and green education. They rather liked this idea so we're working on that scheme."
Eden is working with a company called Answer Me to develop the project.
Red tourism
Harland said: "There was a very big earthquake in Szechuan in 2008 and 80,000 people were killed. This organisation came out of that time. It was a loose collection of people that got together and organised earthquake recovery and then decided to do it more formally. They are Daoist in terms of their beliefs. But they've started to look at other ways of how we work in the face of the power of nature."
The story the two organisations are working on revolves around soil. It focuses on all the unseen elements of soil that help life grow.
"That one is one stage further behind Qingdao in terms of its development. We're just entering a bit more of a detailed design phase," Harland said.
"It will be the same arrangement where they build it and then we enter into a joint venture to run it."
He expects that it will likely be ready for 2022.
Beijing
The final Eden project in China is located close to Beijing at the site of a former limestone quarry. This one is still at an early development stage and Harland was unable to disclose the local partner. Eden is currently conducting a feasibility study and developing initial concepts.
"There's all sorts of stories we could tell," Harland said. "There will be something there about rock and perhaps about the formation of it. Maybe to do with sunlight and water – I'm not sure. We'll have to see where our creative juices take us. That one is early doors so with a fair wind we're looking at 2023 [for an opening]."
Australia
While the projects in China all move ahead, Eden Project International also has other international projects. Located in Hobart, the capital of Tasmania, the Australian project will tell the story of Antarctica.
Eden is working with Macquarie Point Development Corporation to transform an environmentally damaged piece of land. While the design is at an advanced stage, the project is being held up due to local planning issues.
"One of the problems is that on the border of the site is a large sewage treatment works," Harland said. "The future of that therefore directly affects what's going to happen on the site right behind it."
He hopes that Eden's partners in Tasmania will resolve the planning issues this year. If that's the case the project could move fairly quickly.
"We're reusing a building there and because of the desire of the local people I would have thought that one could sneak in before the third Chinese one, 2023 or a fraction before that," he said.
New Zealand
In New Zealand, Eden is looking at redeveloping an area of the earthquake-damaged Red Zone in Christchurch. The project will include the restoration of the native ecology along the River Avon shoreline. Meanwhile, the attraction itself will explore stories of nature and culture.
"Tim Smit and I went down there and we were amazed about what they call the 'red zone'," Harland said. "It's a piece of land that was a residential area with about seven thousand homes and it was the area where the earthquake really hit.
"By the time we go there almost all of the homes had been removed. But the driveways were still there and the trees were still there. It was like aliens had come down and stolen the houses."
A water story
He explained that New Zealand's water quality was badly affected by the earthquake. Various industries, including dairy farming, have also contributed to the damage.
"We've come up with a story there that is partly a water story. It's got a large cultural element in terms of the Maori. We've been working very closely with a particular trust down there to move that forward," Harland said.
Eden has also generated a lot of interest in the area and the project is currently moving through the planning process. The earthquake-ravaged land is now owned by the government. Eden is one of a number of groups that have submitted plans for it.
"It's a slow burn, we've been working on that for two years. However, it does feel like it's starting to pick up some momentum this year, which is really positive."
Harland anticipates that Eden will be more involved with the management and operation of this project. Its local partner is the Eden Project New Zealand Trust.
The rest of the world
Not all of Eden's international projects will be primarily aimed at attracting tourists. The organisation is currently looking at sites in the rainforests of central America. It is also involved in sites in the Sequoia Forest in California and another in the Seychelles.
"Those are not big tourism sites but the reason for doing them is about message," Harland said. "Yes, they'll have people visiting them but not in vast numbers. We also want to use them as a portal back to the other sites. So people can actually see what's going on in a real rainforest or in a sequoia forest. Or in an untouched marine environment."
Eden wants to avoid attracting tourists to these areas where they could harm the delicate ecology. However, it believes that showcasing these natural wonders is important to conservation.
"If you can actually show the importance and the connectivity of the natural world through those places and connect people to them then there's a chance that behaviours might change," Harland added.
"We've seen that in a sense with David Attenborough's Blue Planet and the impact on plastics. It's been quite eye opening for many in the environmental movement how quickly that has changed the dial. I think people seeing and hearing other people's stories is absolutely critical."