About
Sally takes the traditional dark ride to new levels. Understanding our client's goals while keeping their budgets in mind, we deliver the quality dark ride experience that guests have come to expect at destination amusement parks. Creative storytelling, interactive show elements, and exciting special effects are combined with colorful animated characters, original soundtracks, and show lighting to captivate audiences and bring them back time and time again.
From innovative, custom ride designs to collaborating with popular brands, Sally will help you create a highly marketable attraction for your park and a memorable experience for your guests.
Primary Services
Types of Dark Rides
Classic | Sit back and relax, while you're immersed in an imaginative story complimented with mesmerizing sets, scenery, and animatronics.
Interactive | These rides include gaming that requires riders to blast or capture targets throughout the ride. Friendly competition directly correlates to repeat-ridership and increased season pass sales.
Mixed-Media | Have the best of both worlds by combining storytelling, interactive media, and immersive environments to create a larger-than-life experience.
Recent Projects
PortAventura World's near six-minute long dark ride attraction is Sally Dark Rides' most recent turnkey attraction. It is housed in a newly constructed 14,000 square foot building and features an 11-minute pre-show and 5:50 minute ride experience.
This award-winning dark ride took home the Park World Excellence for Europe's Best New Ride (2019) and the European Star for Family Ride of the Year (2019).
Sally finished the redevelopment of the fan-favorite 20-year old dark ride last Spring, 2020 at Santa's Village, NH. The Great Humbug Adventure is an interactive, family dark ride where guests are recruited by Ebenezer Scrooge to travel through his home and help with his humbug infestation. Guests embark on a ride experience that weaves throughout several areas of Scrooge's old-English home, for a total of 14 intricately decorated scenes.
Intellectual Property Partnerships
Sally has developed partnerships with a variety of licensors that have agreed to expand their brand into the dark ride entertainment market. Any park has the option to benefit from having a popular license tied to its park. To learn more about bringing a licensed brand into your park, call us at +1 904 355-7100 or email us at info@sallydarkrides.com.
Aardman, the world-famous animation studio based in Bristol, UK, has teamed with Sally to bring their funny, family-friendly franchise to the dark ride market. Fans of the nation's favorite BBC animated films can now join the flock and help Shaun conquer all havoc on the farm in this fun family ride. Riders will step aboard a custom-themed dark ride vehicle that will transport them through the rural, rustic, and colorful world of Shaun The Sheep. The 4-minute ride experience will feature dozens of scenes inspired by the animated short film. Shaun the Sheep effortlessly appeals to a global audience. It strives to appeal to adults as well as children so it can be watched by the whole family and enjoyed on multiple levels. Shaun's newest adventure is out of this world! Shaun the Sheep: Farmageddon invites riders to jump on board for intergalactic fun and adventure as he sets off on a mission to help Lu-La find her way home. An unmissable experience for Shaun the Sheep fans of all ages.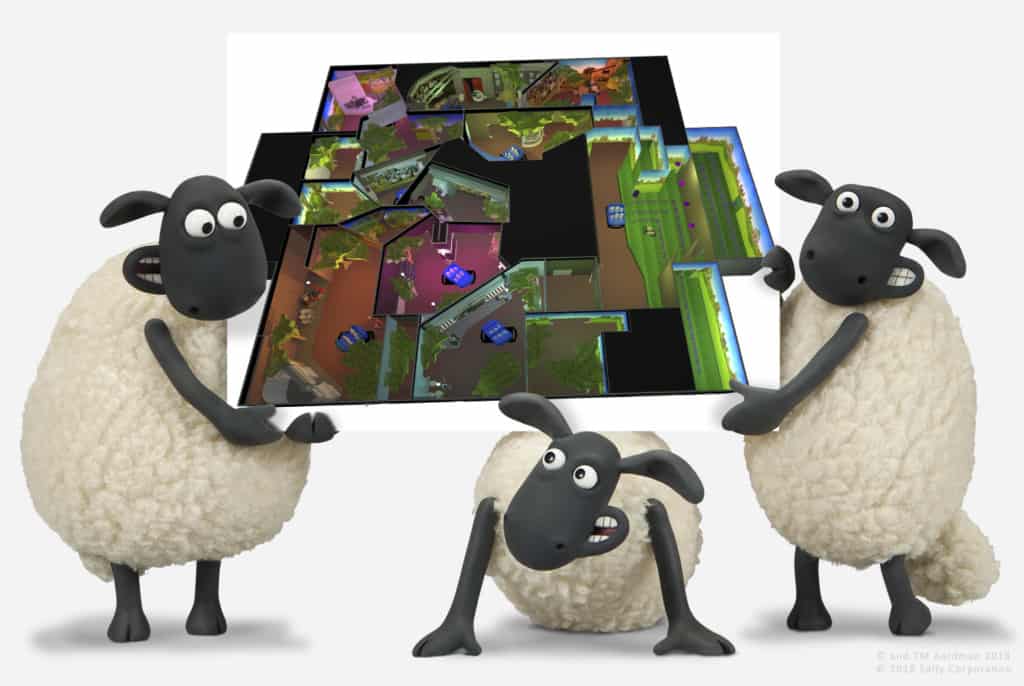 This original Aardman storyline by Director Lucy Izzard, takes thrill-seekers on a journey full of mystery, magic, and exhilarating adventure. After discovering a mysterious finger trap hidden in a dusty corner of a museum, our mischievous heroine is in for the ride of her life. Join her high-velocity journey through the ancient and perilous world of the Egyptian Pharaohs, the stormy Pirate-infested East China Seas of the 1800s, and into the land of terrifying beasts from the Cretaceous Period. Only her bravery and quick-witted actions will save her and get her back to her family. The perfect adventure for a Sally Dark Ride!
Based on the PBS KIDS award-winning series, SPLASH AND BUBBLES follow the adventures of Splash, Bubbles, Dunk, and Ripple as they dive into the incredible world of marine biology and oceanography. Exotic underwater scenery, toe-tapping tunes, and loveable characters are sure to make a splash with your audience.
This interactive dark ride is designed to be a real-time, multiplayer version of Scott Cawthon's wildly popular video game, "Five Nights at Freddy's". Experience what it's like to work security at Freddy Fazbear's Pizza, where riders must defend themselves from the malfunctioning animatronics and try to stay alive for 5 nights.
Visit our website to view more available ride concepts (including license-free options) or contact us with your idea!