The American Kennel Club's (AKC) Museum of the Dog opens, bringing canine fine art and digital interactive experiences to NYC.
The American Kennel Club Museum of the Dog has officially opened its doors in New York City at its new location, 101 Park Avenue, near Grand Central Station, after 32 years in West St. Louis County, Missouri.
The AKC Museum of the Dog features historical artifacts, and a large collection of canine fine art from famous dog artists such as Sir Edwin Landseer, Maud Earl, Arthur Wardle.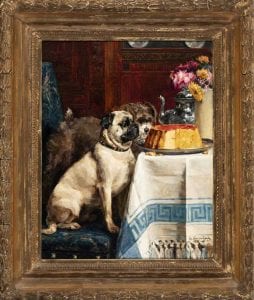 Its first exhibition is called 'For the Love of All Things Dog' and combines select works from the AKC's own collection and that of the Museum.
Engaging visitors
On the subject of the museum's 'Community Wall', Emily Brostek, Educational Programming, Museum of the Dog explained: "I want them [visitors] to be able to experience something that's unique but also makes them feel like they're a part of the museum.
"Here, any visitor who comes in, no matter how old you are, has the opportunity to create art here in our education centre, and put it on the wall and become a permanent part of the museum.
"I think it's really impactful for visitors to be able to become a part of something, especially something the rest of the community will be able to see and appreciate."
She continued: "All around the world children have pets that are dogs and I think it's really a bonding moment for children of all ages to understand that this is something people everywhere can appreciate.
"I think it's important… if we can expand on your understanding and knowledge of your dogs and even how they can further impact your life as you grow up, I think that's a wonderful thing that the museum will be able to do."
Cutting-edge technology at the Museum of the Dog
The two-storey space combines fine art with cutting-edge technology. Other attractions include 'Find Your Match' kiosks that take your photo and match you with a dog breed, and 'Meet the Breeds®' touchscreen tables that enable visitors to explore breeds' features, traits, history and representations in the collection.
Visitors are also able to train a digital service dog called Molly at the 'Train a Dog' exhibit, while 'Story of a Breeder' looks at responsible breeders and how to find one.
Elsewhere, the museum's app serves as a guide for visitors, and is equipped with augmented reality experiences – including a scavenger hunt and a museum tour led by virtual dog, Arty.
The AKC Museum of the Dog is located at 101 Park Avenue, with the entrance on East 40th Street. Open Tuesdays to Sundays from 10am – 5pm, tickets are $15 for adults, $5 for children aged 12 and under.
Images: American Kennel Club