Scotland outperformed the rest of the UK for the sixth consecutive year with 13.9% growth in attendance at its visitor attractions, nearly double the 7.3% growth seen in the country as a whole.
The Association of Leading Visitor Attractions (ALVA) has released its visitor figures for 2017, which show that overall just under 130 million visits were made to the top 238 ALVA sites in the UK.
The British Museum in London is still the most visited attraction in the UK for the 11th year running with 5.9 million visitors. It continues to top the list despite the figure marking the second year in a row that attendance has declined.
The Tate Modern moved up into second place with 5.6 million visitors. In total, London attractions received 64.2 million visits – nearly the equivalent of the population of the UK. The top 10 most visited attractions in the country were all London based.
The most visited attraction in England outside London was Chester Zoo, which saw 1.8 million visitors, putting it in 13th place overall. The 2017 figure was a decline of 1.8% on its previous years attendance. After a 14.5% rise in visitation, Stonehenge is the second on the list with 1.6 million visitors, ranking 17th overall.
Scotland rising
Of the 56 ALVA attractions in Scotland, the vast majority enjoyed attendance increases, the most impressive coming for 139th-ranked Inverewe Gardens, which saw a 109.6% increase in visitor numbers to 192,000 people. Another stellar performance came from the hamlet of Glenfinnan, which increased its visitor numbers year-on-year to 396,000 people – a 57.8% rise.
National Museum Scotland is the most visited Scottish attraction, welcoming 2.1 million people last year – an increase of 20%. Edinburgh Castle follows with a 16% increase to 2 million people in 2017 and continues to be the most-visited paid for attraction in Scotland.
Northern Ireland
The top three most-visited sites in Northern Ireland all saw a rise in visitor numbers, with the Giant's Causeway on top of the pile. It welcomed just over 1 million visitors, marking a 7% year-on-year increase.
Second for Northern Ireland was Titanic Belfast, which enjoyed a 13.4% rise in visitor numbers to 771,000 people. Ulster Museum came in third, with a 15.9% attendance rise to 533,000 people.
Wales stays steady
For ALVA's four attractions in Wales, attendance remained relatively flat, with a 4% increase at Bodnant Garden to 252,000, enough to rank 116th nationally.. Second was Erddig, which recorded a level attendance of 164,000 visitors, while Penrhyn Castle saw numbers drop 5% to 109,000.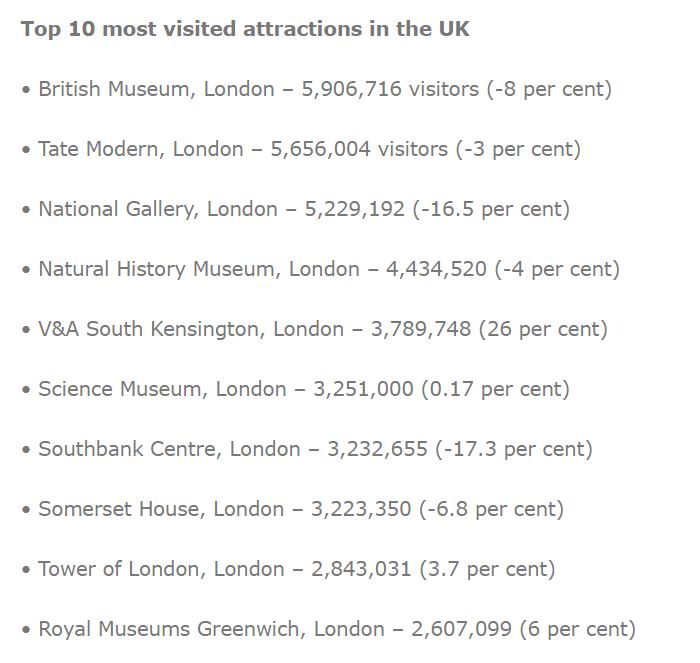 "This has been another fantastic year for tourism, and attractions in particular," said ALVA director, Bernard Donoghue.
"We know from research that overseas leisure visitors say that their primary reason to visit the UK is to experience our history, heritage and world-leading cultural institutions, and this is borne out by 2017 visitor numbers.
"Economic factors have also had an impact on UK visitors to central London, with associated evidence that costs linked with a visit such as travel and food and drink have played an important part in deciding where to visit.