The Natural History Museums of Los Angeles County (NHMLAC) have unveiled three preliminary concepts to reimagine the La Brea Tar Pits, from Dorte Mandrup, Diller Scofidio + Renfro, and WEISS/MANFREDI.
All three proposals envision a more integrated experience of the museum and the landscape, while preserving the site and increasing access.
The concepts were prepared by architectural firms Dorte Mandrup (Copenhagen), Diller Scofidio + Renfro (New York), and WEISS/MANFREDI (New York).
We want ??? to weigh in on Reimagining the #TarPits! Now through Sept. 15, we invite members of the community to view renderings, drawings, and models from three innovative architectural teams who have each reimagined Hancock Park and the Page Museum: https://t.co/GnRNM6zA1I pic.twitter.com/fib0xBeNkK

— La Brea Tar Pits (@labreatarpits) August 27, 2019
NHMLAC president and director, Dr Lori Bettison-Varga, said the proposals offer "distinct" and "deeply thoughtful" approaches.
"We want to preserve and enhance community use of Hancock Park while making the collection more visible to the public, showing science in action, and adding to our visitor amenities," she added.
"All three submissions offer fascinating ideas for creating a more robust and engaging visitor experience while enhancing the Tar Pits as a destination and cultural hub that inspires wonder in our natural and cultural worlds."
Dorte Mandrup proposes a large living laboratory
Dorte Mandrup says it will open up and extend the attraction "to become one big living laboratory", interweaving the park and museum.
"Our proposal interweaves the park and museum, so the moment you step inside the park you become immersed into the story of the Tar Pits," they added.
"A visit here should be a journey of curiosity, where senses and imagination are instantly awakened.
"Our hope is that this will bring visitors much closer to the world of natural science, and in turn heighten their understanding of the past, present and future of our planet."
Diller Scofidio + Renfro takes a 'light touch' approach
Diller Scofidio + Renfro said: "A revitalized Hancock Park is conceived to be the connective tissue between existing and new institutions, public spaces, and urban infrastructure."
The company explained it has "taken a 'light touch' approach for the next evolution of the Page Museum.
It plans to infill under-utilised spaces and reconfigure the current attraction "to create a more dynamic and efficient hybrid structure that is both building and landscape".
Finally, WEISS/MANFREDI's proposal looks to make Hancock Park and the Page Museum "one continuous experience".
WEISS/MANFREDI will combine the park and museum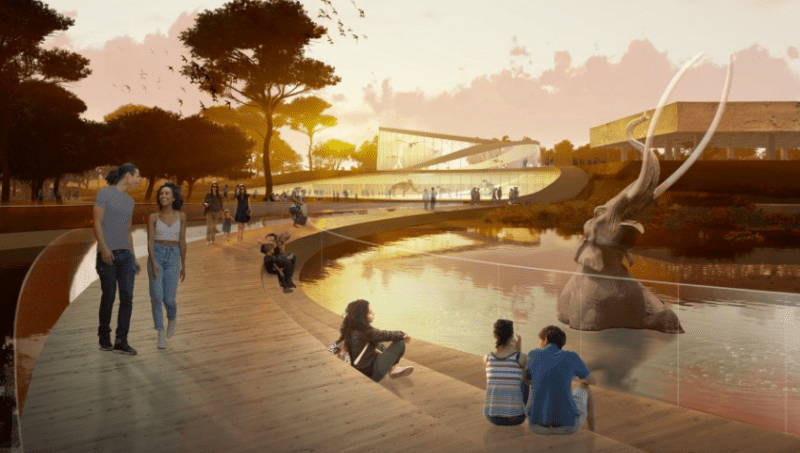 "The intertwining loops link all the existing site components, enhancing spaces for community and scientific research," they added.
NHMLAC aims to select one firm's proposal by the end of this year. The chosen firm will then begin master planning and the design and construction process.
The concepts to improve the 12-acre site are on display at La Brea Tar Pits and Museum and on TarPits.org until September 15.
Images: La Brea Tar Pits