Studio Gang has released an updated set of renderings of the latest addition to the American Museum of Natural History, the Richard Gilder Center.
The US-based architecture firm unveiled the new renderings as the extension broke ground last week. The projected budget for the Gilder Center is $383 million.
The 230,000-square-foot space will include new exhibition and learning spaces with state-of-the-art technology and access to the AMNH's collections.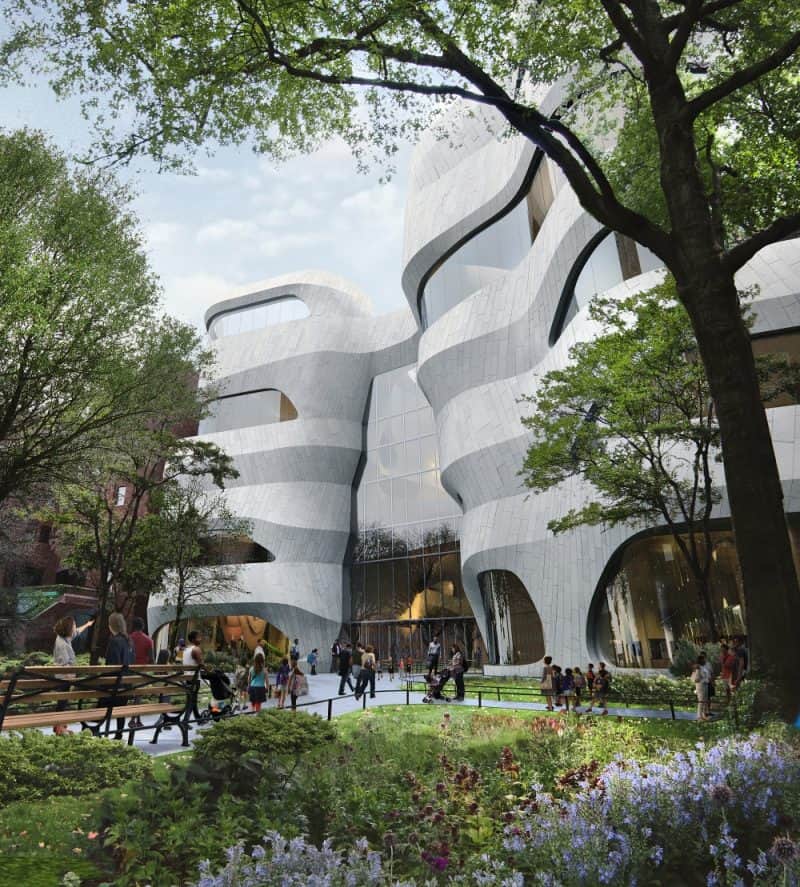 It will enhance the visitor experience by improving circulation and by making physical and programmatic connections among galleries, classrooms, collections, and library resources.
The Gilder Center is designed by Jeanne Gang of Studio Gang Architects. Ralph Appelbaum of Ralph Appelbaum Associates is designing the exhibition experiences, and the landscape architecture firm is Reed Hilderbrand.
According to Studio Gang, the Central Exhibition Hall will serve as the Museum's new Columbus Avenue entrance, and will form a continuous, flowing spatial experience.
The design will encourage visitors to move beneath and across connective bridges and along sculpted walls with openings that reveal the museum's programmes.
The new attraction will create approximately 30 connections among 10 different buildings, and will include the five-storey Collections Core, housing millions of specimens and artifacts.
AMNH's Gilder Center to cost $383 million
The Insectarium will be the first AMNH gallery specifically dedicated to insects in more than 50 years, while the Butterfly Vivarium will be a year-round exhibit that doubles the space of the existing seasonal butterfly conservatory.
The Invisible Worlds Immersive Theater will showcase cutting-edge scientific technologies.
New exhibition spaces with state-of-the-art tech
"We uncovered a way to vastly improve visitor circulation and museum functionality, while tapping into the desire for exploration and discovery that is so emblematic of science and also such a big part of being human," said Studio Gang founder, Jeanne Gang.
"Upon entering the space, natural daylight from above and sight lines to various activities inside invite movement through the Central Exhibition Hall on a journey toward deeper understanding. The architectural design grew out of the museum's mission."
Themed construction specialist COST was contracted to provide shop drawings, including form work design, and to construct over 68,000 sq. ft of shotcrete canyon walls for the Gilder Center expansion.
Images: Studio Gang