It is said that a crisis is also an opportunity. Just as intense heat and pressure create a diamond, a crisis creates a seedbed for innovation. So, this begs the question: how will the world look post-COVID-19?
By Jonathan Cohen and Joshua Gallagher, Gallagher & Associates
How will this crisis evolve the way people experience immersive spaces, museums, and cultural centres? Coming out of COVID-19, we expect to see a rapid acceleration on behalf of designers in the industry and also a rapid adoption on behalf of institutions. We'll see them implementing new ways for people to connect, learn, and engage. These will go beyond hands-on activations.
COVID-19 and hands-off museum experiences
We've been constantly advancing our toolset well beyond touch for many years now. The stage has been set for our own change in addition to that of many of our clients. We've implemented these emerging technologies hundreds of times. They enable a better, more bespoke, user experience.
We believe in stimulating all the senses in a thoughtful way. This means we can achieve a more meaningful connection to the story. It also provides a deeper learning experience.
Activations based on frictionless body and gesture detection, proximity-based devices, reflected light and directional sound all play a regular part in the experiences we design for clients to help them fulfil their mission. Now, we can add, touchless experiences are also safer.
So how are these hands-off museum experiences going to evolve in a post-COVID-19 world?
Movement and body
Coming out of quarantine, people will be more aware of their bodies, especially their bodies in the presence of other people. They will also pay attention to their position within a space and the speed of their movements.
Coming out of quarantine, people will be more aware of their bodies
We will further develop systems that consider visitors' new proprioception—the awareness of the position and movement of the body—as they gather, play, manoeuvre, and cooperate.
The body perceiving
Sensory experiences go beyond traditional tactile experiences to engage the full body. Gagarin's Lava Centre in Hvolsvöllur, Iceland uses light and sound in transitional corridor spaces to heighten sensory perception. Therefore, as visitors walk through a tunnel, they feel the vibrational energy of a "live" volcano.
The body responding
Our favourite spaces empower even tech-nascent users by inviting them to intuitively use their own bodies to engage. At the Mississippi Arts + Entertainment Experience (The MAX) in Meridian, Mississippi, G&A designed an experience that invites visitors to make pottery in the style of famous potters.
Visitors of all ages deftly "mould" clay on-screen by intuitively moving their hands in mid-air above a gesture-sensing potter's wheel to pat, pull, and pinch the virtual clay into a piece of art.
These tools enable a more profound and emotional experience
At the College Football Hall of Fame in Atlanta, Georgia, a full-body interactive encourages participants to challenge themselves in an NFL combine-style vertical jump and 40-yard dash. As they go for the record, every tiny movement is reflected back to them in high-fidelity generative graphics aided by a combination of specialized rugged floor sensors, embedded depth cameras, and infrared floodlights.
Going beyond our ability to analyze and respond to a person's movements and new-found awareness, these tools also enable a more profound and emotional experience.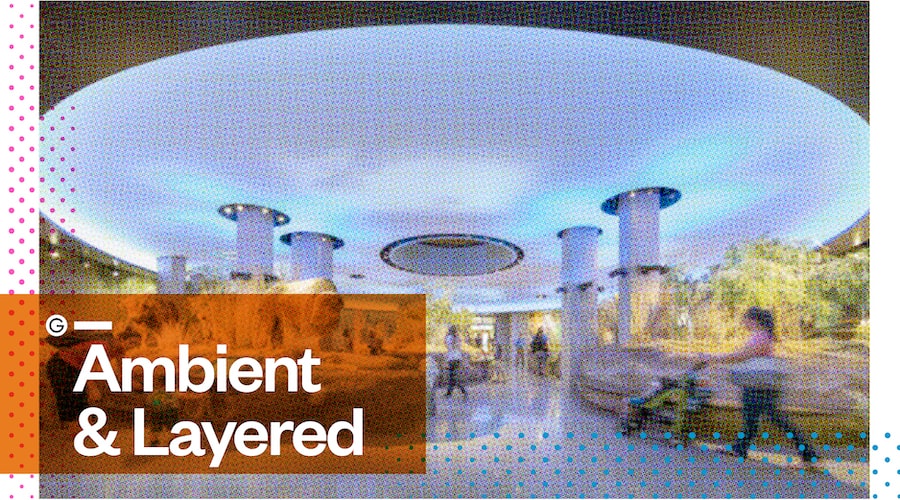 Ambient and layered
One option for hands-off museum experiences after COVID019 is that we can now treat space as a live 3D canvas in any shape. This space can know visitors individually and also as a group. It is a space that can sense itself more completely, as well as reacting in new ways.
Invisible layers of detection
RFID, ultrasonic and microwave sensors, and infrared, thermal, and depth cameras can also gather information about bodies and objects within a space to help us understand a visitor's past, present, and potential actions. Design.io's "Connected Worlds" experience at the NY Hall of Science is a great inspiration for room-scale data capture and intuitive reaction.
At G&A, we're developing a cutting-edge dance interactive for the National Museum of African American Music in Nashville, Tennessee.
Enough data will be stitched together to virtualize every cubic inch of the 200 square-foot room. Creating an experience that seamlessly produces a stylized real-time 3D visualization of the visitor dance group. This is also matched to a custom-choreographed light show and a dynamic soundtrack.
The technology we used in the Cafe Culture tables at Sazerac House in New Orleans is seamlessly embedded into, above, and around them. They detect subtle differences between traditional souvenir coasters that visitors place on the table—bringing to life an analogue stone surface.
Perception and sound manipulation
We also continue to research various forms of soundscaping and psychoacoustics to manipulate the auditory space around a visitor. Architectural flexible acoustics can clarify and reinforce sound in large rooms full of people listening together. Or, directional speakers and subwoofers can create a soundscape targeted to a specific visitor in a crowded room.
Architectural flexible acoustics can clarify and reinforce sound
Tactile transducers create audio-synced vibrations to layer physical sensations with sound. These are some of the least thought about yet most impactful methods to improve an ambient space.
Accuracy and fidelity
Imaging and 3D scanning techniques capture physical space at the highest level of accuracy. So, this produces an experience at the highest level of fidelity.
We used 3D scanning on location at the concentration camps of Auschwitz. We then created a moving exhibit for the Illinois Holocaust Museum and Education Center. It reinforces the gravity of this emotional content.
We will continue to use this technology to accurately capture the story. And reflect it back with the sensitivity and reverence it deserves.
Urgent and predictive
The aim at G&A is to augment a highly spatial experience with a truly unique time-based one that surprises visitors altogether. By processing and contextualizing data from the past, we can also predict a possible future.
G&A has already begun pulling from relevant live data feeds, customizing experiences with RFID, and leveraging machine learning and artificial intelligence. One experience at the Illinois Holocaust Museum and Memorial uses AI to allow visitors to "speak" with Holocaust survivors.
A serene immersive experience at The MAX uses generative adversarial networks (GANs). These "paint" moving Mississippi landscapes in the styles of its artists.
Working with today's neural networks is just the tip of the iceberg for experiential design. Since people contribute to data models continually, they are further informed by our real world every day.
Fearlessly moving forward after COVID-19 for hands-off museum experiences
In choosing technology to design immersive spatial experiences, we must resist the urge to become sanitizers of design. We cannot design visitor journeys, unifying ideas, eloquent stories, or memorable experiences solely around the idea of "clean surfaces" or "eliminating contact."
So, we must think long-term and do what we can to avoid knee-jerk reactions as we design hands-off museum experiences in the post-COVID-19 landscape. These only get increasingly more effective at telling stories and moving hearts and minds. That means remaining technology-agnostic but with augmented tools and a fresh perspective. This new world begs us to stay productive and agile and unafraid.