Listen Technologies is proud to announce that it is collaborating with Disney Parks, Experiences and Products in order to develop assistive technology and tour solutions, making the guest experience more inclusive and accessible. This project will utilise the Disney MagicALL suite of Disney SyncLink Technologies.
MagicALL is an accessibility platform that allows all guests to enjoy their Disney experience, thanks to a suite of proprietary technologies, IP and patents. It helps visitors with hearing loss and those who are deaf and blind, as well as guests who speak a different language. Disney also licenses MagicALL to other organisations.
Listen Technologies and Disney
This partnership will enable Listen Technologies to bring its assistive listening solutions to a wide range of attractions. The technology will improve the visitor experience and increase inclusion. Listen Technologies will now be able to extend the inclusive, Disney MagicALL experience to concert halls, museums, houses of worship, stadiums, walking tours, and more.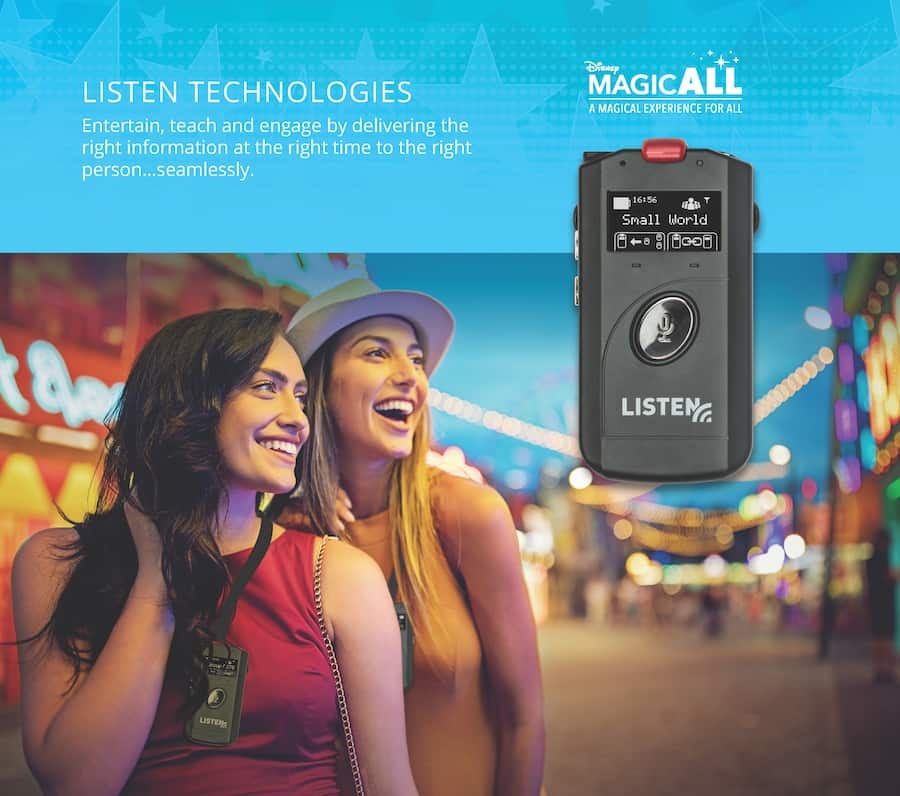 The company signed a technology agreement with Walt Disney Parks and Resorts in 2018, allowing it to use Disney SyncLink. This technology seamlessly provides customised content and information to visitors when they need it.
"Imagine entering an immersive ride, exhibit, or performance and being able to listen in real-time to synchronized audio in your native language or hear clearly despite having hearing loss," says Maile Keone, president of Listen Technologies. "Disney and Listen Technologies are making this possible. Our solutions, combined with Disney's SyncLink Technology, will provide inclusive experiences for guests with hearing, visual or translation needs."
Delivering magical experiences to all
"Disney is synonymous with delivering magical experiences to guests so Listen Technologies is thrilled to team with Disney on its MagicALL initiative and bring greater accessibility, inclusion and engagement to all people," says Russ Gentner, CEO of Listen Technologies. "Listen Technologies is committed to improving life's experiences by providing exceptional, personalized audio and content on any platform at any venue."
"We have a commitment to share our accessibility know-how and technology with companies around the world to help enhance experiences for everyone," says Greg Hale, Chief Safety Officer and Vice President for Disney Parks, Experiences and Products. "We are pleased to license Disney SyncLink Technology to Listen Technologies to further develop seamless synchronized Disney MagicALL experiences for guests with hearing, visual or language needs."
Listen Technologies provides solutions that deliver precise and personalised audio in any setting or environment, making visiting attractions simple and enjoyable for all.