Plans have been revealed for a £75 million water park and spa in Bournemouth. Elysium Water Park will be the largest indoor water park in the UK.
Elysium Bournemouth will be able to accommodate more than 4,000 people daily, and expects to welcome more than 1 million annual visitors.
It will be located on 75 acres, near to Bournemouth, Poole, Christchurch and the New Forest. According to Elysium's website, the £75m figure is based on benchmark projects in Europe.
Elysium Water Park will run 365 days a year and will be a themed to a tropical paradise, set within one of the largest free-standing glass domes in the UK.
Luxury tropical-themed water park with surf lagoon
The water park itself will boast virtual reality (VR) and augmented reality (AR) synchronised water rides for a high-tech experience, as well as special transparent flumes.
Elysium will be a luxurious attraction with a wellness and beauty 'water-based' spa. Offerings will include a sauna, hammam spas, massage and beauty treatments, and exercise and dance options.
There will also be indoor and outdoor F&B options, as well as nature attractions including a country garden, lake, outdoor seating and nature walks.
As for accommodation, there may be eco lodges and a hotel. Part of the site may also house a lagoon surf park.
Wellness and beauty 'water-based' spa at Elysium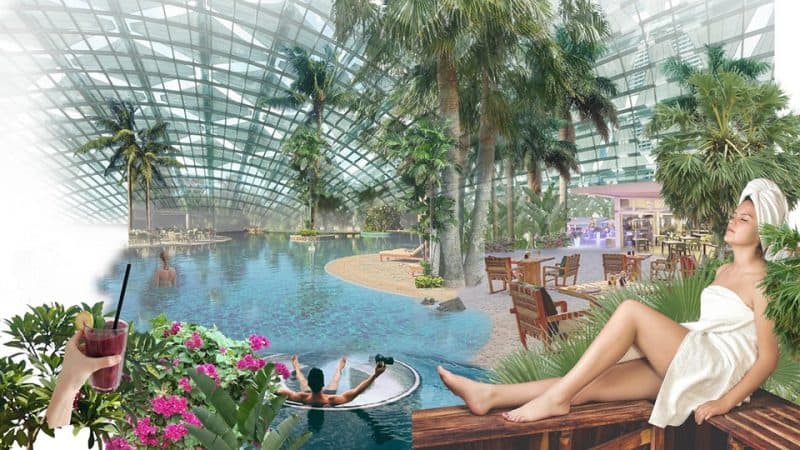 'The Lagoon' will be adjacent to Elysium and will feature 5-Waves surf technology in an all-weather environment.
Costa Acodrinesei, founder of Elysium Water Park, told Bournemouth Echo: "This is something very spectacular, it's a very big vision but I know we can do it.
"I want it to be something for the whole community and for everyone to get behind it."
The project's initial finance has not yet been raised, and a business plan is not yet in place. However, significant investors are said to be interested.
Elsewhere, Great Wolf Lodge has revealed plans to build a new resort in Oxfordshire with a water park, hotel, adventure park, and more.
Images: Elysium Water Park