How a radical redesign – and Xing Ya and Wu Wen, the giant pandas – transformed the Ouwehands Zoo into a thriving attraction and a centre for conservation.
Robin de Lange is the Director of Ouwehands Zoo in Rhenen, in the Dutch province of Utrecht.  He spoke to Blooloop about how the zoo has turned from a struggling attraction into a huge success.  He also discussed its conservation initiatives and the exciting arrival of giant pandas Xing Ya and Wu Wen from China.
Robin de Lange's background is in marketing and management. He first worked as marketing manager for Duinrell, an amusement park based in Wassenaar, The Netherlands. Then, fourteen years ago, he joined Ouwehands Zoo as Director.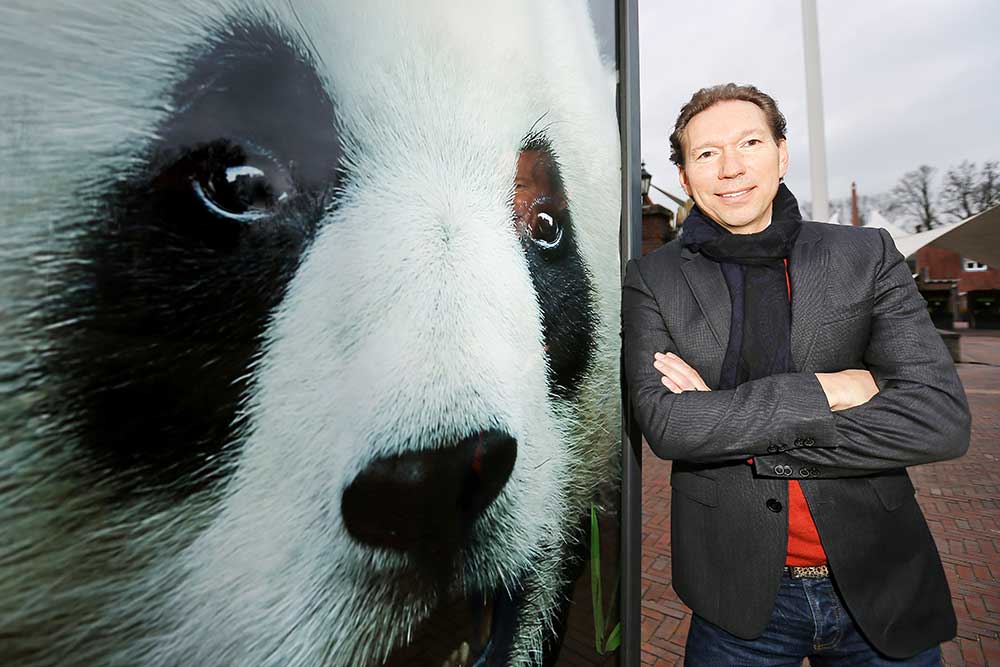 The zoo is situated on the south-eastern tip of the great Utrecht Hill Ridge in Rhenen.  It was originally founded over 85 years ago.  In 2000, successful businessman Marcel Boekhoorn bought it as a passion project. His ambitions were twofold: to reverse the fortunes of the failing attraction and, eventually, to create a home for giant pandas.
Considerable competition forces innovation
"We developed and redeveloped the zoo, introducing a new marketing concept, a combination of edutainment and zoo," says de Lange.  "Redesigning it was necessary.  At this time, in 2000, there were about 400,000 visitors, which was not enough to sustain the zoo successfully."
After development, the visitor numbers increased to 1 million per year – a huge leap.  "For several years, all efforts had to be focused on making the zoo successful again."
This succeeded to the extent that, in 2007, the Ouwehands Zoo was able to establish a foundation which supports nature and conservation projects all over the world.  "In 2007 we were able to donate a significant amount of money to this foundation," says de Lange. "It increased over the years, and this year we were able to donate one million euros to nature conservation projects all over the world. We are very proud of that."
Running a zoo in The Netherlands has its challenges. "There are about 15 big zoos in The Netherlands, and 65 companies who have a zoo licence, as well as a large number of amusement parks, so there is considerable competition," says de Lange.  "The challenge is to be different: to have a good marketing concept, to attract all those families with children every day to our zoo. To do that, you have to be innovative, you have to have a good marketing system, you have to be different from all the other zoos, and you have to be fun.
"Families come here for a great day out. When they are in the zoo, our big challenge is to inspire them to love nature, while having fun. In order to attract them to the zoo, we have to be outstanding."
"One big nature conservation project"
Fulfilling the second part of Marcel Boekhoorn's dream took somewhat longer to achieve. "The project to bring the giant pandas to the Ouwehands Zoo started in 2000," says de Lange.  "Our prime minister at that time sent letters to the Chinese president, and after that we negotiated for fifteen years. Altogether, three prime ministers from The Netherlands busied themselves with that, and we waited and waited."
They didn't just wait quietly in Rhenen.  "We travelled to China a lot," says de Lange. "I travelled there myself about 20 times, to meet the ministries and the people responsible for the giant panda programme. Eventually, after 15 years of waiting, we were at last able to sign a contract loan agreement in Beijing on 26th October 2015."
After years of negotiation and doubt it was a wonderful moment.  "The agreement was that two giant pandas would come to our zoo," says de Lange.  "In return, we would donate a million dollars every year to the Chinese Wildlife Conservation Association, to protect and support giant pandas in China.
"It was also, of course, a moment of great significance for our zoo. Nature conservation is at the heart of the zoo's mission; it is what we do every day.  This project is one big nature conservation project."
Having signed the contract, they were able to start designing and building the panda enclosure in the zoo.  "It was a very exciting year. You can imagine, having waited for 15 years for these animals, we really wanted to have them as soon as possible.  So we started building."
A unique enclosure built by a Dutch and Chinese team
The Ouwehands Zoo staff is experienced in taking care of bears.  "We have polar bears, and European brown bears," says de Lange. "Giant pandas are, of course, different from all the other bears in the world, so we travelled to China again with a zoo team. There we learned from experts about the care of giant pandas."
A team consisting of construction experts, people from the animal care department, marketing and management was brought together to plan the unusual and visually arresting panda enclosure.
"Together, we designed what is a unique enclosure. It's really special – designed and built by Dutch as well as Chinese constructors. The Dutch construction team built the foundation, the concrete installation, the steelwork.  Our Chinese colleagues built a unique traditional Chinese building on top of that."
The building, known as Pandasia, comprises two separate parts joined by a bridge. The tiles are made by hand, according to Asian tradition.
Chinese theming
The indoor accommodation for the pandas Xing Ya and Wu Wen is spacious. There is a cold store for the bamboo that makes up the animals' staple diet.  In addition, there's a breeding room, a nursery for any future offspring, a clinic and a workplace for the research team.
Surrounding the building is a roomy outdoor play area. The giant panda enclosure covers 3,400 square metres, and is situated within a wider area which will be home to a number of other Asian species, including muntjac deer and smaller panda breeds. This area covers around 900 square metres.
"It is a unique and very special project," says de Lange. "Last year, in the summer, 35 Chinese workers came to the Netherlands to the zoo. They built this really beautiful Forbidden City-style Chinese Temple on top of the giant panda enclosure.
"You have the enclosure for the pandas inside and outside.  Then, on top of that, there is a Chinese restaurant, and a Chinese shop for panda merchandise."
Ending discounts paid dividends
Since the arrival of the giant pandas, visitor numbers have increased.  The zoo, already doing well, has been thriving. "We changed the marketing strategy," de Lange explains. "Before the arrival of the giant pandas, we gave a lot of discounts.  In The Netherlands, all attractions use discounts and special offers to attract visitors in a competitive market.  This is not an ideal way to do business, and reduces the entrance fee below where you would like to have it.
"So, when the giant pandas came we stopped the discount vouchers completely. Visitor numbers increased by 20-25 per cent, but because we were able to dispense with the discounts, turnover doubled.
"Merchandise is doing well.  Business event bookings are doing well. So our turnover has increased by 100 per cent, which is very good, considering this is over the first seven months."
Animal welfare is always paramount. "There is no conflict between the fun side and the animal conservation side," says de Lange. "Animal welfare is always number one. We have to be innovative and creative to come up with new concepts to attract and retain people's interest, but animal welfare is not a discussion."
Connection is the primary aim
The pandas certainly seem happy with their new environment. "They like it very much," says de Lange. "They arrived on 12th April.  It took a few days for them to settle into their new enclosure. The Chinese animal care department accompanied them, but they left within a month.  They saw that our staff was doing a good job, and went back to China in a very short space of time."
Pandas are not known for being the most spectator-pleasing of animals.  "Pandas sleep a lot. They eat a lot, and they sleep a lot. We feed them about six times a day, and in between, they sleep," says de Lange, ruefully.  Nevertheless, as he points out:  "when they sleep, they're very attractive."
He also explains that people tend to spend a good number of hours at Ouwehands Zoo. "So, if the pandas are asleep they can come back later on in the day to see them moving."
For de Lange, one of the most satisfying outcomes of the project is witnessing guests' reaction to these iconic, rare creatures.  "When you see a giant panda, it is magical. Everyone knows they are a very endangered animal. There are about only about 1,800 left in the wild. When people are there in our zoo and they see the giant pandas, they love it. They connect with the animals, and their reactions are wonderful – it's fantastic to experience that every day."
That connection, he says, is the zoo's primary aim.  "It's why we do it – to inspire an enduring love for nature.  Love for nature, nature conservation, is the most important goal of this project."