Chester Zoo and Twycross Zoo have been told to prepare to remain closed 'indefinitely'. The attractions, which are now at risk of extinction, are fighting for survival amid the global outbreak of COVID-19.
The UK government's latest announcement on easing the lockdown did not include a green light for large outdoor attractions, including zoos, to reopen.
Chester Zoo will continue to lose more than £1 million per month, despite efforts to reduce costs and use of the government furlough scheme.
Chester Zoo says it is able to safely limit visitor numbers and enforce social distancing, more so than beaches and parks in the UK.
Visitor revenue makes up 97 percent of the zoo's income, and staff say the closure since March is having a "devastating impact".
Chester Zoo is losing more than £1m every month
We REFUSE to cut corners when it comes to caring for the animals ❤️

We REFUSE to give up on our fight to prevent extinction ?

And because of that, we've now reached the point where we desperately NEED YOUR HELP ?

We need you to SAVE OUR ZOO…https://t.co/hDxqKBXs8P pic.twitter.com/13mLc1Josn

— Chester Zoo (@chesterzoo) June 3, 2020
The zoo still has very high costs to ensure that its 35,000 animals receive care, spending £465,000 every month just looking after its animals and plants.
Chester Zoo, which needs £1.6 million per month to keep running, is not eligible for aid from the Zoos Support Fund.
To show that it's ready to reopen, Chester Zoo has already implemented health and safety measures to make its 128 acres of outdoor space 'COVID secure'.
Jamie Christon, chief operating officer of Chester Zoo, said: "As the UK's biggest and most popular charity zoo, we've tried to stay positive during this pandemic.
"But now, the government has ordered us to stay closed indefinitely and Chester Zoo is very much fighting for its future.
Chester and Twycross not eligible for Zoos Support Fund
PROTECT OUR FUTURE, #SAVEOURZOO FROM EXTINCTION
Our zoo is critically endangered right now, and after pleading with the government for grants to support large zoos and the announcement that we will remain closed indefinitely we have nowhere else to turn.https://t.co/XRnglqdzU5 pic.twitter.com/zOCzlCye7j

— Twycross Zoo (@TwycrossZoo) June 4, 2020
"Not being able to open, despite being a huge outdoor site with all the necessary safety measures in place, is having a devastating impact of the future survival of this much-loved charity zoo.
"We're heading towards debt in excess of £24 million by the end of 2020 – this will financially cripple us," added Christon.
"Not being able to open, with such massive outgoings, puts the future of the zoo itself at risk of extinction."
He continued: "While we see pictures of public beaches, parks and UK beauty spots busy with people, our zoo – a huge outdoor space, with 16km of pathways, and numerous measures in place to ensure that we can provide a safe environment for guests – sits empty.
Chester Zoo is 'under enormous financial pressure'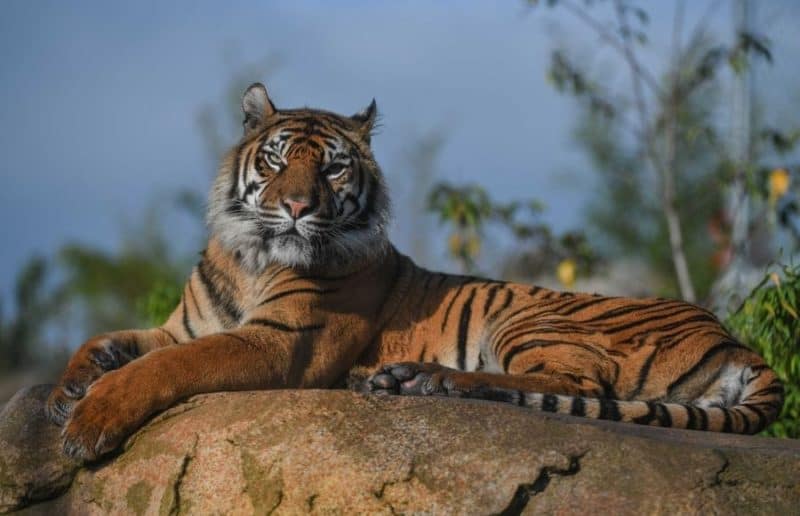 "Much smaller, private gardens are opening up this week, which is positive as the great outdoors is proven to offer benefits to mental health and wellbeing.
"However, we and our 128 acres of gardens have to remain closed. It's possible we'll be given permission to open our indoor retail shop later this month, but not our massive outdoor site.
"While we support the need to carefully lift the lockdown, we're under enormous financial pressure and these things don't stack up."
Christon added: We are not prepared to give up this fight and are continually lobbying government across all relevant departments, at all levels.
"Visitors carefully returning to the zoo is our lifeline."
'A frustrating time for all at Twycross Zoo'
https://youtu.be/nQUADAnZdWg
Twycross Zoo, which has more than 125 species of animal to care for, is in the same position as Chester Zoo, and is also not eligible for aid from the Zoos Support Fund.
Dr Sharon Redrobe OBE, CEO of Twycross Zoo, said: "This is a such a frustrating time for all at Twycross Zoo, and this decision to close us 'indefinitely' leaves us fighting for our survival as a conservation charity and zoo.
"As the infection rate has lowered over recent weeks and lockdown restrictions had slowly started to lift, we were hopeful that Twycross Zoo along with other large rural conservation zoo's, may be able to reopen safely.
"We are ready with a plethora of measures to ensure everyone's safety and strongly believe that our zoo would provide a safe place for people to enjoy a much-needed day out while providing vital support for conservation and helping secure our survival.
Safety measures in place at Chester Zoo
We wanted to remain a beacon of hope.
We really tried.

But now, as the government has ordered that we may have to stay closed indefinitely, it hurts us to say that this crisis has left us fighting for our future.

— Chester Zoo (@chesterzoo) June 3, 2020
"It is disappointing that large rural conservation zoos, like ours, seem to be being grouped with other venues that maybe can't manage measures as easily due to the nature of their environment and who present different risk profiles."
Redrobe continued: "We are pleading with the government to reconsider our plight, which has quickly now turned into a fight for survival.
"We have no choice but to fight this hard and are working with all levels of the government to prove we do indeed provide a safe space for visitors and to highlight the measures we are taking."
You can donate to Twycross Zoo and Chester Zoo. Jamie Christon and Dominic Strange are also fundraising to save Chester Zoo.