A post-COVID-19 world may look very different thanks to the need to avoid unnecessary physical contact and mass gatherings.
See also: 3/02/21 – How COVID-19 will shape attractions trends across the world in 2021
As we emerge from the pandemic, we face many new and unfamiliar issues. Finding reliable ways of keeping our distance from others, and ways of preventing the spread of germs will be important. From the highly useful to the bizarre, Blooloop has collected up some of the COVID-19 innovations that we've seen so far.
Top 7 coronavirus-inspired innovations
1. Lidl helps shoppers find quietest times
Budget supermarket Lidl is offering its customers in Ireland the chance to find a quieter time to shop, thanks to its new online chatbot. Customers simply send a message to Lidl through WhatsApp and the chatbot will reply with some useful insights.
"Just send a message with the day and time you intend to visit and it'll instantly let you know whether that's a Quieter/Average/Busier time to visit," said the shop in a post on its LinkedIn page. "We've analysed our shopper behaviour over the past couple of weeks to find the quietest time to head into store.
"This innovative approach uses real-time data and customer transaction numbers to determine which hours of the day are quietest to visit and which are busiest, allowing for customers to plan their shopping trips accordingly."
2. Keeping socially distant…with pool noodles!
This is one COVID-19 innovation that is sure to turn heads. Customers at the popular Cafe & Konditorei Rothe in Schwerin, Germany, were pictured last month wearing hats with pool noodles attached to them.
Oh my god, this is amazing. A German cafe is making people wear swimming pool noodles as hats to enforce social distancing.

Pic via Cafe & Konditorei Rothe on Facebook https://t.co/fMgqgbTdt6 pic.twitter.com/ds0whysqqi

— Katy Lee (@kjalee) May 14, 2020
The cafe went viral on Twitter after pictures emerged of customers enjoying the sun at pavement tables with the colourful new headwear. These long foam water toys make it difficult for customers to get within six feet of each other.
However, it later turned out that the funny hats were the idea of German broadcaster RTL, who wanted to see how people reacted when asked to put them on by the cafe owner. While Germany has one of the lowest death tolls in Europe, under 9000, this shows that efforts to maintain social distancing are still underway…with sometimes amusing results.
3. Virtual holidays on Animal Crossing
Creative Agency BBH has come up with a way for guests to visit Singapore's Sentosa Island virtually, using the popular Nintendo game Animal Crossing. The 'Sentosa Crossing' branded virtual experience allows people to experience the holiday destination while staying safe in their own homes. It includes landmarks and attractions from the island.
"Through our virtual offerings, we would like to encourage everyone to make time for an "island getaway" during these challenging times, as a break is important for one's mental wellbeing", said Lynette Ang, Chief Marketing Officer, Sentosa Development Corporation
The digital replica of Sentosa Island features specific details, landmarks and attractions. Visitors' avatars can enjoy beach yoga, music festivals and beach bars. They can also go on nature trails and more as they explore the island.
4. PPE on the go
The availability of personal protective equipment has been making headlines throughout the pandemic. Now, Selecta, a provider of vending solutions, has come up with a new COVID-19 innovation to help people get their hands on these items.
The company's new 'Safety Stations' are vending machines designed to supply essentials such as face mask and sanitiser. Zurich Airport in Switzerland and Brussels train station in Belgium are among the first venues to offer the machines. This enables travellers to access the materials that they may need to feel safe on their journey.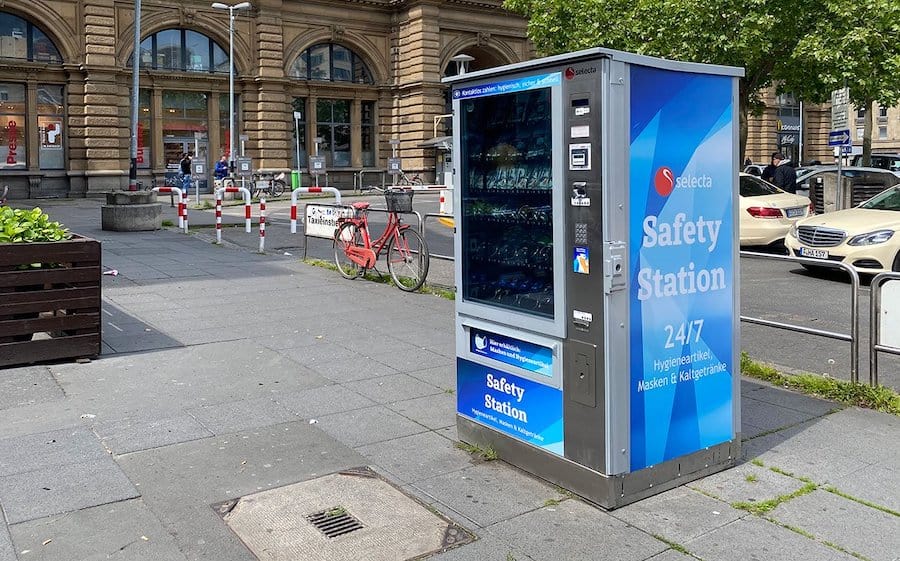 Managing Director of Selecta Belgium, Tim Goossens said: "As our economy is slowly restarting, it is important to us that we're able to respond our customers' changing needs. These products and services enable us to do that.
"The Safety Station is a great example, allowing consumers to access necessary equipment 24/7 in an easy and safe way. We are delighted to be able to support our clients and partners this way during these challenging times."
5. Enjoying concerts at a distance
When the COVID-19 lockdowns first began around the world, several events such as concerts went virtual. But now that regulations are being relaxed in some areas, what happens when fans want a real-life experience without the crowds?
The answer that seems to be popping up around the world is drive-in concerts. Audience members simply turn up to the gig in their cars and park in rows. Then they tune in to their FM radio where the music is broadcast through a limited frequency. Instead of cheering and clapping, audiences have been encouraged to beep their horns in support.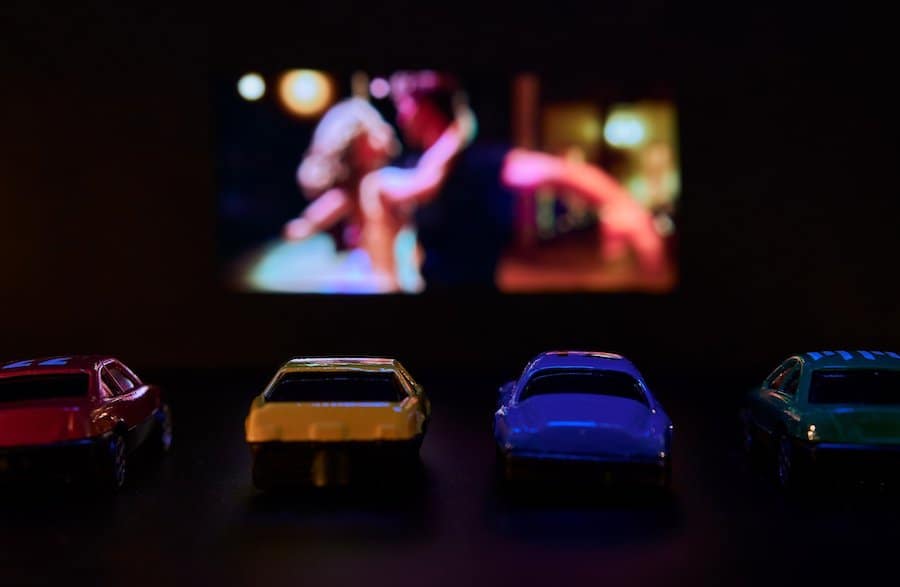 One of the first big musicians to hold such a concert was Keith Urban. He held a secret drive-in concert near Nashville, USA, last month to thank healthcare workers. Urban spoke about the concept in an interview with Billboard: "The connections between all of us is the one thing we can maintain through this. We may do it a different way, but we can absolutely maintain a sense of connection."
See also: Drive-in cinemas coming this summer to the UK
6. Socially distanced restaurant tables
One restaurant in Maryland, USA, has introduced a fun new coronavirus invention. This is designed to help its customers maintain appropriate distances from each other. Fish Tales Bar & Grill in Ocean City is now using 'bumper tables', which use a large inner tube to keep diners apart.
This restaurant in Maryland intends to use bumper tables to keep customers six feet apart once it begins to take seated diners. pic.twitter.com/ReCLbzcowF

— CBS News (@CBSNews) May 18, 2020
The custom-built bumper tables are on wheels. This means they can be used by customers to enjoy food and drink as they socialise in the car park or bar area.
Owners Shawn and Donna Harman spoke to CNN about the innovative idea. "I mean, it's a novelty, it's cool. It's a great photo opportunity for them," said Shawn. "If you put the two tables together, you can't get within 6 feet of each other — and it's fun," added Donna.
7. Taking distancing cues from the carpet
Global floorcovering company Milliken has also come up with a COVID-19 innovation: carpet tiles that aid social distancing.  Its new Social Factor carpet tiles are designed to help people to maintain physical distancing while at work.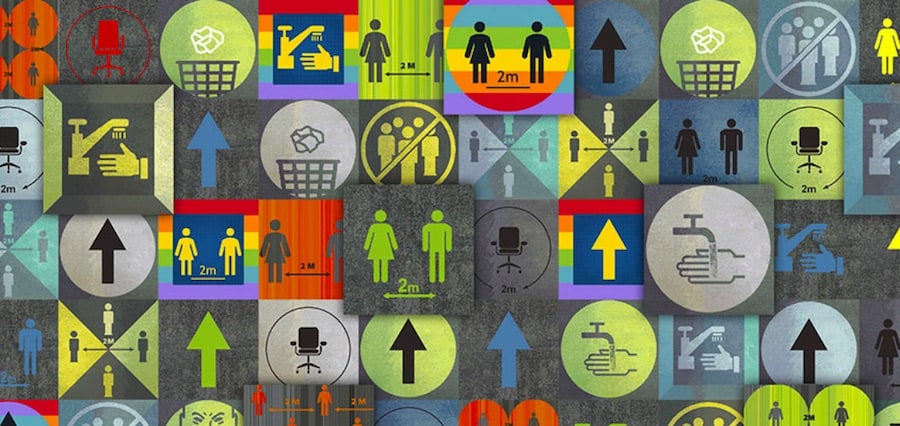 The tiles include eyecatching graphics such as arrows and footprints. These can assist businesses in keeping to social distancing guidelines and directing the way that people move around their venues.
"Social Factor brings safety messages to life with lively and imaginative design treatments created to promote a spirit of positivity and commitment to a safe and healthy workplace," says the Milliken website. "Employees will demand a safe workplace. They felt secure and protected in their homes, they will want to feel equally safe when they return to the workplace."
And finally…
Many attractions have also been grappling with the issue of face masks. There are many considerations to take into account. For example, should be compulsory? And if so, what should guests do when they need to eat or drink?
However, here is one COVID-19 innovation that we can't see catching on: