Chester Zoo has teamed up with Internet of Elephants to launch the 'Pokemon Go' of wildlife, an AR app called 'Wildeverse'.
The new app is called 'Wildeverse' and allows players to track wild animals with their phone. Join wildlife scientists to carry out real conservation challenges, collecting data on apes to help protect them. Explore holographic AR jungles and find virtual versions of real apes. You can even uncover illegal human activity from your home.
Using games to educate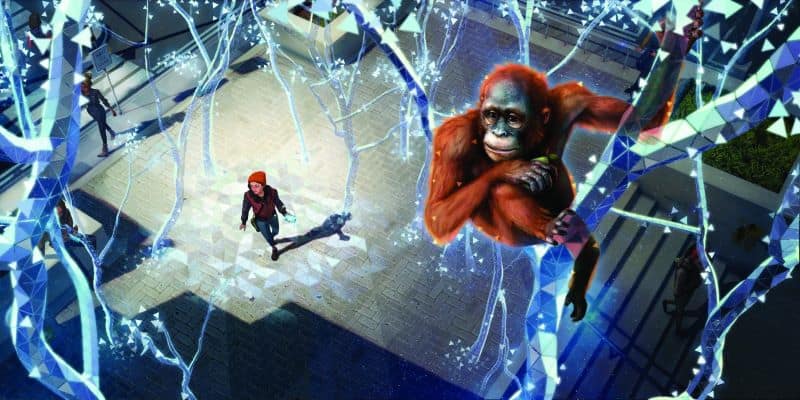 Internet of Elephants is a Kenyan game company who design games about wildlife. They teamed up with conservation experts Borneo Nature Foundation and Goualougo Triangle Ape Foundation. Zoo Atlanta launched Wildeverse in the US, whilst Chester Zoo launched it in the UK.
Initially designed for just the outdoors, the company has been working hard to include indoor play since the coronavirus pandemic has forced many people to stay in. They travelled to the jungles in the Congo and Borneo to find inspiration for Wildeverse.
The apes you encounter in the game are based on real apes the team found; Fio, an organgutan, Chilli a gibbon, Buka a gorilla and Aida a chimpanzee, who are all being researched by science teams.
Internet of Elephants founder, Gautam Shah says that "conservationsists on the ground are fighting an uphill battle with the support of only a handful of people. We are on a mission to turn the 2 billion people playing games today, into wildlife lovers and supporters of conservation efforts."
Getting people interested in conservation
This message of conservation resonates with head of Conservation Education & Engagement at Chester Zoo, Charlotte Smith. She says that at Chester Zoo "we are always looking for interesting ways to talk about the work that we do across the world and to inspire people to be the conservationists of the future."
She continues, "when Internet of Elephants suggested we become their UK partners on the project we jumped at the chance. It's a really fun game to play but also shows some of the real challenges that conservationists are facing."
With over 70 missions to complete, there are hours of gameplay available. Players are fully immersed in the game thanks to the use of AR. The hope is that this makes them more invested in the storyline and the wider importance of protecting the real-life apes and their habitat.
Cultural institutions are starting to use games to educate whilst they are closed. Monterey Bay Aquarium has been using the popular Nintendo game Animal Crossing to continue educating and connecting with visitors.