World-renowned zoo architects, dan pearlman Experience Architecture, are celebrating the opening of the ground-breaking new Panda Garden exhibit at Berlin Zoo.
The company designed the 5,480-sqm complex which puts the welfare of the pandas at its heart. The animals have access to two spacious outdoor enclosures where bamboo, rock formations and small watercourses reference the giant panda's native habitat.
German Chancellor, Angela Merkel, Chinese President, Xi Jinping, and Berlin Mayor, Michael Müller, were all present at the event. But, the stars of the exhibit are undoubtedly pandas Meng Meng and Jiao Qing. The bears had a week and a half to adjust to their new surroundings away from prying eyes before moving into their outdoor exhibit.
"The pandas will definitely like it here," confirmed Zoo director, Dr. Andreas Knieriem. "With Panda Garden and its Chinese pagoda-style buildings, we are bringing a bit of China to the heart of Berlin."
The Chinese theme continues throughout the exhibit and beyond, giving a seamless visitor experience across the whole dan pearlman-designed building and visitor plaza. A brushstroke alphabet was specially developed for the exhibition, as well as illustrations based on classical Chinese ink painting.
dan pearlman Brand Architecture designed an exhibition packed with panda facts that runs along the enclosures and into the plaza. Content delivery is also themed, with information boxes taking the forms of objects such as scrolls and bright red lanterns. Special children's panels add a playful, exploratory level to the exhibition.
"Panda Garden invites visitors to experience a bit of China and get up-close to the rare pandas," says CEO, Kieran Stanley. "At the same time, it allows the sensitive animals to be cared for in a highly modern way and also provides space for research."
The architectural team at dan pearlman Experience Architecture and its construction partners, empoc bpm, were given just fourteen months to design and construct the panda exhibit.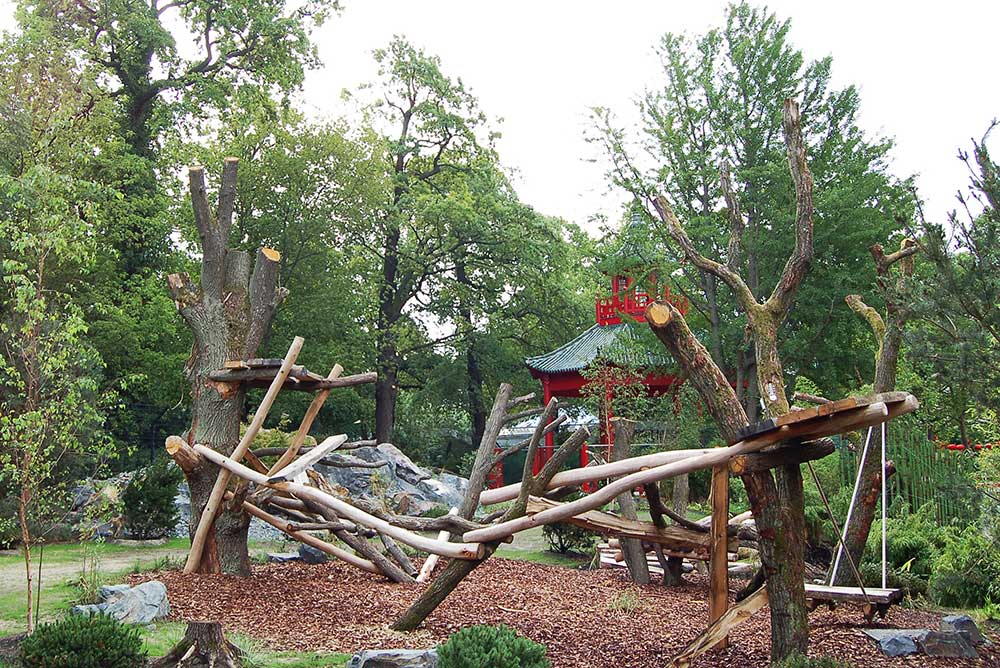 "Everyone involved in the project has done a really outstanding job," adds Project Manager, Anna Buttkus.
"We were able to successfully carry the basic design concept throughout all project phases. The rigorousness and energy of the project made working on the panda exhibit a special experience for me."
dan pearlman is no stranger to creating richly engaging panda habitats. The company also designed Panda World for South Korean zoo and leisure park, Everland Resort, which has won acclaim from conservationists.
Berlin Zoo's Panda Garden opens to the public today.