Leading cultural attraction retailer Event Network is collaborating with plush toy producer Aurora World to eliminate or reduce the use of harmful single use plastics throughout all aspects of its manufacturing process.

With the help of Event Network, Aurora has implemented an expansive sustainability programme, including the transition from plastic fill to 100% post-consumer fill (fibres made from recycled materials) in 2018. Destination Nation – a diverse range of animal toys found in zoos, aquariums, museums, among other locations – was the first Aurora product line to use recycled biopolymer pellets last year.
Recycled pellets
Starting in January 2019, Aurora World will be adopting 100% post-consumer polyester for all its products. The introduction of the eco-friendly recycled pellets should have a great impact. The pellets, which are used to give plush toys weight and the best shelf appearance; account for over 3 million pounds (1.36 million kg) of recycled plastics annually.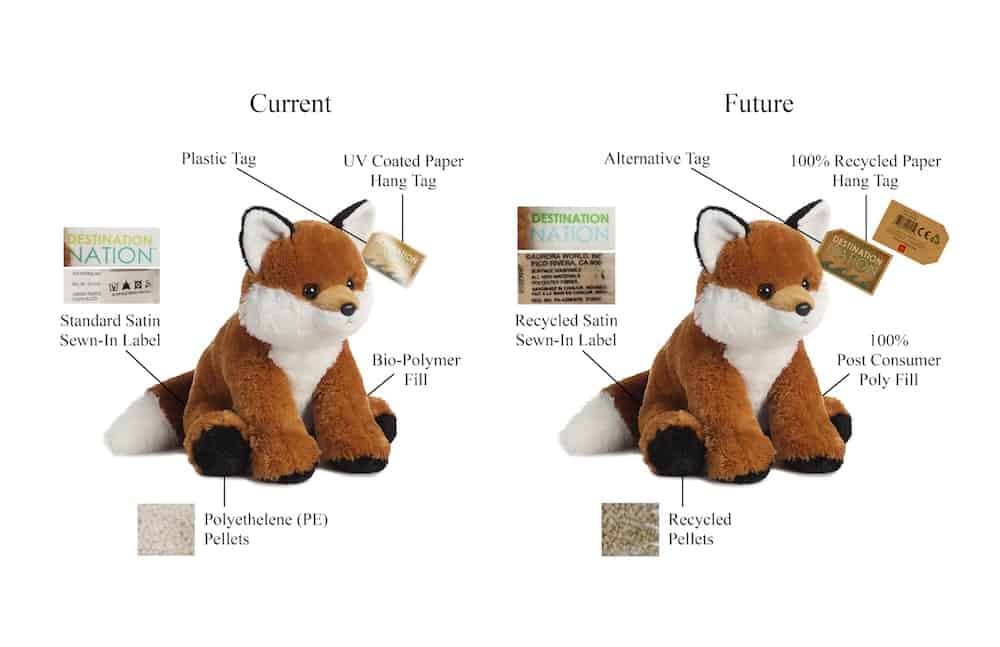 In addition, the current standard satin sewn-in label in each toy will be replaced with recycled satin. Meanwhile the hang tag will no longer be coated with UV, but made with 100% recycled paper. By the end of the year, Aurora World hopes to have sourced other recyclable materials that will make its plush entirely eco-friendly.
The sustainability programme also extends to packaging. Plastic packing tape will be replaced with paper packing tape and fewer poly bags will be used. Aurora World's master shipping cartons are already made of recyclable material, but now they will begin carrying the US recycled product symbol.
Going green
"We know now, more than ever, is the time to go green," says Aurora World's senior vice-president of sales and marketing, Michael Kessler. "After years of searching, and with the help of Event Network, we have finally found the resources needed to make a significant impact. By using recycled products and cutting waste, we can contribute to a better world."
Established in 1998, Event Network operates retail on behalf of zoos, aquariums, museums and iconic destinations throughout the United States and Canada.
"Our philosophy has always been to extend the experience through dynamic retail environments that support and represent our partner's mission and brands" says Event Network's Vice President of Marketing and Communications Andrea Froehle.
"Offering products that are sustainably sourced and manufactured has always been extremely important to us.We are continuously evaluating to see where and how we can introduce measurable 'green' best practices in our offices, stores and supply chains."
Event Network and Aurora have worked together for over two decades and have started to implement these changes over the last several years. They are committed to continue working together to reduce the amount of plastics in products and packaging and incorporating recycled single-use plastics that would otherwise end up in oceans or landfills.