Houston Zoo has launched a $150m fundraising campaign to fund a range of initiatives including several new multi-species habitats.
So far, the zoo raised more than $102m for the campaign, including a $50m gift from the John P McGovern Foundation. Houston Zoo hopes to use the funds to mark the organisations centennial in 2022 by completing phase one of its 20-year master plan. This will involve creating new exhibits and a revamping its image.
"We aim to redefine what a zoo can be with beautiful and immersive habitats, compelling guest experiences, and an unyielding commitment to saving wildlife," said Lee Ehmke, president and CEO of Houston Zoo. "I invite you to join me on this thrilling journey to build the world-class zoo Houston deserves. Together, we will keep our world wild."
Work has started already, with the zoo unveiling its new logo. The first aspect of its new visual identity.
Nearly half of the Houston Zoo's facility will be redeveloped by 2022 with new developments opening for visitors every year between now and its centennial.
Heart of the Zoo
In 2018-2019, the organisation will focus on the 'Heart of the Zoo', enhancing amenities and making the facility more navigable. The Cypress Circle Café will be transformed into a signature gather place by late 2018 while the orangutan and bear habitats will also be enhanced.
A new Texas Wetlands habitat is also due to open in spring 2019, featuring alligators, bald eagles, whooping cranes, turtles and waterfowl.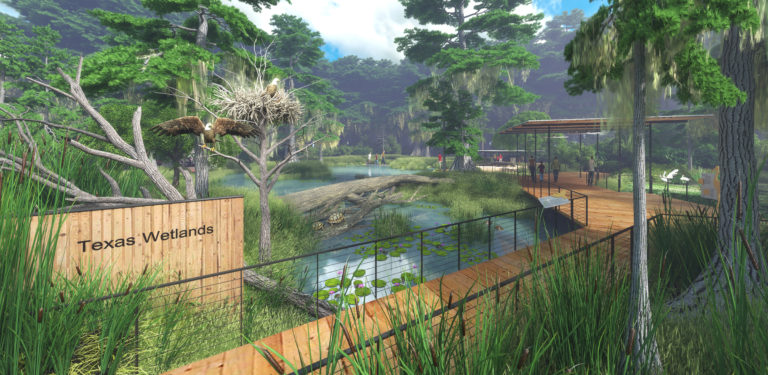 Pantanal – Trail of the Jaguar
In 2020, Houston Zoo will open Pantanal – Trail of the Jaguar, a lush South American wetland exhibit filled with jaguars, monkeys, giant river otters, capybaras, birds and tapirs. It will include the Shaded Animal Encounter Hacienda for informal presentations with ambassador animals and zoo staff.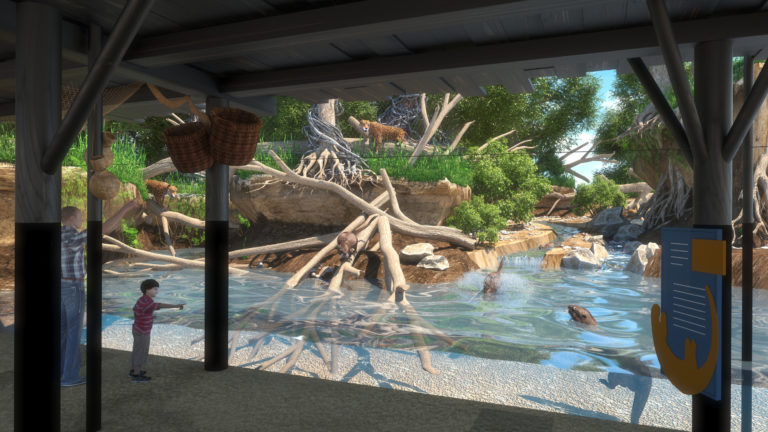 Ancient Relatives
Following that, phase one of the 'Ancient Relatives' project will complete in 2021. Showcasing the zoo's bird conservation work, a reimagined bird garden with interactive bird feeding opportunities will be opened.
A new Avian Conservation Center will also complete, allowing many birds to be relocated into landscaped aviaries. This will set the stage for a later expansion of bird- reptile and amphibian exhibits.
The final aspect of phase one of Ancient Relatives is new incubation and rearing room that allows for behind-the-scenes experiences.
Galapagos Islands
To mark Houston Zoo's 100th anniversary in 2022 the Galapagos Islands exhibit will open alongside a new arrival plaza at the north of the park.
The Galapagos exhibit will immerse visitors in that sense of place, highlight the zoo's ongoing field work with giant tortoises, birds and marine animals.
The zoo will also launch Reflections, an event hall and terrace, as well as a new casual café. At the same time, the historic reflection pool and garden area will receive enhancements.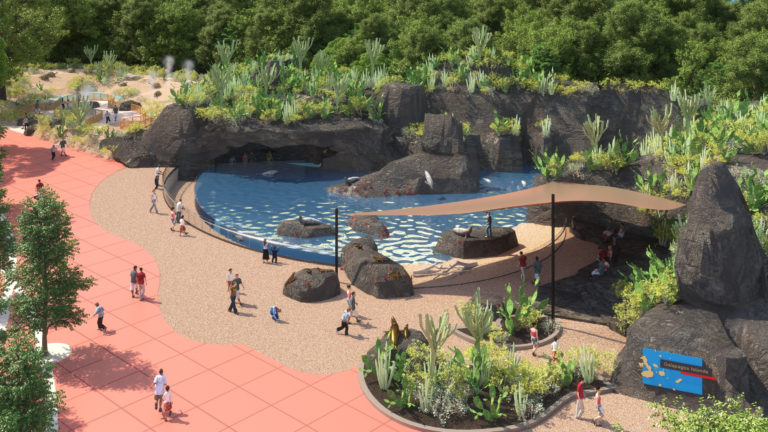 Images: c. Houston Zoo.