Maurer Rides – innovative roller coasters and transport solutions
In their more than 30-year history, Maurer Amusement Rides have produced over 100, mostly individually designed rides. In addition to the various forms of classic roller coasters, many innovative and unique rides were designed and built. An extensive range of technical solutions has emerged that justify the reputation of the Maurer rides as exceptional premium coasters.
Since the beginning, Maurer Rides regularly pioneered the development of revolutionary new technologies, which later became the market standard. In 2004, for example, the Maurer X-Car was the world's first system for inverted rides without a shoulder restraint. Innovative track figures can be designed with the help of the self-developed multi-body simulation package XTRAC and the track tubes are bent three-dimensionally with the Maurer XBEND method in unprecedented precision. The introduction of the revolutionary Spike® drive technology represents a milestone in several sectors in the development of rail-bound transport systems.
Numerous awards and patents underline the status of technology and innovation leader.
Spike Coaster
INTERACTIVITY
Spike is the only real roller coaster that provides the rides with interactive control over the vehicle. Using a throttle-grip, boost button and touch screen many different experiences are possible.
LAYOUT FREEDOM
Unlike a regular roller coaster, Spike is not bound by the limits of Gravity, thus allowing the ultimate freedom in layout design.
ACCELERATION
The powerful motors and 100% traction allow the vehicle to accelerate with over 1g, putting it on par with Formula 1 cars. This power is available everywhere on the track, even in curves an can be controlled precisely for exiting effects. The company have installed BOLT on Carnival Cruise lines Mardi Gras, as well as locations in Mirabilandia Park in Italy and Allgäu Skyline Park in Germany.
MEDIA INCLUDED
A customizable sound system and touch creen as well a camera solution are built into the vehicle, and thanks to onboard electric supply further systems, including AR/VR, can easily be powered.
Spinning Coaster
The company's Spinning Cars seat four guests and travel through the track as independent rotating units. Sitting back to back, passengers are separated by a bucket seat preventing them exposure to uncomfortable stress during the turns.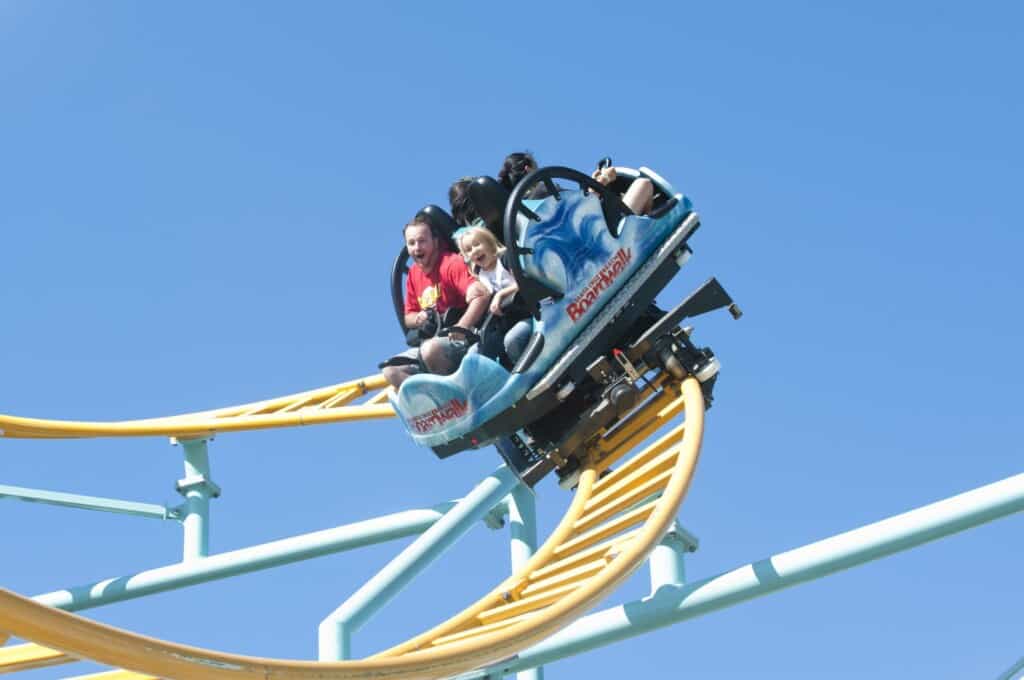 With it's tight turns, the spinning coaster is suited for bound areas of an outdoor park, or indoor locations such as malls and family entertainment sectors. Ideally adapted to theming, the coaster cars offer a wide variety of customisation. The car has a pivot bearing between the car and the undercarriage, converting the centrifugal forces generated in curves to rotational movement. The coaster can also do a wide array of special effects such as seasaw, drop track and vertical express lift.