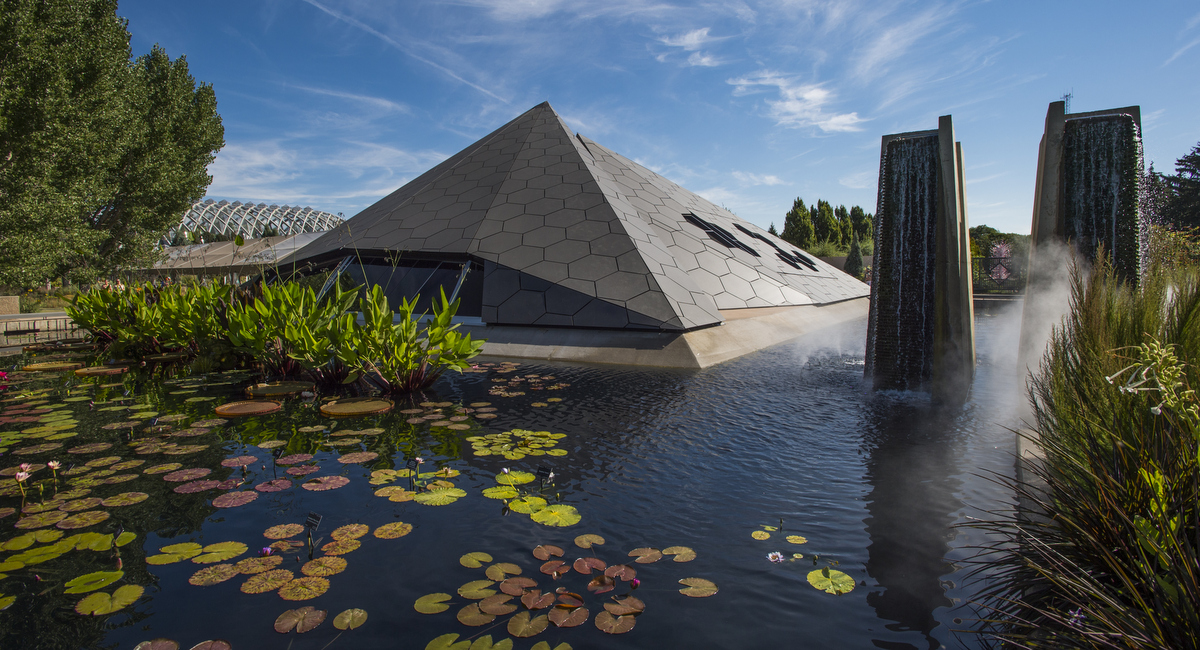 In 2014, Denver Botanic Gardens had over 1.4 million visitors, making it North America's most visited public gardens.
A popular show by contemporary glass artist Dale Chihuly, good weather and the opening of a new science exhibit all contributed to a significant boost in attendance from the previous record of 879, 000 set the year before.
The Gardens came first in the recently released The Directors of Large Gardens' top 10 list US, with Washington's United States Botanic Garden (accustomed to being number 1) second and Kennett Square's Longwood Gardens third.
Blooloop spoke to Denver Botanic Gardens' visionary CEO, Brian Vogt, about a stellar year, reconnecting people with nature and the importance of a scientific perspective for the future of our planet.
Perhaps surprisingly, Vogt's background is not in botany or biology, but classical antiquity. He graduated from the University of Colorado, having spent a year of his course at Lancaster University in the UK: "I studied ancient Greek and Latin and Egyptian hieroglyphics, and ancient archaeology, culture and religion."
He then spent several years working in Washington DC, organising various programmes including the National Centre for Service Learning, a volunteer programme for college-age students.
"I travelled to 22 states, and gave speeches…it was an amazing experience, but DC didn't really sit well with me – the politics of the city are rather strange – so I moved back to Colorado and applied for a job doing economic development work for a very small – at the time – Chamber of Commerce."
After twelve interviews he was given the job. He says, "I think it was because I was young, cheap and eager."
He ended up becoming President of the Chamber – a position he held for fourteen years.
"It grew to be a large, very intellectual organisation, and tackled lots of very big projects. My strangest duty was to manage the campaign to create the City of Centennial in Colorado, which was the largest incorporation in American history, believe it or not. No other city started with as many citizens. We had about 103, 000 in the city when it started. And, that required grassroots organising – legislative work – we had to go through the courts system all the way up to the Colorado Supreme Court. It was a great civics lesson throughout the whole time."
He spent a considerable amount of time working with local non-profits, especially in the field of arts and culture, and with different organisations that were potentially tourist attractions for the region, which was the southern part of Metro Denver.
This experience proved useful when the Governor of Colorado invited him to lead the Colorado Office of Economic Development and International Trade, which included the Office of Tourism for the State. During his three and a half years in the post, he was Secretary of Technology and then the Director of the Department of Local Affairs coordinating programmes for communities throughout the State.
"And, so again I got to travel all over the State and meet all kinds of great people. I wound up recruiting the Arts Council from the Department of Education over to the Office of Economic Development. It's now called Colorado Creative Industries. Its function is to support arts and cultural organisations throughout the State. I spent a lot of time working on that as well as the tourism arena."
The pivotal moment came when he woke up one morning without a job: "I thought, wow, I can actually balance out my life a bit…find something not quite so all-consuming. A couple of weeks later I got a call from a headhunter wanting to know if I wanted to interview for the job at the Gardens."
Strangely enough, he had visited the Gardens four years previously while at the Office of Economic Development and had dreamt about this job.
"I remember looking at the historic home where my office is now, and I knew the person who was the CEO at the time, and I thought, now that would be an awesome job."
Vogt has always loved being outdoors and is a hobbyist gardener.
"I love working with landscape, and my own gardens look like a quarry because I have so much different stonework in there that I've done myself."
He has been at the Botanical Gardens now for eight years. Last year was hugely successful with a string of major projects completed.
"Last year was like a celebration from beginning to end."
"We decided that just one or two big things was not enough. At the same time, we began planning several different projects. They were all part of our master Development Plan which is almost complete. We have one more big project and then we'll have it completed."
Having received funding, the decision was taken to move forward with three major projects:
the Science Pyramid, which showcases Denver Botanic Gardens' research activities, encouraging visitors to see the world of plants through a scientific lens
the Ellipse Garden at the Waring House, a contemplative space with shady walks, seating areas, a unique water feature highlighting the Colorado Chihuly sculpture that was installed in December 2014, and a special emphasis on roses
the Hive Garden Bistro, an outdoor restaurant adjacent to the Monet Pool
At the same time, the Gardens were hosting the International Water Gardens Society Conference and the American Public Garden Association conference:
" which is our biggest trade group – they are the organisation for public gardens in North America, and at the same time we decided to launch a Chihuly exhibit."
The Gardens' 'Chihuly' exhibit, scores of colourful, curling shards sprinkled across the grounds, pushed attendance to nearly one and a half million for the year, an impressive increase on the previous year's 879, 000.
"The greatest thing was that this amazing team handled the stress so beautifully; they planned for it so well – everyone's role was just spot-on … it really culminated in this amazing sense of accomplishment. Everything just happened with virtually no hitches. It was such a celebration from beginning to end."
"There's a momentum that has continued to grow"
Vogt contends that rather than regarding each year as a separate entity, he sees the Gardens as a continuum:
"… a rolling seasonal adventure. There's always change; there's always something new in the Gardens. The first quarter of 2015 has been a record quarter for us. Our membership has been continuing to go up; our admissions in the first quarter of 2015 were up significantly over the year before. So, there's a momentum that has continued to grow. This year we don't have national conferences and giant construction projects, but we will have a wonderful exhibit: Montana artist Deborah Butterfield. She takes found objects – mostly driftwood – and she builds these amazing abstractions of horses – haunting, breathtaking, inspiring. And she casts them all in bronze… So I think that's going to be stunning."
Towards the end of 2014, the Gardens were the beneficiary of a permanent Chihuly sculpture.
"We were very fortunate in that donors came forward and said they wanted to buy a permanent installation of Chihuly's work."
(The purchase is funded by private donors, including Robert and Judi Newman, John and Ginny Freyer and the RC Kemper Charitable Trust, as well as UMB Bank, n.a., Trustee)
He adds: "We actually went to the Chihuly studios and asked them to design something new for us that wasn't in the exhibit and they created a spectacular sculpture. They even named it 'Colorado'. The sculpture, inspired by the local sunsets, is part of the 'Icicle Tower' series. It is comprised of 1, 017 hand-blown glass elements and stands over 14 feet tall.
"And, it's breath-taking. I can see it from the window of my office, and every day there's a stream of people coming to visit it. Quite amazing."
He doesn't see the Gardens as competing with other leisure attractions, as such:
"I think it's not so much competition as cooperation…For example, with the Butterfield exhibit, we are borrowing three sculptures owned by the Denver Art Museum. And they're doing a major collection of floral paintings later on this summer, and we'll actually be doing arrangements to match the paintings to help market their show."
He goes on:
"We have an alliance with a regional, very revered music organisation [Swallow Hill Music] that has championed folk music for ever, and they are the producers of our summer concert series here every year. Their members know about the gardens – our members know about Swallow Hill. There's just an enormous amount of camaraderie and that's pretty rare. And, we've all benefited from it. We all thrive in each other's wake."
Nevertheless, he acknowledges that a friendly rivalry exists.
"There is a sort of… it's not really competition; it's more sort of peer pressure. We keep raising the bar. It lets all of us be the very best in our class – let's have the very best Art Museum, the very best Botanic Gardens, the very best Museum of Nature and Science. We all push each other."
He feels that the biggest shift for the Gardens at the moment is the need to capitalise on the desire most people have to reconnect with nature. As life becomes increasingly fast-paced and technology-focused, people's desire to connect with the natural world also increases:
"So, for that it takes reaching out to people in whole new communication styles. Young people are not likely to be reading newspapers any more. They're tweeting and they're communicating in ways I don't even know… Instagram, and so on – so we have an outstanding marketing and communications department that ensures that we're reaching the broadest possible audience. We're on television, we're in print, we're on social media all the time. It's made a huge difference."
"We're reconnecting people to the most basic of our relationships with plants – and that's food"
There are two particularly profound projects in the pipeline, the first of which is likely to be increasingly relevant over the coming decades.
The Gardens, which has a Community Supported Agriculture Programme, grows a significant amount of food at its Chatfield location.
Vogt explains: "We take that food, along with urban vegetable gardens that we've created, and create markets in food deserts: areas where people have virtually no access to fresh food. And, we go in there with fresh vegetables, and work with the community. We teach them how to grow food and we're working with communities to try to understand the kinds of vegetables and herbs that they most desire. And, we're then developing regional cookbooks, so a community that comes to our food markets will share recipes back and forth, and we're compiling them – really reconnecting people to the most basic of our relationships with plants, and that's food. So I see that growing over the next decade."
The final major project in Denver Botanic Gardens' capital campaign and Master Development Plan will be a Centre for Science, Art and Education, housing new laboratories and herbaria.
The Centre will also house the library and be a showcase for the Gardens' collection of rare books – collections of botanical illustrations, scientific journals and a 17th Century edition of the most renowned of all flower books, Robert Thornton's Temple of Flora.
The new building will contain a suite of classrooms and an art exhibition space so outdoor and indoor exhibits can run in parallel.
"Belief is not a science word.. we should be observing… testing… recording"
Outlining the underlying agenda, Vogt points out that the major challenge – and this is why the Science Pyramid is so critical – is to help more people understand the scientific method:
" – how to apply science through daily deliberations. By that I mean some issues come up, and they become instantly political. They become polarised. People are either 'for' it or 'against' it. Climate change is a great example of strange language: I don't understand why people talk about believing or not believing in climate change. 'Belief' is not a science word. 'Belief' is a religious word. 'Belief' is also a political word, but it's not a science word. We should be observing climate change; we should be testing climate change; we should be recording on climate change; we should be learning about climate change. Those are all appropriate words for science. And, as soon as you take it out of the realm of science and turn it into an agenda-driven campaign, you can't really look at evidence objectively any more. And, that's very dangerous long-term if our society begins to look at shifts and changes in the world and, instead of looking at it from a scientific perspective, looks at it from a political perspective: we can't make decisions."
He concludes:
"So we're trying to inspire people about becoming citizen scientists – we are working with kids in our science pyramid; we're teaching people about all the ecosystems that make up Colorado and their importance, and help them observe their world a little bit differently."
Images courtesy Denver Botanic Gardens except "Colorado" sculpture by Dale Chihuly courtesy Scott Dressel-Martin