Blackpool Pleasure Beach's new double launch coaster is a lot of fun. Yet thanks to the British site's notoriously ride intensive layout, designing and constructing it presented many challenges for both park and manufacturer. Blooloop profiles the building of ICON.
The £16.25m ($22m) attraction from Mack Rides was officially opened in late May. ICON is the first new roller coaster at Blackpool Pleasure Beach since the introduction of Infusion in 2007, and before that the Big One in 1994.
There have been a lot of coaster developments in that time. Pleasure Beach deputy managing director Nick Thompson cites Cheetah Hunt at Busch Gardens Tampa as the ride that piqued his interest in a new generation of launch coasters. Yet it would be an attraction a little closer to home that would eventually spawn the ride system at the heart of ICON.
Opened in 2009 at the Mack family's Europa-Park in Germany, Blue Fire was the first launch coaster from Mack Rides. It signalled a new era of coaster production for the family firm. Subsequent rides, such as the multi-launch coaster Helix at Liseberg in Sweden, also share some of their DNA with ICON.
The Pleasure Beach already has three other Mack rides. The park's Avalanche Bobsled coaster, unique on British shores, is enjoying its 30th season in 2018. Within Nickelodeon Land, guests will find the Mack constructions SpongeBob Splash Bash (Twist 'n' Splash) and Backyardigan's Pirate Treasure.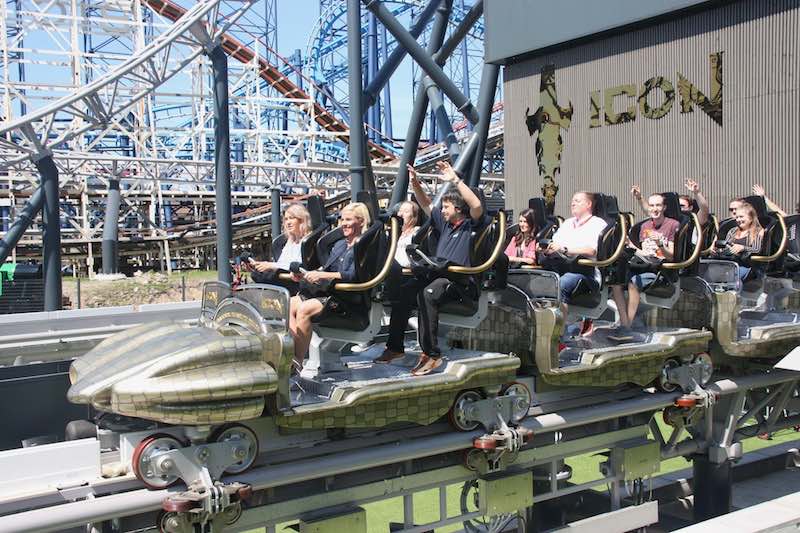 Family friendship
Famously, the Thompson family's relationship goes deeper than being merely a customer of Mack. Pleasure Beach managing director Amanda Thompson OBE produced ice shows for many years at Europa-Park and cites Roland Mack as a mentor. Recently her nephew Magnus enjoyed a placement with Mack Rides as part of his engineering studies.
Michael Mack spoke warmly of the relationship between the two well-known industry dynasties during the press conference for the new coaster on May 23. Yet Nick Thompson insisted it was the Pleasure Beach's own engineers who had the final say when it came to choice of manufacturer. Several others were considered along the way, including many of the names you might expect.
Pleasure Beach guests get a lot of bang for their buck on ICON. The total experience lasts 161 seconds, about a minute-and-a-half of that in what coaster fans call the "thrill zone". It starts as the train is catapulted from the station, reaching 80km/h in just 2.25 seconds. Straight away, riders race into a tunnel. And thanks to the ride's layout, they never quite know what's coming next.
Tipping a hat to the Big One
A signature element is the 'top hat' that threads through the lift hill of the Big One. The other key elements, in this order, are an inclined loop, S-turn, interlocking zero G-roll, a second launch to 85km/h, twisted Immelmann, overbanked dive, high G helix, outside banked airtime, a high five with the Big Dipper and then the final brake section.
In total, the attraction features 1,144 metres of track. It interacts with other Pleasure Beach rides and attractions a total of 15 times. In addition to the Big One, that includes the Big Dipper and Steeplechase roller coasters.
Safety and seaside
"Fitting a ride this long and thrilling ride around the all the other coasters while keeping within the required safety envelopes was quite a challenge," says Mack Rides' head of marketing, Maximilian Röser. "The second challenge was the location at the seaside with all the influences like wind, saltwater and so on."
Up to 1,070 guests per hour can experience ICON, when all three 16-seater trains are in use. The minimum passenger height is 1.3m. During the ride, they will be subjected to a maximum/minimum acceleration of 4/-1.2G. Just enough, says Alex Payne, not to put large numbers of Pleasure Beach visitors off riding. "We didn't want too much negative G," he states.
The park's long-serving technical director says that certain elements, like the double launches and the S-turns over the Steeplechase (reminiscent of Cheetah Hunt), were specific requests from the Pleasure Beach. Others were developed together with Mack during the design process.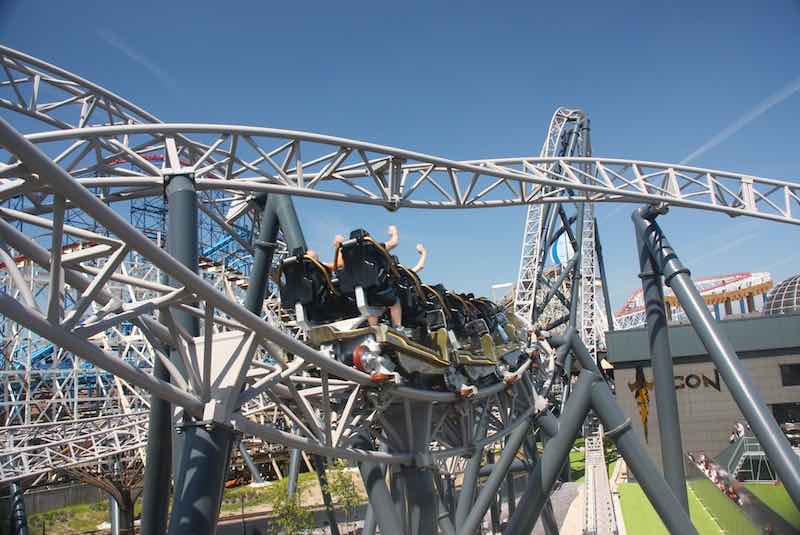 The right height
The ride's highest point – 28m/88.5ft – comes roughly midway through the ride, after the second launch. But wasn't the park tempted to go higher?
"Higher than what?" asks Payne. "It's easy to suggest going higher than the Big One, but what are we really going to achieve? The key thing with this coaster is the way we take you low to the ground. As you you move alongside other rides it really affects your sense of speed; it's plays with your mind a bit."
So it's length and quality of experience and its anticipated status as a future Pleasure Beach classic that gives this ride its iconic credentials. And what it lacks in height and speed it makes up for in style. ICON, incidentally, is not an acronym, it's merely written that way for branding purposes.
"Our coasters have a unique look," notes Nick Thompson. "But it's design and architecture rather than a fully themed experience. However you can have the most beautiful packaging in the world, but unless the product's right you're onto a loser. We've definitely got the product right first, and then created the best packaging for it."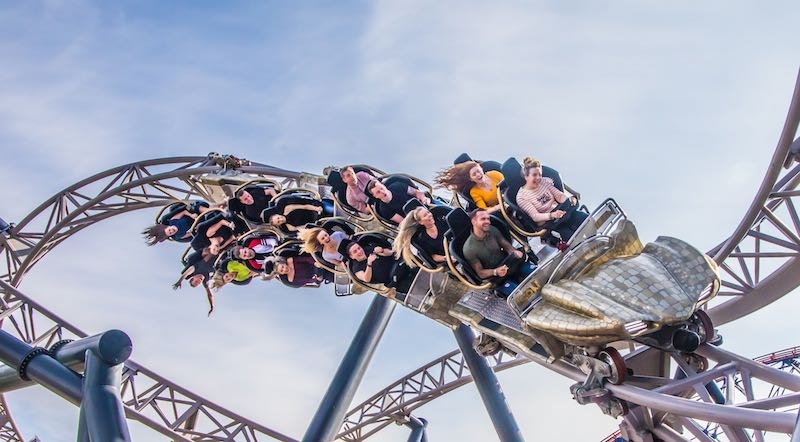 ICON – an image conscious roller coaster
Guests enters the ICON queue line via an imposing Japanese-themed portal. There'a a luxurious feel to the ride's shimmering gold trains and station interior. Once they disembark, passengers pass by the photo booth (by Picsolve) and head out onto a plaza. The adjacent gift shop is another well-appointed offering, complete with sturdy wooden doors. At times it feels like you've walked into the Blackpool Shangri-La.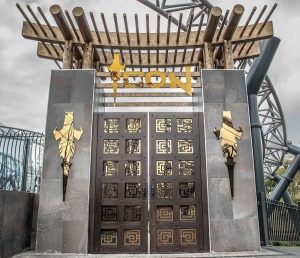 "Some of the world's smartest hotels have definitely been an inspiration into the design of this ride," confirms Nick Thompson.
The Shangri-La brand has not yet arrived in Blackpool, and who knows if it ever will. Yet the resort's hotel stock has improved of late. You can still stay in a 'cheap and cheerful' guesthouse if you wish. And many do. However the recent arrival of a Hampton Inn by Hilton has been billed as the first in a series of 'next generation' hotels planned for Blackpool over the coming years.
The Pleasure Beach set a high benchmark when it launched its own 4-star offering in 2003. The Big Blue Hotel will be joined by a second hotel on the corner of the park in 2019.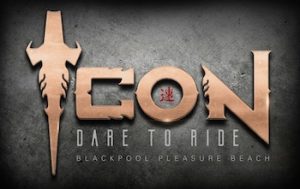 The attention to detail found here and throughout much of the rest of the Pleasure Beach owes a lot to Amanda Thompson. The park's design-savvy managing director will surely be casting a keen eye over plans for the new hotel. This time developers are striving for "a standard above 4-star."
Fitting in new attractions
More new rides and attractions are in the pipeline. Yet despite engineers from S&S visiting Blackpool recently to study the Steeplechase in order to relaunch the ride concept for the the 21st Century, there are no plans to update what is the last remaining coaster of its kind. Installed by S&S predecessor Arrow Dynamics in 1977, the single rail coaster has been entertaining Pleasure Beach guests since 1977.
The park's wooden 1958 Wild Mouse was removed this winter. With the addition of ICON, its coaster count remains static at 10. With its wood or steel, you're never far from a piece of roller coaster track. The park's photographers are poised for poised to capture the ultimate big money shot, say Payne.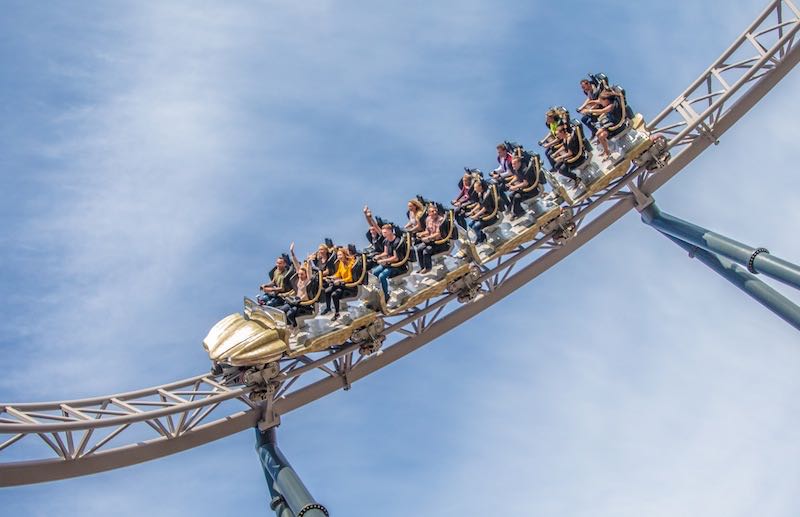 The amount of track is bonkers
"Without doubt there's going to be an attempt over the next few weeks to get as many coasters as possible – the Big One, Big Dipper, Infusion, Icon and the Avalanche – all in the same view. When you see the amount of track around here, it's just bonkers. But we are never going to run out of room for new rides, because the space we have got is three-dimensional. Whether it's going under, over or around other attractions, we play with those three dimensions as creatively as possible."
The 2018 season will be one to remember for UK coaster fans. Over 160km (102 miles) from Blackpool at Alton Towers Resort, Merlin Entertainments launched the Wicker Man wooden coaster over Easter. Its £16 million budget was almost the same as ICON.
There's already much debate online from enthusiasts about which offers the better ride experience. Wicker Man's half man-half ram centrepiece is certainly striking by nature. But only one ride is iconic by name.
Constructing an ICON
Alex Payne has worked at Blackpool Pleasure Beach for the past 24 years, and served as the park's technical director since 2006. Working together with roller coaster construction specialist RCS GmbH and a team of local contractors, he was responsible for the technical development and installation of ICON from start to finish. Here, in his own words, Alex tells us about the challenges of creating the park's most eagerly-awaited attraction in years.
Selecting the site for ICON was guided by a number of things. We'd got the old Tom Sawyer lake, the go-kart area, another area in between and then, purely by chance, there was a hole in the Big One lift hill linking them all.
Because of their age, there simply weren't sufficiently accurate drawings available of some of the other rides and structures that the new coaster would interact with. However, we wanted the interactions to be as close as physically possible to enhance the feeling for riders.
Finalising the layout
We joined the dots by bringing in a surveyor, laser scanning this area of the park and then speaking to the manufacturer. Now we had this accurate 3D image of the area. There was a lot of marking things out, taking photographs and sending them off to Mack, as we iterated the design over several months.
The first track design was just outside the train's capability. Quite a lot of columns posed problems with clashes with our existing infrastructure or with installation issues, so we changed things. You couldn't move a column without there being significant ramifications for something else in the track and the supporting structure. But eventually we were really happy with the layout.
Because we had done the laser scanning, we knew where everything was to within 10mm. That would not have been possible maybe five or 10 years ago. The top hat element, where you go beneath the Big One lift hill, is a real hair raising moment.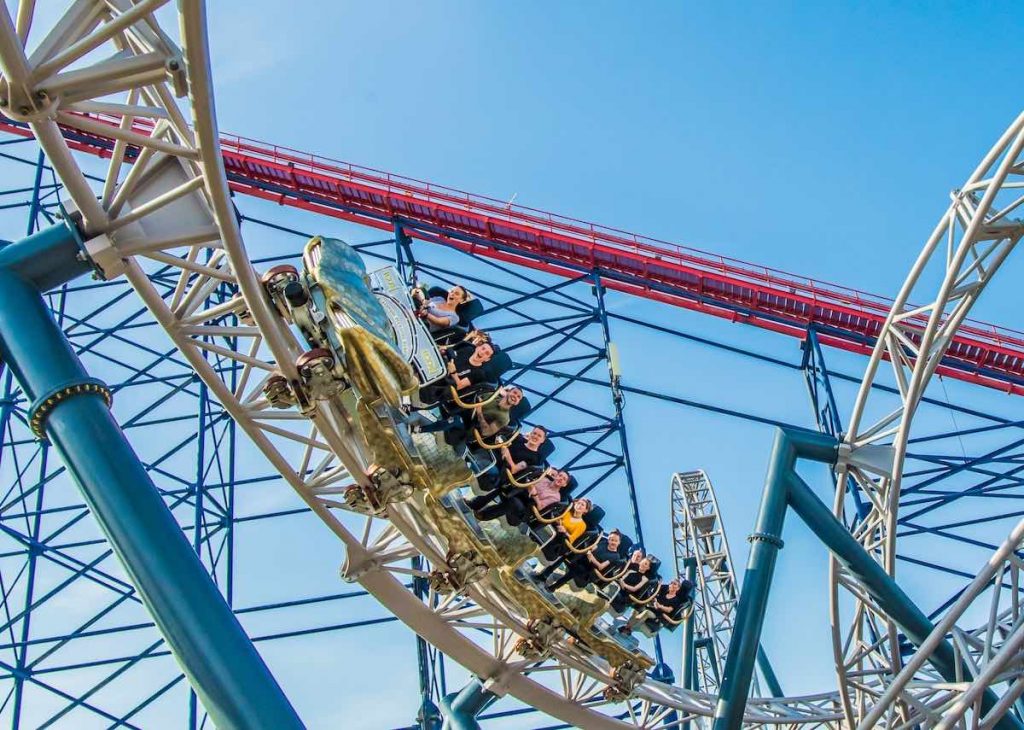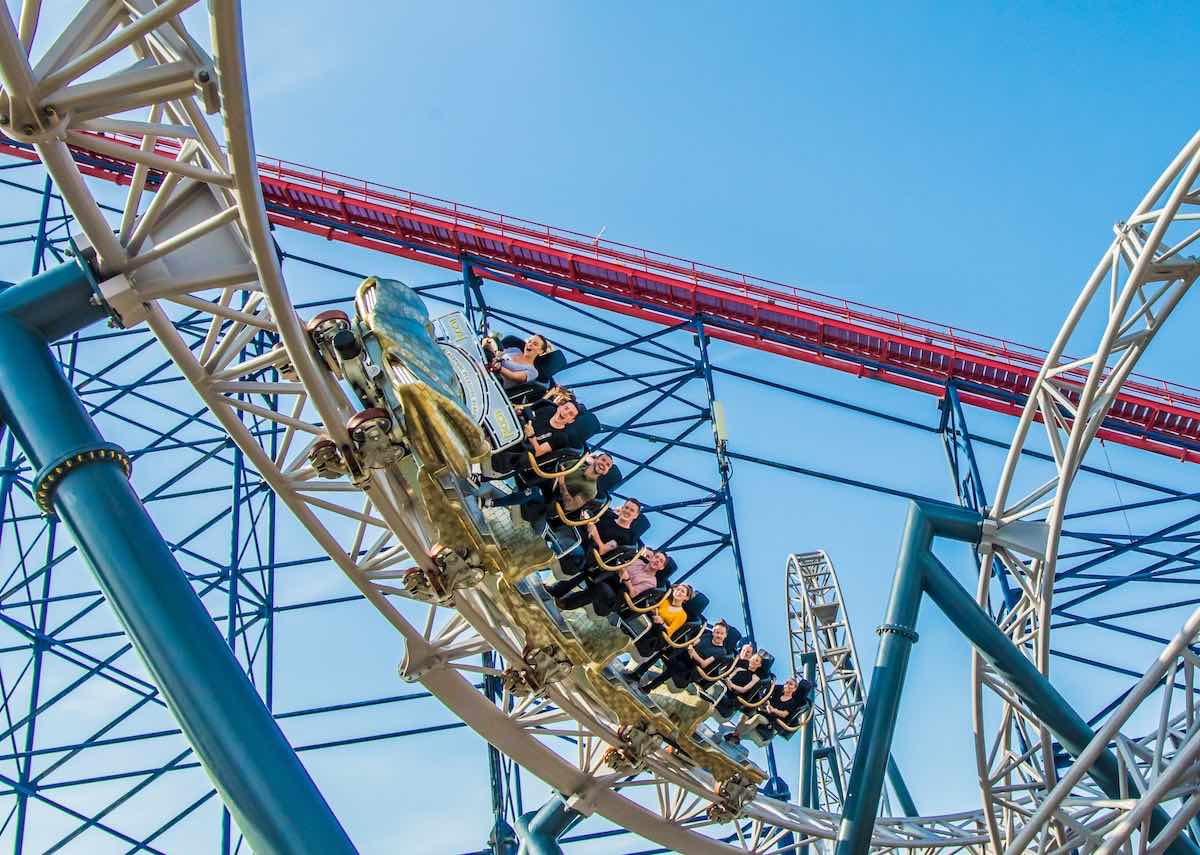 Pushing the safety envelope
We push the safety envelope of the Icon train right to the limits of the Big One structure. Without those scans, we'd have had to leave another metre or two to be sure we were comfortably clear with the envelope. That would have significantly reduced the effect we wanted.
We've been planning this ride for well over five years. The really hard work, non-stop every day, has been in the last three-and-a-half years. When we did the official project unveiling at Mack Rides in September 2016, we were already a long, long way down the line. Track was being manufactured at that stage; an awful lot of processes had begun.
Installing Infusion back in 2007 was a far simpler process than constructing ICON. That ride is all on one site, and all on one level. The only thing that was difficult with that was getting the crane into certain positions during construction.
Maintenance considerations
With this we had to create access over and under different levels and above, below and through our other rides. How are we going to get in there, and how do you get back out again? Then you had to look at how you are going to get back in to maintain it in future, and the impact that has on our other rides. All this had to be figured out long before the initial design phase was complete.
And we were trying to fit all this around park opening hours. We did the public areas in winter. Cold winter days are very bad for pouring concrete. The civil works overran by months, causing no end of delays. But we managed to pull it back by changing the order of construction a few times. Both winters (2016/17) were not actually too bad compared to when we created Nickelodeon Land. Then, we lost two weeks with ice and snow.
Commissioning an ICON
We installed the final piece of track on Valentine's Day this year, February 14. Controlling all the different people around the site, and making sure they were safe in doing what they were doing while we were trying to commission and validate the ride was a massive challenge.
When it came to commissioning the ride, one of the things that took the longest time was the tuning of the launches and braking profiles. As you increase the load in the train, you need more energy to launch and more braking power. In the station area there is a cabinet which contains our braking resistors. It's effectively a huge generator. We have tuned the resistors to give us the braking profiles that we need for each ride and each load case. The technical side of this attraction is fascinating.
I was absolutely blown away by the experience when I took the first ride. This is just such a completely different coaster concept to anything else we have at Pleasure Beach. It uses absolutely state-of-the-art technology to deliver an incredible set of dynamics. Even though I know the track layout inside out after two-and-a-half-years working on the detail, there were still elements that took me by surprise.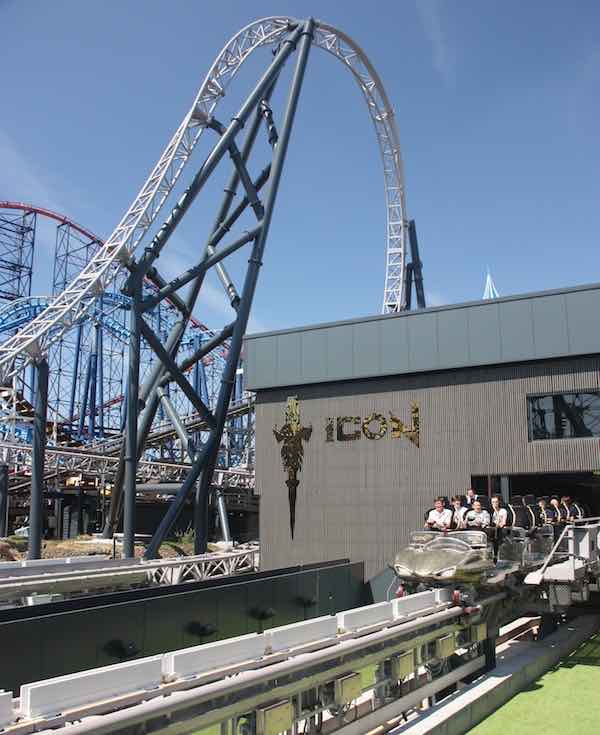 Images by Owen Ralph and Blackpool Pleasure Beach