ACME, a leading provider of ticketing, membership and donation management systems through cloud software, has helped the Barnes Foundation in Philadelphia to use robots as a contactless entry solution.
ACME provides its cloud-based ticketing and access control solutions to the Barnes Foundation in Philadelphia. This software infrastructure allowed the organisation to introduce a unique contactless way of keeping guests safe in the wake of the pandemic. Now, guests are greeted by a fleet of friendly robots that help with ticket purchasing and can then scan visitors into the museum,
Following the COVID-19 crisis, the Barnes Foundation wanted to find a way to increase safety measures in a modern and practical way. The robots help to limit front-line interactions, protecting both guests and staff.
"The Barnes has always been ahead of the curve when it comes to technology. They are resourceful, imaginative and are true visionaries when it comes to merging technology with the cultural arts," says Bill Shaughnessy, CEO of ACME Technologies, Inc.
Robots at the Barnes Foundation
The Barnes Foundation was able to get this innovative solution up and running quickly, thanks to the existing software infrastructure, explains Shaughnessy:
"ACME is a native cloud-based, modern, open platform, which many institutions are now relying on in order to adhere to the new safety protocols and diversify their revenue streams while never sacrificing an amazing guest experience."
The organisation used ACME's open cloud platform to incorporate several components of the API in its applications. These ranged from ticketing endpoints for contactless ticketing processes to membership capabilities for its digital membership experience, as well as access control.
"ACME's API is robust and well-documented, and there are few—if any—features ACME provides that are not also outlined in their outward-facing ReST API," says Steve Brady, Chief Technology Officer at the Barnes Foundation.
"This allows us to use ACME directly as our one source for all things related to capacity, membership, and ticketing. With our access control application on our Temi robots, where visitors scan their e-ticket upon entry and exit from the building and various internal gallery spaces, we coordinate our capacity management services and ACME ticketing services through a single interface."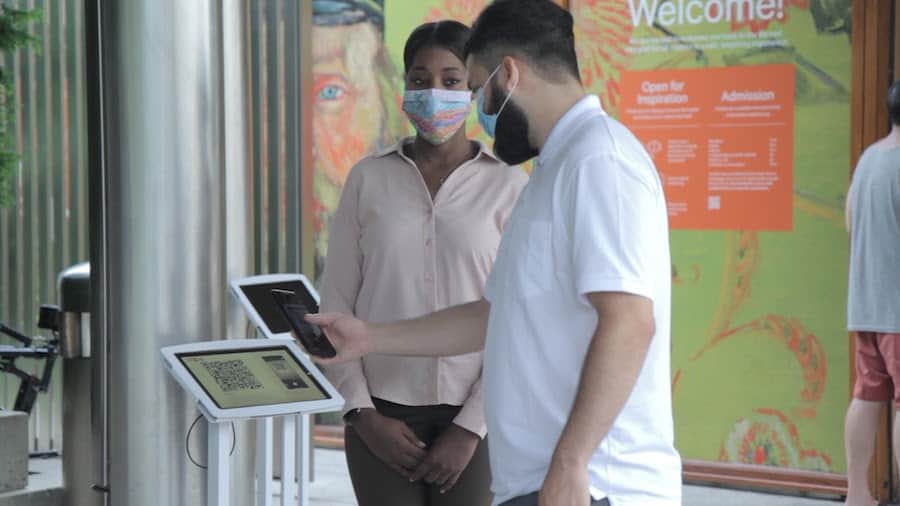 Touch-free entry
The robots have transformed the ticketing and check-in experience and it is now almost completely touch-free. Guests receive their tickets via text message an hour before their visit, or within 30 seconds if purchased on-site. Capacity monitoring is handled through scanning ticket barcodes at the Temi robots.
Once inside the Barnes Foundation, guests can then use Barnes Focus, a free mobile guide which lets them scan a work of art using their device's camera to access information about it.
The Barnes was not only ingenious in its use of modern technology, but also in how it implemented and maintained it:
"This technology was developed by a fully distributed remote Barnes software development team to be implemented in production onsite," says Brady. "We shipped the Temi robots to the homes of our developers, and later shipped the robots back to the Barnes as spare devices.
"Several of the contactless solutions are completely automated and require no staff intervention. The Digital Membership Experience and SMS ticketing are fully automated end-user solutions and require no staff training other than a remote onboarding to demonstrate to our staff the customer experience."
Positive reception
Visitors to the Barnes have been reacting positively to this change so far, as the robots are easy to use and efficient. This solution means that visitors can safely enjoy the collection once more and 98% of guests said that they felt comfortable and safe enough in their Barnes experience to recommend it to friends and family. The robots also free up frontline staff to have more meaningful engagement with visitors.
"We have seen an increase in self-service for members as they now have direct access to all of their ticket purchasing features in the Digital Membership Experience," says Brady. "The onsite experience for guests who check-in by scanning their e-ticket at our Temi robots has been quick and seamless; the scanning process takes less than two seconds!"
Implementing this technology with a relatively small team and limited resources was seamless and the organisation estimates that its complete solution costs less than 25 cents per robot per hour to operate over the lifespan of the robots.
However, organisations don't need robots to leverage the same type of technology and create a safe space for your visitors. They can also use their existing hardware coupled with the ACME platform.
"The technology has been completely reliable and stable since we have reopened to the public– from the software to the hardware, to the cloud services we have deployed, and the backend ACME APIs that made all of this possible," says Brady.
ACME provides its powerful cloud-based platform to a range of top attractions, including museums and cultural institutions, historical homes, gardens and arboretums, zoos and aquariums.