Christian Dior: Designer of Dreams has become the most-visited exhibition in the V&A Museum's history, with a new record of 594,994 visitors.
The previous record was set by 2015's Alexander McQueen: Savage Beauty, which welcomed a total of 493,043 visitors.
The Christian Dior: Designer of Dreams exhibition depicted the history and impact of the designer brand, from 1947 to date.
It also explored Dior himself, as well as the artistic directors who have come after him, and displayed more than 500 objects and 200 garments.
Christian Dior at V&A beats Alexander McQueen record
https://www.instagram.com/p/B0QzqbvAOqj/
Also at the exhibition were accessories, fashion photography, film, vintage perfume, make-up, illustrations, magazines, and the designer's personal possessions.
The show was a reimagining of the Musée des Arts Décoratifs' Christian Dior: Couturier du Rêve, curated by Olivier Gabet and Florence Müller.
The V&A's offering used additional unique objects and included a new section about Dior's fascination with British Culture.
"There is no other country in the world, besides my own, whose way of life I like so much. I love English traditions, English politeness, English architecture. I even love English cooking," Dior once said.
Dior garments, accessories, perfume and possessions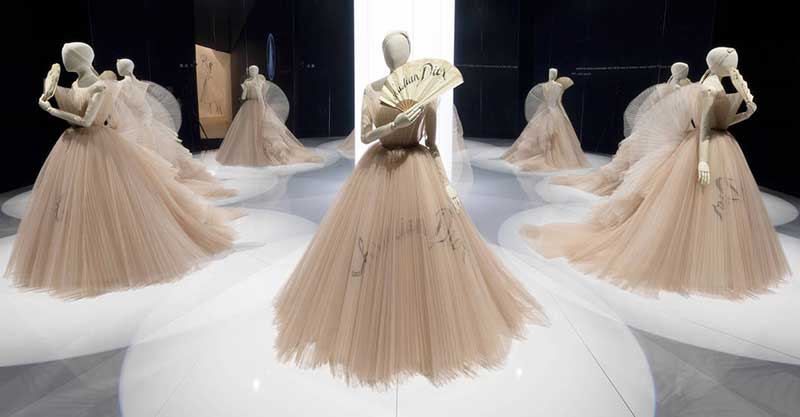 The exhibition, curated for the V&A by Oriole Cullen, was extended by seven weeks due to demand, after tickets sold out in three weeks.
Tristram Hunt, Director of the V&A, said: "In 1947, Christian Dior changed the face of fashion, creating a lasting legacy that continues to inspire today.
"The V&A has a history of staging revelatory fashion exhibitions, so we knew that Christian Dior: Designer of Dreams would be popular, but we have been overwhelmed by the phenomenal visitor response since it opened in February.
"I would like to thank all our visitors who have gone to such great lengths to experience this extraordinary show."
'Christian Dior changed the face of fashion'
https://www.instagram.com/p/Bz70XVenWmW/
Philip Long, Director of V&A Dundee, recently spoke to Blooloop about the museum's whirlwind opening year and its progress so far.
Images: V&A