Britannia Mine Museum has unveiled the concept designs for its brand new Mill show experience featuring a moving skip engineered and manufactured by Dynamic Attractions.
The Britannia Mine Mill show is an immersive multi-sensory show designed to bring the site's 20-storey Mill building back to life.
Set to open in spring 2019, it tells the story of the historic building from its heydey in the 1920s to when it finally closed in 1974.
"We are excited to unveil the designs of our new Mill show and share the significant role it played in British Columbia's and Canada's history and economic success," commented Kirstin Clausen, Executive Director of the Britannia Mine Museum.
"The show will transport visitors back in time for an authentic, thrilling, visceral and acoustic experience, taking advantage of the sheer mass and awe of the 20-storey historical Mill building. We are thrilled to be working with the internationally experienced team VISTA Collaborative Arts to create and produce our Show."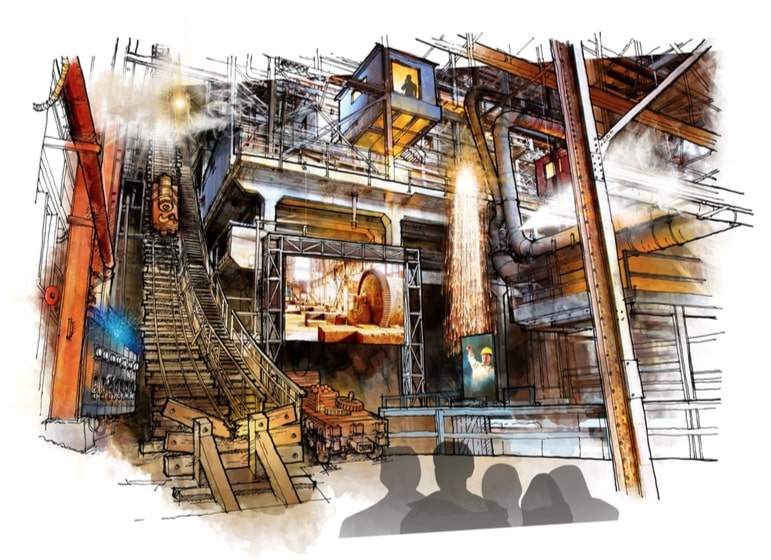 Dynamic Attractions has been commissioned to supply the moveable skip to demonstrate how mining equipment was hauled up and down the towering structure.
Meet Dynamic Attractions at EAS, Booth 1-800
"The Britannia Mine Museum is such a unique tourist attraction and their Mill show will bring a new, exciting way for people to experience it," added Hao Wang, President of Dynamic Attractions. "This project has captured our imagination and we believe it will be thrilling for guests."
The media-based attractions specialist is no stranger to creating thrill experiences. The company is behind some of the world's most popular theme park rides. Britannia Mine marks Dynamic Attractions' first ride-related project in Canada.
"We are looking forward to working on a local project, close to home, with the Museum's brilliant team," adds Wang. "Together, we will bring this historic 1920s Mill structure back to life."
Meet Dynamic Attractions at EAS. The company will be showcasing its latest projects at Booth 1-800, RAI Amsterdam from 25-27 September, 2018.