Ecsite is pleased to announce that there is still time to send in applications and nominations for the Mariano Gago Ecsite Awards 2020. Winners will be announced at the opening event of the 2020 Ecsite Conference, which takes place from 11 – 13 June in Ljubljana, Slovenia.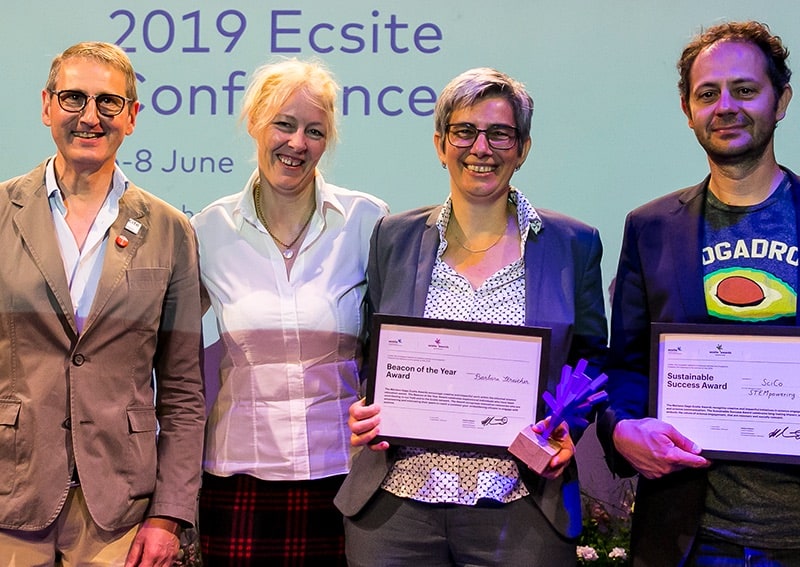 The Mariano Gago Ecsite Awards were created in 2015. They are designed to encourage and recognise people and organisations who demonstrate innovation, creativity and who have a made an impact. These prestigious awards are open to all Ecsite members and reward excellence in science engagement
The Mariano Gago Ecsite Awards
The awards are named after José Mariano Gago (1948 – 2015), a key figure of European science engagement and a founder of the Portuguese Ciência Viva network of science centres. He was also an active contributor to Ecsite activities.
"In a few decades, Mariano Gago was able to build a modern scientific community deeply rooted in Portuguese society, implementing his vision that science is a source of both technical and human progress. Mariano Gago was also the founder of LIP," says Mário Pimenta, President of the LIP laboratory, a contributor to the awards.
Beacon of the Year & Sustainable Success
The Beacon of the Year Award celebrates inspirational individuals who help their peers to reach a common goal: emboldening citizens to engage with science. The Sustainable Success Award celebrates projects that embody the values of science engagement. Information on how to apply can be found here.
Winners will gain free conference registrations in order to attend the ceremony, as well as a trophy and a certificate. Furthermore, the recipient of the Beacon of the Year Award will be given €2,500, to support professional development.
Last year's annual conference took place in Copenhagen, and saw over 1,100 participants from 59 different countries explore the theme of 'Pushing the Boundaries'.