The International Spy Museum has opened at its new home in Washington DC, with interactive and immersive experiences, environments and exhibits.
The museum's new 140,000-square-foot building at L'Enfant Plaza boasts the world's largest public display of authentic spy tools and gadgets, augmented by first-person accounts from real spies along with RFID technology inviting visitors to undertake their own spy missions.
Using interactive exhibits with state-of-the-art audiovisual effects, film, and hands-on components, the International Spy Museum traces the evolution of espionage.
Throughout their visits, guests can adopt a cover, break codes, identify disguised spies, and become the subjects of covert surveillance.
Located just steps away from the National Mall and The Wharf, the International Spy Museum was designed by architect Rogers Stirk Harbour + Partners.
International Spy Museum highlights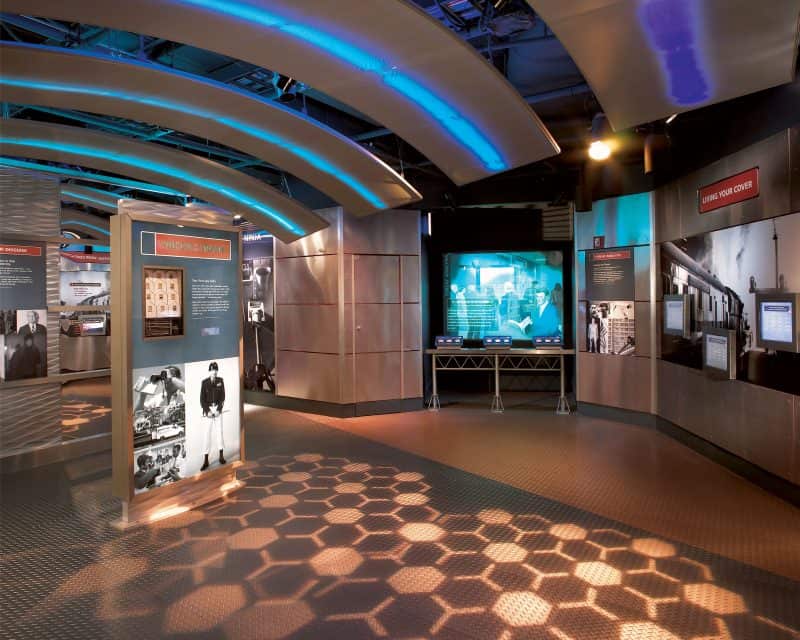 RFID (radio frequency identification) technology and interactive stations let visitors take on a spy cover identity and test their espionage skills.
Red Teaming – an interactive experience in which visitors participate in an exercise that CIA analysts used in the hunt for Osama bin Laden.
Mind Games – a series of interactive experiences that expose the mental traps and patterns that people fall into on a daily basis.
Berlin: City of Spies – an immersive exhibit where visitors can step back in time to Communist East Berlin. The exhibition features original sections of the Berlin Wall, a Stasi office, a hotel room furnished with original artefacts, and an interrogation room where visitors can test their skills of deception by attempting to deceive friends.
Cyber: The New Battlefield explores technology that gives governments, shadowy groups, and individuals powerful new collection tools or dangerous weapons.
Berlin Tunnel – An actual section of a tunnel from West to East Berlin, used in a joint CIA/MI6 mission in the early 1950s to tap underground Soviet communication lines.
Murder weapon used to assassinate Leon Trotsky – The ice-climbing axe still sports a rust-mark from the bloody fingerprint of the assassin.
Suicide Needle hidden in a silver dollar – Made by the CIA for pilots in the U2 spy plane program, each coin had a spring-loaded pin laced with poison so a downed pilot could choose death over capture.
Images: International Spy Museum