The Los Angeles County Natural History Museum (NHM) has revealed initial concept designs for its ambitious 485,000-square-foot expansion and modernization plan. The work will increase the museum's footprint by an additional 60,000 square feet. 
Designed by LA-based architects Frederick Fischer & Partners (FFP), the designs depcit a three story glass construction along the west side of the existing historic museum building.
The 104-year-old museum, Exposition Park's oldest cultural tenant, had completed an earlier upgrade in 2013. Then it had added a new wing designed by CO Architects. It also added 3.5 acres of updated performative landscape designs by Mia Lehrer + Associates.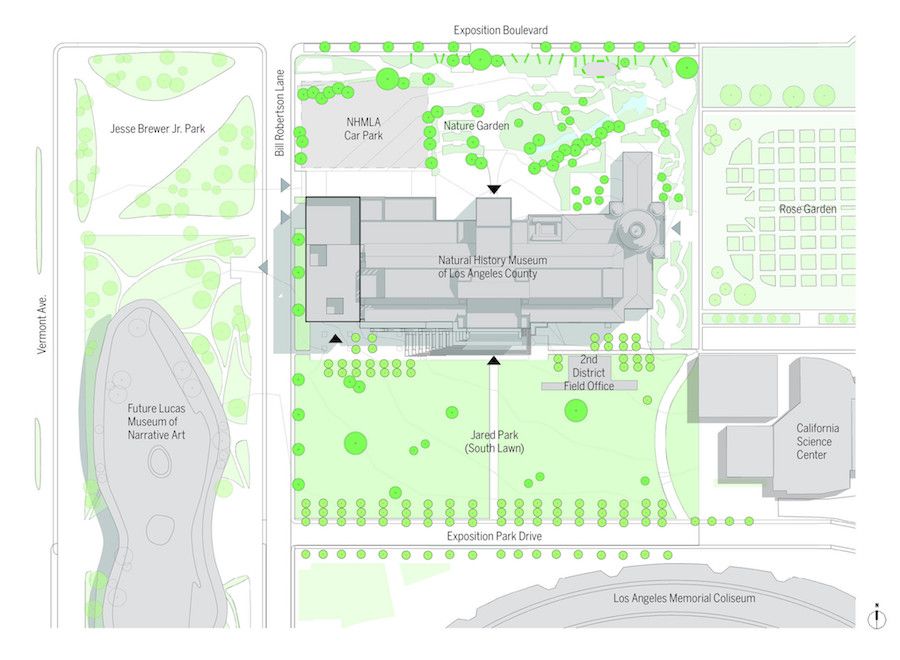 It is a busy time at Exposition Park. The Los Angeles County Natural History Museum will soon be adjacent to the MAD Architects–designed Lucas Museum of Narrative Art. Film-maker George Lucas revealed in january that the new museum would be sited in LA. Designs were revealed in May and the museum got approval from Los Angeles council in June.
FFP's expansion for the Los Angeles County Natural History Museum will feature a ground floor atrium. This will be wrapped in double-height, operable walls. This will ensure a connection with the Lucas Museum visitors. These will be able to open and close to fit the museum's needs. Renderings also illustrate a rooftop terrace with a restaurant. This appears to be that is open on two sides.
It's all happening at Exposition Park
New theater facilities will be included. These will, "serve as a meeting space for dialogue about critical issues affecting our natural and cultural worlds, and as a vital gathering place for the community and neighborhoods around Exposition Park".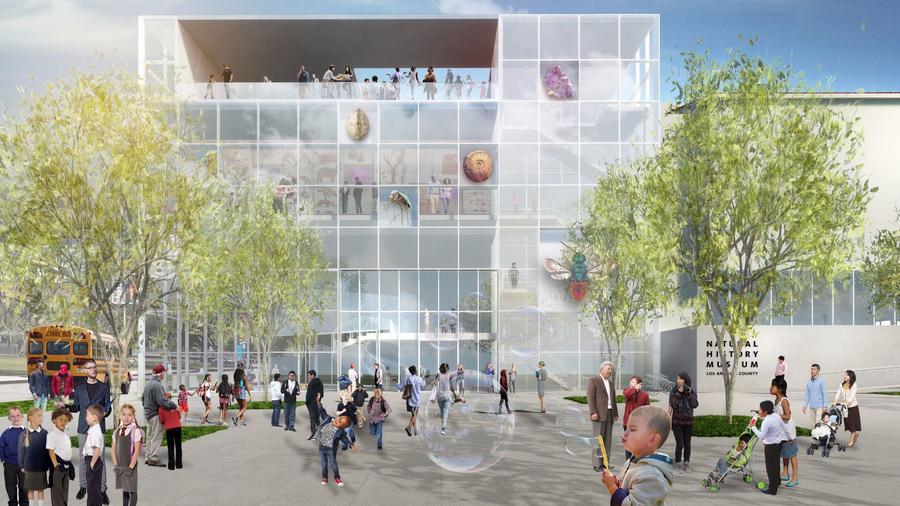 Frederick Fisher is the design principal and founder of FFP. He said, "What I find thrilling about the Los Angeles County Natural History Museum, in addition to its amazing collections and wonderful presentations, is the way it serves as a point of focus for the diverse communities that gather there, and as an intersection between these communities and the museum's activities."
Exposition Park is one of L.A.'s marquee urban parks. Further changes include the new Gensler-designed Banc of California soccer stadium which will house the Los Angeles Football Club. Exposition Park is also currently soliciting proposals for a new master plan for the park. Park Management is preparing for the central role it will play in the 2028 Olympic Games.