Manchester Museum has received a £4.2m ($5.7m) grant to fund an expansion that includes a new main entrance and two new galleries.
The funding comes from the Heritage Lottery Fund and will join £5m ($7m) that had already been pledged by the UK government. Manchester Museum is part of the University of Manchester and is the UK's largest university museum. It displays the university's collections of natural history, palaeontology and archaeology.
The expansion will double the capacity of the museum while enhancing its visibility and accessibility. Illuminated signage and a metal canopy will call attention to the new entrance on Oxford Road, attracting more footfall.
The interior design will unify the museum's internal arrangement to improve the visitor journey. A 465sqm Special Exhibition Gallery will take up the ground floor of a new building constructed in the current courtyard, while a 300sqm gallery focused on South Asia would be located on the first floor.
The Special Exhibition Gallery will transform the museum's ability to produce, host and tour internationally-significant shows, while the South Asia Gallery will be run in partnership with the British Museum, showcasing sculptures, textiles and other materials from its collections.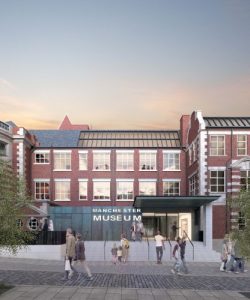 The structure for the two new exhibition spaces will be covered in terracotta, natural stone and curtain glazing to complements the surrounding listed buildings.
Architecture firm Purcell has drawn up the plans, which received planning and listed building consent last week. Work will start in August 2018 and the finished building will reopen in late 2020.
Esme Ward, director of Manchester Museum said: "With new world-class spaces for extraordinary objects and stories, more volunteering opportunities and imaginative partnerships, Manchester Museum will reflect and explore the needs, interests and opportunities of the diverse communities we serve.
"The project will develop and transform the museum to bring more wonder and inspiration from around the world to the people of Greater Manchester and beyond."
Images: c. Purcell/Manchester Museum.