Zaha Hadid Architects have revealed the design of the new Shenzhen Science and Technology Museum in Guangming Science City, China.
The new 125,000 square metre museum will be situated in the Guangming Science City, part of the Guangzhou–Shenzhen Science Technology Innovation Corridor (STIC). The institution aims to explore science and technology via strong links with universities and research centres across China. It will strengthen Shenzhen's already powerful position as a hub for technological innovation.
Zaha Hadid Architects (ZHA) calls it a "landmark building" and promises it will offer "maximum adaptability". The organic design is U-shaped with galleries and public spaces nestled around an atrium. Some galleries will be static for permanent displays while others will be fluid, able to adapt to whatever type of exhibition is planned.
The curvaceous build squats within the surrounding public parkland, flanked by skyscrapers. ZHA say the design is "a volumetric response to the distinct conditions of the site. Responding to the city to the east, the design is defined by its solidity and dynamic curvilinear geometries."
Sustainable building benchmark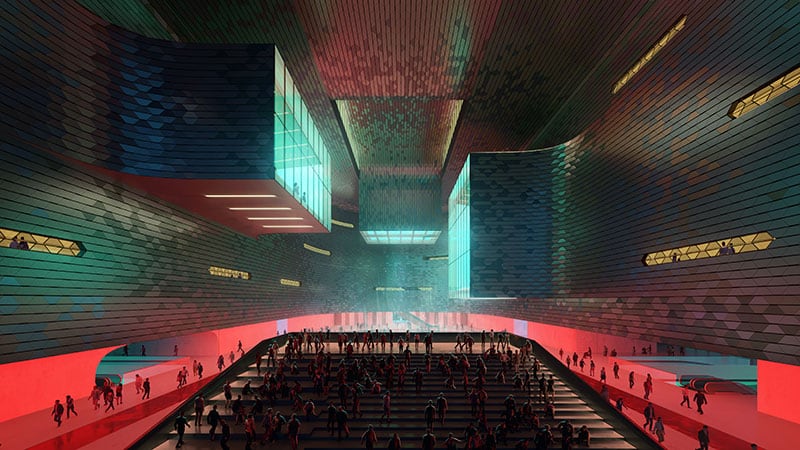 As might be expected, the museum is a technological benchmark for sustainable building. The architects commissioned detailed modelling and testing to ensure the building will have the lowest possible energy footprint. High thermal insulation, ultra-high efficiency glazing and smart building management systems help the building respond to the area's subtropical climate. It will confirm to the highest rating in China's Green Building Evaluation Standard. Work has already started on the project and it is scheduled to complete in late 2023. It is unclear whether the original Shenzhen Science Museum, built in 1987 in the Futian District, will be amalgamated with the new museum.
Shenzhen is known as China's Silicon Valley, home to tech giants such as DJI, ZTE, Vivo, OPPO, Netease, Tencent and Huawei. It's an international hub for research and innovation with key institutions such as Shenzhen University and the Southern University of Science and Technology.
Jing Culture & Commerce have released a study examining cultural live streaming in China as a response to COVID-19.
Images: Zaha Hadid Architects