teamLab Planets TOKYO has announced that two artworks in the museum will be transformed by cherry blossoms for a limited time, with visitors able to interact with the immersive installations.
Cherry blossoms will transform 'Floating in the Falling Universe of Flowers' and 'Drawing on the Water Surface Created by the Dance of Koi and People – Infinity' for a limited time from March 1 to April 30.
Flowers bloom and change as time passes in 'Floating in the Falling Universe of Flowers'. The artwork is not prerecorded or on a loop, and is instead rendered in real time by a computer.
As the visitor interacts with the installation, it causes continuous change as flowers grow, bud, bloom, wither and die, and as cherry blossoms fall in the art space.
Flowers continuously bloom and change as time passes
In the latter, visitors walk barefoot through real water as koi swim across the infinite water's surface. As the koi collide with people, they will bloom into cherry blossoms.
As above, the artwork is rendered in real time by a computer programme. Previous visual states can never be replicated and will never reoccur.
teamLab is an international art collective that includes artists, programmers, engineers, animators, mathematicians and architects.
Artworks rendered in real time by computer programme
teamLab Planets TOKYO is a museum in Toyosu where guests can walk through water and immerse themselves in massive artworks.
It features four vast exhibition spaces with seven distinct artworks, all based on the art collective's 'body immersive' concept.
teamLab Planets TOKYO opened in July 2018 and has since welcomed more than 1.25 million visitors from 106 countries and regions.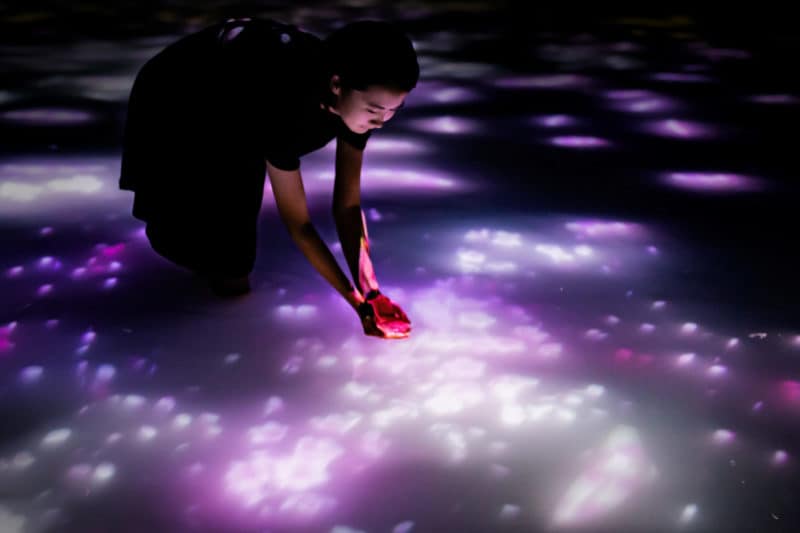 Elsewhere, Sands Resorts Macao recently announced the opening date of teamLab SuperNature Macao, which is now scheduled to open at the Venetian Macao in March 2020.
teamLab SuperNature Macao will feature immersive artworks in a labyrinthine space, as well as 'Future Park' and 'Athletics Forest' areas.