English Heritage has unveiled the Tintagel Castle Bridge in Cornwall. The new footbridge doesn't quite meet in the middle, but links the remains of Tintagel Castle.
Architects William Matthews Associates and engineers Ney & Partners built the bridge, which links the two separated halves of Tintagel Castle for the first time in more than 500 years.
The original land crossing disappeared in the 15th or 16th century. English Heritage has now restored it with the footbridge made from steel, Cornish slate, and oak.
Tintagel Castle joined for first time in 500 years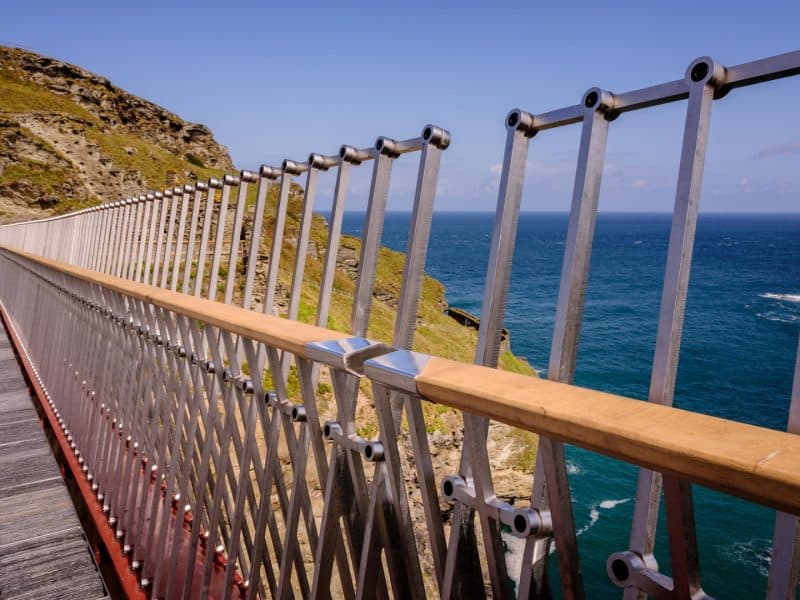 The bridge spans a 190-foot gorge between two cliffs and is made of two independent 30-metre cantilevers that very nearly touch in the middle.
At the centre of the structure, the 40mm gap was included to represent the transition between the mainland and the island, the present and the past, reality and legend, and the known and the unknown.
Tintagel Castle Bridge tapers from a height of 4.5 metres at the rock face to 170cm at the centre.
Footbridge made from steel, Cornish slate, and oak
Kate Mavor, English Heritage's Chief Executive, said: "Tintagel Castle has been made whole again. Once more, people will cross from one side of the castle to the other and their footsteps will echo those from hundreds of years ago.
"As a charity, English Heritage's core purpose is to care for historic sites like Tintagel Castle and to inspire people to visit them.
"Our new Tintagel bridge does both – protecting the castle's archaeology and bringing its story to life in a brilliant, imaginative way."
Tintagel Castle Bridge has 40mm gap in middle
The new bridge, which boasts dramatic views, will enhance the visitor experience, allowing more people to discover the historical site. It will also reduce congestion of Tintagel Castle's 250,000 annual visitors.
The footbridge is part of a larger £5 million project from English Heritage to improve footpaths around the Tintagel Castle site.
In London, Illuminated River is lighting up to 15 bridges on the River Thames. The £45 million project aims to create the longest public artwork in the world.